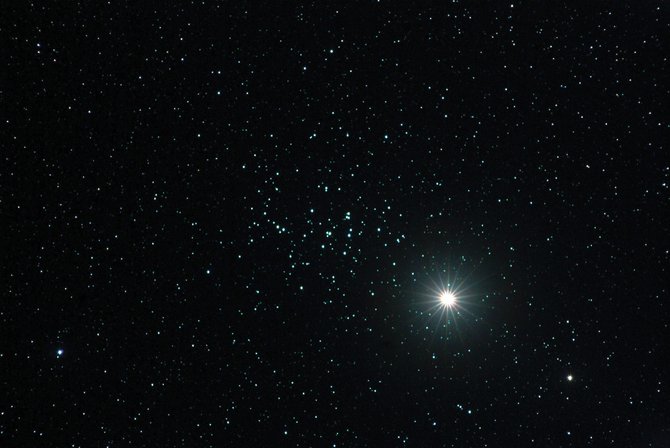 Jimmy Westlake: Mars and the Beehive — again!
Tuesday, January 26, 2010
Jimmy Westlake
Jimmy Westlake's Celestial News column appears Tuesdays in the Steamboat Today.
Find more columns by Westlake here.
Mars is glowing brightly in our sky this winter as it and the Earth have one of their biennial close encounters.
Friday night is the night Mars reaches opposition to the sun, rising at sunset, crossing the sky all night, and then setting at sunrise. Just by coincidence, the January full moon, called the Snow Moon, will shine right beside Mars all night that night. Watch for the moon and Mars rising side by side over the eastern mountains as darkness falls.
Once that bright moon gets out of the way a few nights later, you can watch another celestial spectacle involving the Red Planet. Mars is creeping closer and closer to the naked-eye star cluster called M44, popularly known as the Beehive, and will pass it early next month. This is an encore performance of a similar pass by the Beehive on Halloween.
It is in the weeks near opposition that a superior planet such as Mars performs its peculiar backwards loop as the Earth passes the slower-moving planet. This season, Mars is moving backward (westward) through the faint zodiacal constellation of Cancer, the Crab. The Beehive star cluster is Cancer's greatest claim to fame. Lying very close to the ecliptic, the Beehive is one of only four bright star clusters that the planets and moon can pass close to in their journeys around the zodiac. M35, the Pleiades and the Hyades are the other three.
The Beehive star cluster is a swarm of some 350 stars nearly 600 light years away. At that distance, the star cluster appears to the naked eye as a faint, fuzzy mist, but binoculars will reveal dozens of the Beehive's brightest "bees." The ancients called this fuzzy patch of light the Praesepe, or Manger, and the naked-eye stars on either side of the Manger were named Asellus Borealis and Asellus Australis, the Northern and Southern Donkeys.
On the night of Feb. 5, Mars will appear closest to the Beehive, passing only 3 degrees to its north. Then, the two will separate, night by night, until Mars reverses its motion later in spring and begins moving eastward once again. Mars will then pass the Beehive for the third and final time this cycle April 16. Although Mars misses the Beehive by only 1 degree in April, it will be much further from Earth and therefore much fainter in our sky. The Feb. 5 event happens while Mars is still very close to Earth and is impressively bright as it shines beside the twinkly stars of the Beehive.
Jimmy Westlake teaches astronomy and physics at Colorado Mountain College's Alpine Campus. He is an avid astronomer whose photographs and articles have been published all around the world. Check out Jimmy's Web site at www.jwestlake.com.