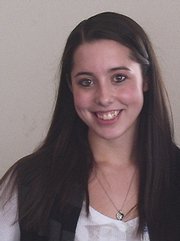 Lindsey Yost, a senior at Steamboat Springs High School, was named the Rotary Club of Steamboat Springs' Student of the Month. She was honored at the Rotary Club's Jan. 19 meeting.
Yost is a member of the National Honor Society. She plays varsity volleyball and is captain of the girls basketball team.
Yost is a commissioner in Link Crew, which helps high school freshmen adjust to their new surroundings and is a member of the school's Leadership class. Yost is the daughter of Cathi and George Yost.
2007 Lowell Whiteman alum given scholarship
Jacquelyn Kinder, a 2007 graduate of The Lowell Whiteman School, was awarded a $1,000 CVS Caremark Charitable Trust Scholarship from the University of Montana College of Heath Professions and Biomedical Sciences.
Kinder, a junior in Montana's Skaggs School of Pharmacy, is the daughter of Pamela and Dennis Kinder, of Steamboat Springs.
Christian Heritage School announces honor roll
Christian Heritage School this week announced its second-quarter honor roll.
Students who made the honor roll for earning A's and B's include sixth-grader Lilli Turton, seventh-graders Lauren Anderson and Andrea Clark and eighth-graders David Kissane, Stephanie Moos and Ana Maria Vazquez.
Students who made the high honor roll for earning all A's include seventh-grader Andrea Houston, and eighth-grader Mackenzie Holmberg.
High school students who made the honor roll for earning grade-point averages between 3.0 and 3.49 include ninth-graders Shealie Jenkins, Abby Kissane, Jay Lanning and Hannah Mihaich; 10th-graders Victoria Belz, Aimee Lotz, Sara Pugh and Eric Spahr; and 11th-grader Ryan Hall.
High school students who made the high honor roll for earning GPAs higher than 3.5 include ninth-graders Nora Corser and Jane Robey; 10th-graders Emily Heiner, Melodie Houston and Matthew Jones; 11th-graders Leah Berdine and Kirsten Williams; and 12th-grader Hannah Zwak.