Vote on 700
■ Ballots for the mail-only election will be sent to registered Steamboat Springs voters between Feb. 15 and 19. The election ends March 9.
■ Steamboat 700 is a proposed master-planned community on 487 acres adjacent to the western city limits of Steamboat Springs. The project proposes about 2,000 homes — from apartments to single-family home lots — and 380,000 square feet of commercial development that would be built to the standards of new urbanism (dense, walkable and transit-friendly).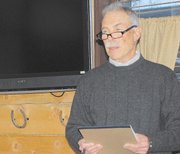 Steamboat Springs — Advocates on both sides of the Ste­amboat 700 ballot question debated Friday whether the controversial project would deal a setback to the Routt County housing market.
"What we're seeing with the 700 development is an addition on the supply side of 2,000 units," longtime Realtor Bill Moser said. "What I've seen in the local economy since 1972 is that when you add that supply, it's going to destabilize the real estate industry."
He made his remarks on behalf of the Let's Vote group during the monthly Good Mor­ning Steamboat meeting hosted by the Steamboat Springs Chamber Resort Association.
Let's Vote is challenging last year's City Council decision approving an annexation agreement for land west of city limits, which would allow the developers to enter the planning process.
Speaking for Good For Stea­m­boat, a citizen group advocating in favor of the annexation agreement, local investment adviser Chris Puckett contended that Moser was overlooking a key point.
"The fear is being spread that next year there's going to be 2,000 housing units out there," Puckett said. He added that it's in the best interests of developers to gradually bring housing units to market as the local economy picks up. It could take decades for Steamboat 700 to build out, he said.
Friday's debate before a silent audience of about 25 people, mostly business leaders, was short and to the point. The Good Morning format introduces four or five speakers on different topics and gives each of them no more than seven minutes to make their point.
Moser said the city of Steamboat Springs lacks adequate answers for coping with the additional traffic he said would be generated by the future residents of Steamboat 700.
"It's not an issue with the developer," Moser said. "The city, over the last 25 years, studied 17 partial and complete approaches to rerouting traffic (through downtown). So, the question is, why haven't they done this? It's been hampered by a lack of political will on the part of the city."
Moser contended that it's not satisfactory to entertain a 50 percent increase in traffic flow and not have answers for how to cope with the impact.
Puckett countered by saying the 700 development offers the city an opportunity to improve traffic flow west of Steamboat on U.S. Highway 40.
Moser told the audience that the recent experience of nearby communities including Granby and Eagle illustrates that this is a difficult time to make an annexation and the corresponding development work. Both approved annexations that resulted in struggling housing projects, he said.
"We're not opposed to growth," he said, "but we think it needs to be smart growth."
Puckett characterized Steam­boat 700 as an opportunity to grow in a thoughtful manner.
"I'm concerned we'll be losing a real opportunity to have the smart growth we need over the next 20 to 30 years," he said.