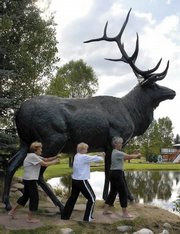 Cinema and Tai Chi
Bud Werner Memorial Library and the VNA's Aging Well program will present an evening of free entertainment and exercise highlighting the spirit of healthy aging. The event is from 5:30 to 7:30 p.m. Thursday at Library Hall.
The evening begins with a 20-minute sample Tai Chi for Health class (no special clothing is required), followed by an intermission with refreshments and information about Aging Well exercise and wellness programs. Aging Well Calendar Journals, featuring photos of more than 60 active older adults in Northwest Colorado, will be available with a $15 donation to the VNA (checks and exact cash accepted).
A screening of "Young@Heart," a PBS Independent Lens documentary about an innovative senior citizens' choir, will begin at 6:30 p.m. For more information, call 879-0240 or visit www.steamboatlibrary.org and click on "Events."
Aging Well Tai Chi
Aging Well Tai Chi classes are being held in Steamboat Springs, Oak Creek and Craig. Hayden classes will begin in the spring. For more information, refer to the schedule at the bottom of this page or call 871-7676.
Getting back to the business of life after a frenzied holiday season can be stressful.
It may not the best time to set New Year's resolutions framed as more to-dos.
A person might start by worrying less and having more fun — simple yet powerful steps toward feeling better and more capable of tackling other goals.

That is the spirit of an event at the Bud Werner Memorial Library on Thursday. The event combines an uplifting documentary film with a community program helping older adults achieve mental focus, relaxation and other health benefits through Tai Chi.
"Young@Heart" is a PBS Independent Lens film about a group of senior citizens who have taken their love of singing, together with hard work and camaraderie, to another level of entertainment, performing works from rock artists such as The Ramones and Coldplay across the world.
Before settling in to view the hour-long film, attendees will have the opportunity to try Tai Chi for Health, a gentle exercise class offered by the Northwest Colorado Visiting Nurse Asso¬ciation's Aging Well program.
The 20-minutes sample class will feature certified Aging Well Tai Chi instructors, who will lead participants through several movements from a Tai Chi sequence designed to help older adults coping with stiff joints and other age-related changes or recovering from injuries.
Tai Chi is a martial art combining deep breathing and mental concentration with slow movements that flow together gracefully. There are many types of Tai Chi offering various levels of challenge.
Aging Well Tai Chi follows a program developed by the Arthritis Foundation based on "sun style," which doesn't require deep bending or squatting, making it safe and comfortable for older adults.
Almost anyone can participate in the program. Students with limited mobility, for example, can do many of the movements seated or next to a wall or chair for stability.
No special equipment or clothing is necessary. Partici¬pants only need to bring enthusiasm and a desire to learn.
Instructors lead participants through a series of moves that, when done regularly, strengthen muscles supporting joints and improve flexibility, balance, posture and cardio respiratory fitness for better circulation and healing.
These benefits ease arthritis symptoms and help prevent falls and injury.
Aging Well classes include Tai Chi I (beginning), Tai Chi II (advanced) and Tai Chi for Health, which combines moves from both classes depending on the abilities and progression of each class.
"It's comfortable and something you can do easily and take home with you," said Jeanne Upbin, Aging Well fitness coordinator.
Instructors' emphasis on safety and consistency and the tendency for social connection among participants provides an ideal atmosphere for students to feel at ease and comfortable with their practice.
"It works for people who may feel intimidated by other types of fitness classes," Upbin said.
This is important because the fundamental goal of Tai Chi is to promote the flow of energy, or "chi," more freely throughout the body. This facilitates physical benefits as well as mental clarity and relaxation.
With regular practice, Tai Chi lessons expand to everyday life: Students do daily tasks with better posture and body positioning and often find they are sleeping better, worrying less and enjoying life's pleasures more.
Aging Well Tai Chi classes are being held in Steamboat Springs, Oak Creek and Craig. Older adults 50 and older are welcome to join classes. Donations are appreciated and will help make the classes available long-term. For more information, call 871-7676.
— Tamera Manzanares writes for the Aging Well program and can be reached at tmanzanares@nwcovna.org. Aging Well, a division of Northwest Colorado Visiting Nurse Association, is a community-based program of healthy aging for adults 50 and older. For more information, visit www.agingwelltoday.com or call 871-7606.