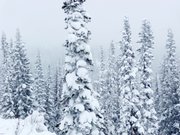 By the numbers
Steamboat Ski Area snowfall in inches by the end of the year and by the end of the season, 2001 to 2009:
Season; Year end; Season end
2009-10; 96.25; NA
2008-09; 140; 405
2007-08; 166; 489
2006-07; 125; 316
2005-06; 203; 432
2004-05; 100; 274
2003-04; 153; 294.75
2002-03; 137; 344
2001-02; 120; 291.5
2000-01; 108; 276
■ Snowfall for 2009-10 season through midday Jan. 2, 2010: 102.5 inches
■ Average snowfall by the end of the year for the past 10 years: 134.8 inches
■ Average seasonal snowfall for the past nine years: 346.9 inches
Source: Steamboat Ski and Resort Corp.
Steamboat Springs — A snowstorm that hit early Saturday gave Steamboat Ski Area a powdery push to the 100-inch mark for season snowfall.
Reporting 97 inches for the season and no new snowfall at 5 a.m. Saturday, Steamboat Ski and Resort Corp. reported an additional 5.5 inches of new snow on its Web site by 2 p.m.
That puts the ski area past its first snow milestone in a season that started on time but has lagged behind recent years in terms of snow accumulation. During the past 10 years, the ski area has averaged 134.8 inches of snow by the end of December; the total for the 2009 portion of this season was 96.25 inches.
Paul Frisbie, a forecaster with the National Weather Service in Grand Junction, said Saturday afternoon that he expected the day's quick-moving, moisture-packed storm to continue dropping snow through early evening Saturday, with occasional showers today and possibly Monday adding "maybe an inch here and there" to the storm total.
A system coming in from the north Tuesday evening and Wednesday is expected to bring colder temperatures and a better chance of snow, Frisbie said.
At the base of the mountain Saturday afternoon, Jim Clair and Heidi Weckbacher, who were visiting Steamboat from Boston, said their morning runs in the Storm Peak and Morningside areas of the mountain offered prime snow but little visibility on the higher parts on the hill.
Steamboat residents Ben Rock and Reall Colbenson reported similar conditions as they prepared to leave the mountain just before 1 p.m. Rock, a snowboarder, said the two found their best tracks of the day in the Pony Express area of the mountain. They decided to stay below the Thunderhead lift after a few early runs because visibility made skiing slow, he said. This season has had a slow start compared with recent years, leaving a few uncovered obstacles on some areas of the mountain, Rock said.
Sixteen of the ski area's 18 lifts were operating Saturday, with 156 of 165 trails and 2,716 of 2,965 acres open for skiing or riding. A few blue, blue-black, black and double-black runs remained closed Saturday, including Sunnyside, Upper Con­­centration, First Chance, Mother Nature, Wakeup Call, East Face, No Names and North St. Pat's.