Photo Gallery
Colorado Mountain College Steamboat 700 annexation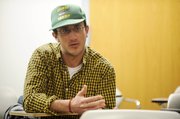 Vote on 700
■ Ballots for the mail-only election have been sent to city voters. City Hall is the only place for voters to return their ballots, by mail or drop-off. City Hall is open from 7:30 a.m. to 5:30 p.m., Mondays through Thursdays, and closed Fridays.
The mailing address is: City Clerk's Office, 137 10th St., Steamboat Springs, CO, 80477. One normal postage stamp is sufficient for ballot mailing.
■ Steamboat 700 is a proposed master-planned community on 487 acres adjacent to the western city limits of Steamboat Springs. The project proposes about 2,000 homes — from apartments to single-family home lots — and 380,000 square feet of commercial development that would be built to the standards of new urbanism (dense, walkable and transit-friendly).
Online
■ Learn more about the proposed Steamboat 700 annexation at www.steamboatpilot.com/news/steamboat700/.
■ Learn more about the Let's Vote issue committee, opposing the Steamboat 700 annexation at: https://letsvoteno.com.
Facebook: Search for the "Let's Vote Issue Committee"
E-mail: letsvoteboat@yaho...
■ Learn more about the Good For Steamboat committee, supporting the Steamboat 700 annexation, at: www.good4steamboat.com.
Facebook: www.facebook.com/G4Steamboat?ref=ts
Twitter: good4steamboat
Steamboat Springs — Several Colorado Mountain College students said last week that they want affordable housing Steamboat 700 could provide but raised concerns about the large-scale growth that also would come with the proposed annexation.
Eleven members of Rebecca Pot­ter's English Composition 122 class at CMC's Alpine Campus in Steamboat Springs discussed the proposed annexation last week and offered differing opinions about how Steamboat should grow, the best path to affordability and whether Steamboat 700 is the right choice for the region's future. Earlier this month, the students wrote opinion essays supporting or opposing Steamboat 700, which their class has frequently discussed in recent weeks and is the subject of a citywide, mail-only vote that is under way and ends March 9.
Steamboat 700 proposes about 2,000 homes and 380,000 square feet of commercial space on 487 acres just west of current city limits, during a 20- to 30-year time frame for development. That time frame means the Yampa Valley's young adults create the demographic that could be most affected by the citywide vote, whatever its result.
The CMC students agreed that local young adults are participating in the debate, whether it's at work, in class or among friends. Six of the 11 students at Wednesday's class opposed the annexation, two supported it and three were undecided.
"It seems like we do need to get this built, but it doesn't make sense to me with (regard to) the affordable housing," said Whitney Chandler, a 23-year-old in CMC's environmental studies program.
Steamboat 700's community housing plan is based on the city leveraging the 15 acres Steamboat 700 would donate — along with a portion of a transfer fee on every real estate sale in the annexation — to build and sell affordable homes phased with development. The city then would use corresponding revenues to buy more land and ultimately provide as many as 400 affordable homes, some of which could be built outside the annexation's boundaries.
"We might not even have (affordable) housing out there," Chandler said.
Adin Ledtch, a 24-year-old studying outdoor education, said he was not concerned by the possibility, raised by the Let's Vote committee opposing the annexation, that affordable homes at Steamboat 700 could be built densely, leading to small home sizes.
"Whether they're small or not, it sounds nice," Ledtch said. "Everything else in this town is so … expensive."
Ledtch said if he had to buy a house today, he likely would look in "condo land" around the base of Steamboat Ski Area or "somewhere away from town."
Elias Serras is a 22-year-old pursuing a biology degree. He said he opposes Steamboat 700 because of the amount of uncertainties he sees in its annexation agreement with the city. He said the annexation, in his view, is largely "based on a gamble" given the current economy.
"It's not that I oppose new building, necessarily," Serras said. "I oppose going about it in this manner, without certain things set in stone."
He cited future water infrastructure costs as an example.
According to the annexation agreement, developers at Steamboat 700 would provide all water infrastructure within the annexation, phased with development, and tap fees paid by future property owners would fund infrastructure expansion outside the annexation.
City Public Works Director Philo Shelton has said development within the West of Steamboat Springs Area Plan, which includes the Steamboat 700 site and other potential development, would require $34.5 million of water system improvements. That consists of $27.4 million for water projects and $7.1 million for wastewater projects.
Steamboat 700 also would pay the city $960,000 to help improve the city's existing water rights on the Elk River. Serras said that amount is too small.
"I think it would be foolish for the city … to basically give away the water rights," he said.
Former Steamboat Springs City Council President Loui Anton­­ucci has said that price was negotiated to use water rights the city already had purchased in expectation of growth while also considering impacts to developers trying to provide attainable homes.
Size concerns
Tyler Raffa, 18, who is pursuing an associate of the arts degree, said in his essay supporting Steamboat 700 that centralizing growth in one location would "protect natural open space and prevent sprawl." Raffa also cited the phased nature of the development as a reason for his support, because, he said, it would provide homes throughout time, according to demand.
Jonas Seiler, 19, disagreed.
"I feel like it's going to become more of a suburb," Seiler said about Steamboat 700, saying he'd rather see "a series of smaller developments" around the city.
Jacob McCoola, 19, said he "would definitely like to stay in town" after he graduates and that he supports planned development but isn't sure whether he wants to see the size of growth that Steamboat 700 could bring.
More than half the students in Wednesday's class said they plan to vote on the ballot issue known as Referendum A. Registered city voters who have not received a ballot or need to update their registration status can call City Hall at 970-879-2060.
Shane Pierce, a 19-year-old pursuing an associate of arts degree, sat in the front row but remained quiet throughout the nearly hour-long discussion last week.
When asked his opinion, Pierce didn't hesitate before giving a simple, quick answer.
"I'm against it," he said.
Pierce added that he was born and raised in Steamboat. He currently lives on Routt County Road 14 in South Routt County.
"I've seen Steamboat get bought and sold by developers," he said. "And I've seen how long it takes to do roadwork."