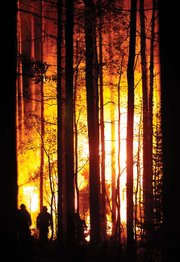 Steamboat Springs — The Steamboat Pilot & Today was given the Colorado Press Association's Service to the First award Friday in recognition of the newspaper's efforts to defend the First Amendment. The newspaper prevailed last summer in a two-year lawsuit against the Steamboat Springs School Board.
The award was presented to Editor Brent Boyer during the legislative luncheon on the opening day of the CPA's 2010 convention at the Brown Palace Hotel in downtown Denver.
The Service to the First award is given annually to a newspaper for its work promoting and defending the First Amendment. The Fort Collins Coloradoan and Pueblo Chieftain also were given Service to the First awards Friday for their joint effort in challenging Colorado State Uni­­versity's board of governors for violating open meetings law when it selected Joe Blake as chancellor.
The Pilot & Today's two-year lawsuit against the School Board came to an end in July 2009, when the Colorado Court of Appeals ruled that the School Board violated Colorado Open Meetings Law during a January 2007 meeting. The three-judge Court of Appeals determined that the School Board failed to properly announce the topic of its closed-door meeting, as is required by law, and failed to announce its intention to confer with its attorney during the executive session.
Also Friday, the Pilot & Today won 12 awards in the Colorado Associated Press Editors and Reporters annual newspaper contest.
The paper won first place in the best series category for its five-part "House of Cards" package that explored the rise and fall of Routt County's real estate economy. Other first-place winners were Matt Stensland in the spot news photo category and Chris Woytko for informational graphics.
The Pilot & Today was awarded second place in the general excellence category. Other second-place winners were John F. Russell, feature photo; and Tom Ross, feature story, sports column and spot news story.
Honorable mention awards went to Allison Miriani, informational graphic; Pilot & Today staff, online breaking news; Matt Stensland, online special package and picture story/photo essay.
The Pilot & Today won 25 awards in last year's CAPER contest. This year, the newspaper competed in a larger circulation class — against newspapers with daily circulations as large as 30,000, including the Fort Collins Coloradoan, Greeley Tribune, Aspen Daily News and Longmont Daily Times-Call. The Pilot & Today previously competed in a circulation class of up to 10,000 papers a day.