Document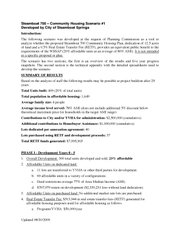 Vote on 700
■ Ballots for the mail-only election have been sent to city voters. City Hall is the only place for voters to return their ballots, by mail or drop-off. City Hall is open from 7:30 a.m. to 5:30 p.m., Mondays through Thursdays, and closed Fridays.
The mailing address is: City Clerk's Office, 137 10th Street, Steamboat Springs, CO, 80477. One normal postage stamp is sufficient for ballot mailing.
■ Steamboat 700 is a proposed master-planned community on 487 acres adjacent to the western city limits of Steamboat Springs. The project proposes about 2,000 homes — from apartments to single-family home lots — and 380,000 square feet of commercial development that would be built to the standards of new urbanism (dense, walkable and transit-friendly).
Steamboat Springs — A former city planner who played a key role in developing Steamboat 700's affordable housing plan said Wednesday that the plan's focus is not on squeezing 400 homes onto 15 acres.
Rather, former planning services manager John Eastman said, the plan's feasibility is based on generating revenue from the sales of affordable homes that the city could build with no land costs — because of Steamboat 700's 15-acre land dedication — then using that revenue to purchase more land for affordable housing, build more affordable homes and sell them for a profit, ultimately creating a self-sustaining enterprise for providing long-term affordable housing in Steamboat Springs.
At the request of the Steam­boat Springs Planning Commis­sion, Eastman and Nancy Engel­ken, then the city's community housing coordinator, laid out a scenario for how annexing Steamboat 700 could provide resources for local affordable housing in an extensive analysis completed last year. Using 12.5 acres from Steamboat 700 — the proposed annexation's original contribution to the city, before the Steamboat Springs City Council increased it to 15 acres after public feedback — the analysis calculated how affordable home sales, construction costs, funds from Steamboat 700's real estate transfer fee and land values could extrapolate to the production of 400 affordable units, sold to buyers earning no more than 80 percent of area median income.
Some of those units could be outside Steamboat 700, Eastman said.
"It could be anywhere," East­man said about affordable housing sites. He said that 12.5 acres was "enough to do approximately 200 units" and that he envisioned about 12 to 15 units per acre, including single-family, detached homes such as cottages surrounding a shared lawn, or "green" area. He said that style of home has worked well in Breckenridge.
"They were going to give us enough land for about half the units … and we were going to use those revenues to go out and buy more land," Eastman said Wednesday from Austin, Texas, where he moved after leaving the city's Planning and Community Development Department late last year.
As a Routt County planner before his time with the city, East­man helped develop the West of Steamboat Springs Area Plan that guided Steamboat 700 negotiations.
He said Steamboat 700's affordable housing plan provides flexibility for the city to choose quality over quantity, if it desires, and build affordable housing dictated by demand. But the community housing plan in the annexation agreement also stipulates 20 percent affordable housing throughout the phases of development, meaning the zoning and capability to build all 400 affordable units within Steam­boat 700 is there, if the city, Yampa Valley Housing Authority or other development entity chooses.
Eastman said the value of free land — with built-in infrastructure — is crucial.
"One of the key components of it all is that you get the land for free — and it's fully ready-to-develop land," Eastman said. "Even when you sell it to somebody at a reduced affordable price, you make a profit."
Initial risk
Eastman and Engelken's analysis included a projection of real estate transfer fee revenues from Steamboat 700, which would assess a transfer fee of 1.2 percent of the total sale price on every real estate transaction in the annexation. That fee would generate about $8 million for affordable housing in 25 years, Eastman projected. By 2050, the analysis shows, the fee could generate nearly $14 million for affordable housing, nearly $14 million for the Steamboat Springs School District, and about $5.6 million for a city capital projects fund.
Eastman said there could be risk for the city on the front end of the annexation, when the city would need to find revenue — potentially from a bank, state housing organization or its own funds, he said — to build affordable homes on dedicated land.
The 15 acres would be spread throughout the annexation. Eastman noted that the annexation agreement has a "front-loaded" land dedication policy that allows the city to access significant parcels of land that would be developed early in the annexation, which he said could jump-start the affordable housing process.
Steamboat 700 proposes about 2,000 homes and 380,000 square feet of commercial space on 487 acres just west of current city limits, with a 20- to 30-year time frame for development. City voters are deciding the annexation's fate in a mail-only referendum election that ends March 9. Registered city voters who have not received a ballot or need to update their registration status can call City Hall at 970-879-2060.
Mary Alice Page-Allen, asset and program manager for the Yampa Valley Housing Authority, said she agrees with the scenario of using home sale revenues to purchase additional land.
"The bottom line here is that this is an enterprise," she said about affordable housing. "This is a business that has to thrive. You're not going to sell those lots for nothing."