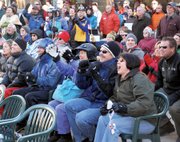 Whiteman Primary School watches live
Lowell Whiteman Primary School's 60 students and most of their parents stuck around after the school day ended Tuesday to watch the U.S. Nordic Combined Ski Team win a silver medal at the 2010 Winter Olympics.
Whiteman Primary counts team member Johnny Spillane, son of head of school Nancy Spillane, as a member of its family, said Debbie Gooding, director of admissions and student services.
"We couldn't be there, but we wanted to share in the moment," Gooding said.
The students were excited to watch Whiteman Primary alum Spillane and the rest of the Steamboat-affiliated team compete.
"I think it's inspiring," eighth-grader Patrick Milne said. "You want to be like that. I want to be like him, maybe not in skiing, but I want to be somebody from this town like Johnny Spillane."
— Jack Weinstein
Steamboat Springs — When the Olympic Nordic combined team competition was decided in the final kilometer Tuesday in Whistler, British Columbia, Steamboat Springs fans stood on their feet in Gondola Square and Olympian Hall to salute the sterling silver performances of Brett Camerota, Todd Lodwick, Johnny Spillane and Billy De­­mong.
Lodwick's brother Kris Lod­wick summed it up.
"Todd has the monkey off his back and some iron around his neck," he said. "This has been a long time coming."
But it also was plain that since 2002 in Soldier Hollow, Utah, when the U.S. Nordic Combined Ski Team narrowly missed a bronze medal in the same event, Steamboat fans have caught a case of gold fever.
A crowd of 300 roared its approval Tuesday every time the face of a familiar Olympic Nor­dic combined skier came into view on a jumbo TV outside One Steamboat Place, and there was a similar scene in Olympian Hall at Howelsen Hill.
The crowds went over the edge when Demong, of Vermontville, N.Y., who trained for years in Steamboat, caught Austria's Mario Stecher on the last hill of the final relay leg before entering the stadium. For a moment, everything turned to gold, but just as quickly, the crowd fell silent when Stecher swept by Demong on the downhill and it became clear that the American would not be able to respond.
The crowds in both venues quickly recovered their enthusiasm and cheered loudly as the Austrian and American teams fell into their own group hugs at the finish line.
"Just to be in that position, that's what you have to celebrate," Steamboat resident Kyrill Kretzschmar said after the race.
So it was a dream come true for the four American athletes in a relatively obscure sport whose names always will be prefaced by the phrase "Olympic medal winners."
Before the race, the anxiety in the crowd was palpable.
Kretzschmar, a former member of the German junior national team who went on to ski for an NCAA championship cross-country ski team at the University of Denver, predicted that there would be no holding back for the skiers, who would each race about 3.1 miles in the team relay event.
"This is like a full-on sprint," he said. "But you have to know your race pace and know what you can do."
Greg Dalsis, of Steamboat, was wearing his lucky American flag stocking cap in Gondola Square. That prompted 1964 Olympic silver medalist Billy Kidd to say Dalsis' hat reminded him of the "Easy Rider"-inspired paint jobs he and his teammates sported on their downhill helmets in the 1970 Alpine World Championships.
Edie and Joe Fogliano were in the crowd, wearing their official green volunteers' jackets earned for their part in helping to host the Nordic combined events at the 2002 Winter Olympics. Edie Fogliano enthusiastically was making a racket with a pair of wooden hand-clappers.
Many of the people who watched the team event in Olympian Hall were hoping to witness the race in which Todd Lodwick realized success in his 16-year quest for an Olympic medal. They weren't disappointed.
"It means everything. He gave his life to this sport," said Dana Tredway, a longtime friend of Lodwick's who recently returned from Vancouver.
She was with fellow Olympic-traveling friends Tawnya Fabian and Karen DeLine.
"He came back specifically to win a medal at the Olympics," Fabian said. "How inspiring is it for this room full of kids to see one of our own win a medal like that?"