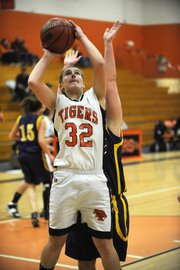 With the Hayden High School boys basketball team down by 2 points at the half, it suddenly became clear just how important winning Saturday's first postseason game was.
"We talked at halftime about how this was possibly the last game for seniors, and we should step it up a little," senior Rene Valdez said.
The reality check seemed to be just what the boys needed, and Valdez would end the game with 20 points, helping the boys to a 62-54 win against Vail Christian at home.
"We're just glad to get the 'W' out of this one," coach Mike Luppes said. "This was the important one. Lose this, and you go home."
This was the second time Hayden and Vail Christian met this season, and Luppes knew Vail Christian was hungry for a win this time.
Vail Christian capitalized on a lot of open looks at the basket, which led to a change in strategy at the half when the Tigers trailed 32-34. The Tigers transitioned to man-to-man coverage for the second half.
"We played some pretty good defense the second half," Luppes said.
By the fourth quarter, the Tigers had taken the lead and at one point pulled ahead by 6. That lead did not last long as Vail Christian pulled within 1 by the middle of the fourth quarter.
A steal led to a layup by junior Graig Medvesk, followed by a foul shot from the line. Medvesk missed his free throw, but senior Dylan Sather snagged the rebound and took the layup to bring the Tigers to a 57-54 lead with 1:30 left in the game. Another layup by junior Ben Williams gave the Tigers a comfortable 5-point lead with 12.6 seconds left.
The Tigers will play in Rangely on Friday and Saturday at the district basketball tournament. That tournament will help determine the seeding for the eight-team state tournament bracket.
Hayden girls hoops team blows out West Grand
Hayden High School girls basketball coach Eric Hamilton could not have been happier with his team's entrance into postseason play with a 76-31 win against West Grand on Saturday in Hayden.
"We didn't want just a close game," Hamilton said. "We wanted to come out and dominate it. A 45-point win is a good way to demonstrate that."
The game started with signs of dominance as the girls took an early 17-2 lead after the first quarter.
"We were just more powerful underneath," Hamilton said. "We knew we had a big size advantage on those guys."
It also helped that the Tigers went 14-17 from the free-throw line.
"We've been working a lot on that," Hamilton said.
Coming off the 76-31 win, the Tigers have their eyes on the district championship as they head to the district tournament with the boys team Friday and Saturday in Rangely.
"Today's score is going to make a big statement to other teams, and they're going to see we're ready to play," said senior Rachael Koehler, who scored 12 points in Saturday's game. "Hopefully, we'll see everyone at state."