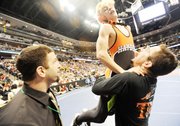 Friday's results
■ 2A 103
T-Lane Mazzola, Hayden, def. Tanner Watkins, Cripple Creek, Fall 3:14
Mazzola def. Miguel Torres, Burlington, 4-3
Lauryn Bruggink, Soroco, def. Cameron Ham, Custer County, Fall 0:33
Bruggink def. Jared Airola, Nederland, 9-4
■ 2A 119
Chad Terry, Hayden, def. Ricky Long, Rocky Ford, 8-2.
Alex Pena, Ignacio, def. Terry, 7-6
■ 2A 125
Nathan Schroeder, Wiggins, def. Scott Armbruster, Hayden, Fall 3:35
■ 2A 135
Jon Duran, Antonito, def. Nick Williams, 6-5
Cody Rapke, Paonia, def. Williams, Fall 3:48
■ 4A 135
Aaron Shaffer, Longmont, def. Casey Williams, Steamboat, 14-1
■ 2A 140
David Strait, Soroco, def. Tanner Thomson, Fall 1:41
Trenton Rice, Burlington, def. Strait, 9-1
■ 2A 152
Aaron Erker, Wiggins, def. Koleman Williams, Hayden, Fall 3:01
Williams def. Nathan Acosta, Fowler, Fall 1:43
■ 2A 215
Treyben Letlow, Hayden, def. Mark Schroeder, Swink, Fall 0:32
Letlow def. Zach Jackson, Wray, 7-6
■ 2A 285
Jacob Adolph, Mountain Valley, def. Will Valora, Hayden, Fall 4:01
Today's matches
Mazzola, 29-8, vs. Ray Rodriguez, Rocky Ford, 37-9
Bruggink, 22-7, vs. David Torres, Manzanola, 34-5
Koleman Williams, 20-15, vs. Austin Blasi, Burlington, 23-12
Letlow, 35-0, vs. Mike Satterly, Burlington, 31-1
Steamboat Springs — Ray Mazzola didn't have to go far. He ran about 20 feet, and he was there.
It probably wouldn't have mattered, though. He leapt up from his seat in the front row of Denver's Pepsi Center and tore around a corner. He pushed through four wrestlers, two coaches and an official — he'd have pushed through the Denver Nuggets dance team if it had been there, and probably the Broncos' offensive line, as well.
His son, Hayden freshman T-Lane Mazzola, had his arms in the air when Ray Mazzola reached him, and father and son hugged. Ray Mazzola lifted his son high, and his eyes were wet.
This was something to celebrate. This was a ticket to the state championship match.
Mazzola won twice Friday and will join junior teammate Treyben Letlow today in wrestling for a championship at the state tournament in Denver.
The championship finals start at 6 p.m.
Sophomore Chad Terry, Hayden's only other wrestler in the semifinals, lost in heartbreaking fashion and fell to the consolation bracket.
"Wow," coach Ty Camilletti said, leaning back in a chair high in the Pepsi Center as the last matches of the day played out below.
His eyes rolled a big circle around their sockets, and he threw his head to his hands, breaking into a great smile.
"Wow," he repeated. "What a day. What a tournament — so many ups and down. Wow."
None of Hayden's wrestlers made it easy on their fans Friday night.
Mazzola rebounded from a 2-0 hole, took a 4-2 lead and had to hold off his opponent, Miguel Torres, of Burlington, in the final seconds, winning 4-3.
The freshman will face Ray Rodriguez, of Rocky Ford, in a final that will be a clash of two underdogs.
"I was just hoping to win a match," Mazzola said. "I wanted to try and get medal. Now, I'm in my first championship match in my first year. Winning this could be fantastic."
Letlow, meanwhile, was as close to a sure thing as Hayden had, but got involved in a fierce dogfight and midway through his match found himself behind on the scoreboard and on his back, one shoulder hard to the mat and the other hovering an inch above.
He managed to roll out of it, however, and in a blink had Wray's Zach Jackson on his back. Jackson escaped, and when the smoke cleared, Letlow was ahead, 7-6.
He clung desperately to Jackson for the remainder of the match for the one-point win.
"I wouldn't call it exciting," Letlow said, grinning wide and still trying to catch his breath 10 minutes later. "That was a barnburner.
"Now I need to take it up another notch. I think I can get it up one more for the state championship match."
Letlow will wrestle Burling­ton's Mike Satterly in the final today.
As time ticked down in his match, Terry seemed the safest of the Tiger semifinalists. He led 6-2 when action was stopped and moved to the middle of the mat with 10 seconds remaining in the final period. Ignacio's Alex Pena launched at him, however, and threw him to his back. The takedown and three-point near-fall gave Pena a 7-6 victory.
Terry wrestles today in the consolation semifinals. He's guaranteed at least sixth place, but that's little reward to a wrestler who was 10 seconds from his second consecutive championship match appearance.
"My heart breaks for that kid," Camilletti said. "Chad's just worked so hard all year, and he was that close to being a two-time state finalist as a sophomore. He's the kind of kid that will be right back here next year."
Hayden's only other wrestler still in the action is senior Koleman Williams, wrestling in the 152-pound consolation quarterfinals, which start at 11 a.m. today.
Scott Armbruster, at 125 pounds, was pinned in his first consolation match. Nick Williams lost his championship quarterfinal match, 6-5, then was pinned in the second round of his first consolation match. Will Valora, at 285, was pinned in the first round of the consolation bracket.
Williams, Strait fall in consolation bracket
Steamboat's lone entry in the state tournament, 135-pound freshman Casey Williams, rolled and squirmed, fought and crawled. His back spent long stretches an inch off the ground, and he avoided a pin. He never found himself in position to rack up points, however, and could do little in the face of a determined opponent.
Williams fell from the tournament with his second consecutive loss, stumbling 14-1 to Aaron Shaffer, of Longmont.
"He was really tough and really strong," Williams said. "I'm disappointed I lost, but I'm really glad I got to wrestle here. I definitely want to come back."
Soroco's David Strait, meanwhile, couldn't follow up the success he found in the first round of the consolation bracket. He opened his last day in the state tournament with a pin, nailing Tanner Thomson, of Stratton, in the first round. He lost to Trenton Rico, of Burlington, 9-1, in the second to end his first trip to state.