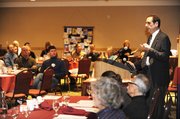 If you go
What: Community forum about Referendum A and the proposed annexation of Steamboat 700, with moderator Cathleen Neelan
When: 5:30 to 7:30 p.m. Thursday
Where: Olympian Hall at Howelsen Lodge, 845 Howelsen Parkway
Online
■ Learn more about the Let's Vote issue committee, opposing the Steamboat 700 annexation here.
■ Learn more about the Good For Steamboat committee, supporting the Steamboat 700 annexation here.
Steamboat Springs — A Tuesday forum about the proposed Steamboat 700 annexation illustrated two very different points of view from people equally passionate about the region's future.
The Rotary Club of Steam­boat Springs' weekly luncheon featured a panel discussion about the proposed annexation, of which city voters will decide the fate in a mail-only election that concludes March 9. Ballots are scheduled for mailing this week.
Tuesday's panel included Steamboat 700 attorney Bob Weiss and Steamboat Village Brokers principal David Baldinger Jr. supporting the annexation; and Let's Vote committee spokesman Tim Rowse, local Realtor Bill Moser and longtime affordable housing advocate John Spezia in opposition.
The question of what will happen to the site if voters deny the annexation sparked sharp responses.
"What we'll end up with is a community of second-home owners, trust funders and retired baby boomers," Weiss said, implying that the site would be split into large home parcels. "We're trying to avoid that."
Rowse countered that a denial of the annexation would give Steamboat Springs City Council an opportunity to re-shape policy according to residents' reasons for the "no" vote. That could mean a fresh look at the West of Steamboat Springs Area Plan, he said.
"There's an opportunity for the community to become involved in what we want the community to be," Rowse said.
Interpretations of the WSSAP played a large role in Tuesday's forum.
Supporters of the annexation said Steamboat 700 would meet the goals of more than 15 years of community planning, public input and work by city staff that dedicated land west of current city limits for future development and dictated how that development should occur.
Weiss said Steamboat 700 developers essentially were invited to town by the West of Steamboat Springs Area Plan and that the notion that they would go through the entire annexation negotiation process, do everything that was asked of them, get turned down by voters and then come back to the table to try again is simply wrong.
Opponents said that by not building actual affordable housing units, and by providing only land and a revenue stream that opponents called inadequate, Steamboat 700 would not meet the affordable housing intentions of the original WSSAP, which has been revised in recent years.
"The affordable housing program in the WSSAP was taken away from us," Spezia said. He advocated a new community planning effort to re-define Steamboat's goals for housing and growth.
Steamboat 700 proposes about 2,000 homes and 380,000 square feet of commercial space, over a 20- to 30-year timeframe for development, on a 487-acre site just west of current city limits.
Responding to a question about the annexation's potential impact on the economy and job market, Moser said he's heard that recent building projects such as One Steamboat Place, at the base of Steamboat Ski Area, have largely relied on out-of-town workers.
"Most of the larger projects we've seen have provided very little employment for locals," Moser said. "I don't think (700) is going to do very much in the way of jobs."
Moser also said the addition of commercial space at Steamboat 700 "would eat our own," meaning it would hurt commercial businesses elsewhere in the city.
Weiss said Steamboat 700 would provide a variety of housing and commercial opportunities and would not have a mass-production style of development.
"To suggest that everything at Steamboat 700 is going to roll in on a truck … indicates a total lack of understanding" of developers' intent, Weiss said.
Baldinger Jr. said approving the annexation would revive the opportunity for people to buy entry-level homes, save money and gradually upgrade their home ownership. He said the market in recent years has priced workers out of entry-level homes.
"Steamboat 700 would add those rungs to the ladder, in my opinion," he said.
After the forum, Barbara Robinson, general manager of the Holiday Inn, said she thought Steamboat 700 would be a good source of jobs for the local economy and felt developers have shown foresight in their planning and annexation agreement with the city.
"I think you can either manage your growth or it's going to happen anyway," Robinson said. "I like the idea of managing it."
Steamboat resident Talaya Thomas, who also attended the Rotary meeting, expressed concern about the uncertainties of how Steamboat 700 could play out — with the sale of land to unknown developers; added costs for future Steamboat 700 property owners to fund capital projects and infrastructure; and the fact that Steamboat 700 is, at heart, a business, with the end goal of profits for developers.
"Whether it will actually be affordable … I don't know," Thomas said.