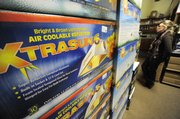 Garden supply stores
■ Little Shop of Growers: Specializing in house plants, indoor growing and hydroponic supplies. Call 879-8577. 2670 Copper Ridge Circle, Unit 3, Steamboat. www.littleshopofg...>
■ South Routt Nursery: Operating a lawn and garden center with a variety of plants, soil, mulch and other landscape products. Call 736-0040. 21250 Colorado Highway 131, just south of Phippsburg. www.southrouttnur...>
■ Windemere Landscape & Garden Center: Offering a variety of products in the Garden Center. Call 879-2403. 1801 Lincoln Ave., Steamboat. www.windemereland...>
■ Yampa Valley Feeds: Carrying garden supplies including seeds, soil, starter pots, tools and more. Call 276-4250. 198 East Lincoln St. in Hayden. www.yampavalleyfe...>
Gardening resources
■ Colorado State Cooperative Extension service, Routt County office: The extension office keeps a variety of resources about gardening in Northwest Colorado. Call the office at 879-0825. Find an online gardening guide at http://co.routt.c.... Click "cooperative extension" on the main menu and then click "gardening basics for Northwest Colorado."
■ The main CSU extension office Web site features several gardening guides. Find them at www.ext.colostate...>
■ Colorado Gardening maintains a list of gardening events, tips and publications. Learn more at www.colorado
>
gardening.com.
Gardening events this week
■ Monday: The Hayden Garden Club will meet from 5:30 to 7 p.m. at the Haven Community Center. Master gardener Jackie Hofman will discuss planting seeds and seed and plant propagation. Garden Club committees and possibly a leadership structure will be formed. For more information at the Hayden Garden Club, call Tammie Delaney at Yampa Valley Feeds at 276-4250.
■ Thursday: Yampatika and Deep Roots host a gardening series "From the Ground Up" from 5 to 7 p.m. at the Legacy Ranch. Cost is $25 for members and $30 for nonmembers. Call 871-9151 to register.
■ Saturday: The Routt County office of the Colorado State Cooperative Extension service presents "Vegetable Gardening Basics" from 9 a.m. to 2 p.m. at the Steamboat Springs Community Center. The $25 cost includes lunch. The class covers basic vegetable gardening, local growing conditions and herbs. Call 879-0825 to register.
Steamboat Springs — In anticipation of frost-free days in June, Little Shop of Growers co-owner and greenhouse vegetable garden keeper Kristen Pappas starts vegetable seeds indoors during late March or early April each year.
Starting with seeds for favorite vegetables — Kristen and her husband, Greg, have had luck with carrots, cucumbers, tomatoes, spinach and broccoli in their greenhouse — Pappas said this time of year growers might want to start thinking about seeds, soil, sunny spots and small trays for planting.
Kristen and Greg Pappas opened Little Shop of Growers in its Copper Ridge Circle space at the beginning of the year. The store stocks seeds, soil, hydroponic growing media, growing lights, trays and other tools helpful for getting plants with longer grow periods off to a non-frosty start.
"We're just trying to fill a niche because we have such a short growing season," said Kristen Pappas, who has a degree in horticulture. A series of gardening classes coming up this week addresses that short growing season. Topics include what to plant, when to plant and where to plant to work with Routt County's short growing season.
Classes this week
The number of frost-free days in each part of the county varies with Yampa Valley microclimates, Routt County Extension Agent CJ Mucklow said. The growing season is 59 days in Steamboat, 85 days in Hayden and 49 days in Oak Creek, Mucklow said.
A workshop from 9 a.m. to 2 p.m. Saturday will address what to cultivate during that season. Margie Arbogast, a certified "master gardener" for the Colorado State Cooperative Extension service, will be one of several speakers at the workshop. An avid gardener for the past 15 years, Arbogast maintains a large vegetable and herb garden that has won her three Helen Sherrod awards for the most entries at the Routt County Fair.
Beets, carrots, spinach, lettuce, bok choy, collard greens, oregano, cilantro, sage, broccoli, squash, beans, peas, potatoes and cauliflower are among the vegetables with shorter growing periods or other attributes that help them grow in Routt County, Arbogast said.
Arbogast encourages beginning gardeners to take small steps toward having more fresh vegetables and fruits available for the table.
"I would say to start small and start simple with your favorite foods, your favorite greens," she said. "It's a great way to cut down on your grocery bill, and it's a great way to get a lot healthier."
Good soil, lots of light
Karen Vail — who helps organize the Yampatika and Deep Roots "From the Ground Up" gardening series and owns Karen's Growing Ideas, a landscaping service — said there's no across-the-board standard to getting the most out of a garden.
"I think the very most important thing to get across is that everybody does things a little different," Vail said. Paying attention to the microclimates in your yard provides better results, she said.
Good, nutrient-rich soil and a spot with plenty of light are crucial to giving plants a strong start, Vail said. Using old potting soil can expose plants to defeating bacteria; a lack of light can make plants long and spindly as they stretch for sun, she said.
Working with four or five crops proven to grow well in cool, dry climates is a good start for new gardens, Vail said.
"From the Ground Up" covers plant choice, starting seeds indoors and planting techniques in an event from 5 to 7 p.m. Thursday at Yampatika's Environmental Learning Center at Legacy Ranch.