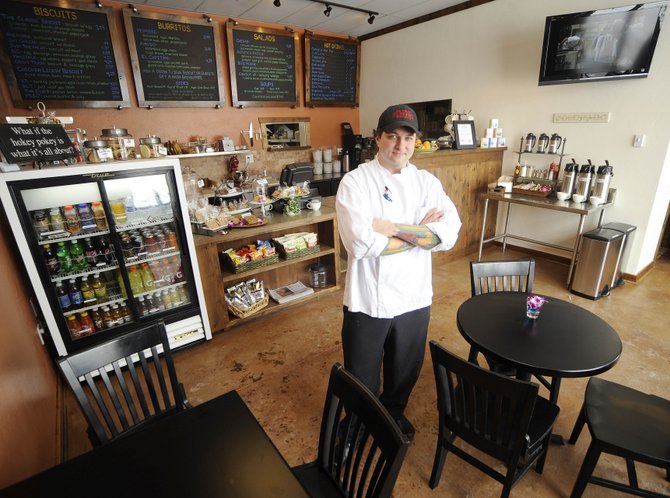 Carolina biscuits meet west side Steamboat
Rex Brice's newest restaurant Lil' House offers breakfast, lunch sandwiches
Sunday, February 14, 2010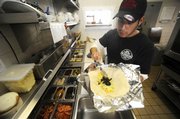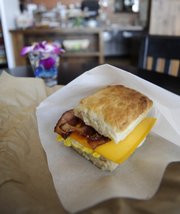 Sampling of the Lil' House menu
■ Biscuits
The Classic Biscuit — biscuit sandwich with egg, meat and cheese, $3.59
The Preacher — buttered biscuit, $0.99
Haystack — egg whites, peppers, goat cheese, $4.29
Gravy Train — biscuits and sausage gravy, $2.59
Chicken Lickin' Biscuit — fried chicken, house mayo and pickles, $4.29
V.T. — turkey pastrami, apple/cranberry relish, cheddar, $4.29
Elvis — peanut butter, banana and bacon, $3.59
■ Burritos
Hombre — scrambled eggs, chorizo, black bean salsa, pepper jack, $3.99
El Capitan — scrambled eggs, pulled pork, green chili, roasted corn salsa, cheddar, $4.29
■ Salads
Cowboy up — Iceberg lettuce wedge, tomato, bacon, mushrooms, onion, poppy dressing, $4.29
Drinks, including coffee drinks, hot chocolate and chai tea.
Lil' House is in Curve Plaza, next to Big House Burgers, and is open 6:30 a.m. to 3 p.m. daily.
Steamboat Springs — A little bit of North Caro­lina invaded the west side of Steamboat Springs this week as local restaurateur Rex Brice opened Lil' House, billed as a country biscuits and coffee joint.
Brice, who grew up in North Carolina, said he wanted to offer a new kind of restaurant on Steamboat's west side.
"We saw a need on the west end of town for something of that nature — quick service, espresso drinks and breakfast items — and there are enough bagel places in town, so we didn't want to compete with them and wanted to offer something unique to the area," he said.
Located in a small space next to Big House Burgers, another restaurant Brice owns, the two spaces share a kitchen with an extra walkway and pass-through created between the restaurants.
They also share an executive chef in Chris McKenzie, a certified chef and certified pastry chef who also has lived in North Carolina.
Since the beginning of December, McKenzie and Brice have worked with the kitchen to create the perfect biscuit, Brice said.
"We talked about what we were looking for, and the kitchen worked on a whole lot of different recipes and came up with a really good biscuit that is sturdy enough to have a sandwich built on it," he said. "The important thing to remember with a biscuit like this is it has to be delicate and light and fluffy but not crumbly."
Brice said they came up with something similar to what he remembered from North Carolina, and the sandwiches built on top are similar, too. There's a classic, with meat, cheese and egg for $3.59, and the "signature item," the Chicken Lickin' Biscuit, with fried chicken, house-made mayonnaise and pickles for $4.29.
McKenzie said that because many Steamboat residents are health-conscious, they also offer the sandwiches on whole-wheat English muffins, a brioche roll or a gluten-free bun. McKenzie also altered some of the staples of the biscuit joint to fit with that ethos, including the V.T., a sandwich with turkey pastrami, apple-cranberry relish and cheddar.
Brice said he wanted to ensure that the restaurant stuck to the principle of biscuit places in North Carolina: affordability.
"I could see people who work in the offices in the area coming over to get a cup of coffee and maybe a little snack or maybe even lunch," he said. "They can get a three-item combo and spending somewhere in the neighborhood of $5 or $5.50, plus tax, and have a really good, filling lunch or breakfast."
Building on a recession
During the economic slump, Brice has taken the opportunity to open the new restaurant and upgrade others. He said the recession created chances he would not have otherwise had.
"I think that for one, a bad economy sometimes offers opportunities, and that's what happened with Lil' House," he said.
"If it hadn't been a bad economy, the current tenant would not have moved out, and the landlord wouldn't have been so motivated to put somebody in."
Brice also has given Mazzola's Italian Restaurant a renovation with new paint and woodwork, and he said he expects an expansion at the Holiday Inn to give Rex's American Grill & Bar more outside green space.
He said he also expects to expand the offerings at Big House in mid-March to include a dinner menu with comfort food including chicken-fried chicken, pot roast, and macaroni and cheese, in addition to the burgers and sandwiches available now.