Photo Gallery
Steamboat boys and girls basketball games in Denver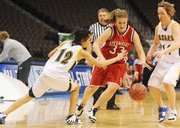 The Steamboat boys and girls basketball teams played Rifle on Thursday night at the Pepsi Center in Denver. Steamboat's Charles Wood was named the game's most valuable player and received a basketball autographed by Chauncey Billups during halftime of the Denver Nuggets-San Antonio Spurs game that followed the Sailors' games.
Box scores
STEAMBOAT BOYS 52, RIFLE 40
Steamboat 11-12-15-14 — 52
Rifle 6-14-12-8 — 40
Steamboat (12-7, 9-2) — Isiah Forsyth 2 0-0 5, Randall Nelson 7 1-1 15, Robby Davis 1 0-0 3, Connor Landusky 2 0-0 4, Jack Spady 2 0-0 5, Charles Wood 6 1-4 14, Eric Trousil 3 0-0 6. Totals 23 2-5 52.
Rifle — Ryan Davis 2 0-0 4, Tyler Rust 3 4-6 12, Tyrel Lenard 2 0-0 4, Irving Gomez 1 1-2 3, Rian Creech 4 7-8 15, Taylor Boone 1 0-0 2. Totals 13 13-16 40.
3-pointers: Steamboat (4) — Forsyth, Davis, Spady, Wood.
RIFLE GIRLS 47, STEAMBOAT 30
Steamboat 7-8-12-3 — 30
Rifle 8-12-13-14 — 47
Steamboat (13-6, 8-3) — Lindsey Yost 0 1-2 1, Hannah Moore 1 1-2 4, Tara Spitellie 1 0-0 3, Emi Birch 2 0-0 4, Colleen King 3 3-4 9, Matthia Duryea 4 1-1 8. Totals 11 6-9 30.
Rifle — Makayla Wilkins 4 0-0 8, Courtney Cordova 7 1-4 16, Nicole Karr 1 0-0 2, Hayden Holgate 0 1-2 1, Ciara Euler 3 6-6 12, Tresa Berner 1 0-0 2, Rachael Keithley 2 2-4 6. Totals 18 10-16 47.
3-pointers: Steamboat (2) — Moore, Spitellie. Rifle (1) — Cordova.
Steamboat Springs — The lights were indeed bright in the cavernous Pepsi Center on Thursday afternoon. Workers scampered about, preparing Denver's great arena for America's primetime, a nationally televised game between the Denver Nuggets and the San Antonio Spurs.
That this was a place and a day for big-time basketball was sewn into the air.
"This is huge," Steamboat's Charles Wood said after his team's game, his eyes still taking in the sights as security members shuffled him away from the members of the Nuggets and the Spurs filing into the building and to their locker rooms. "This was awesome."
Steamboat (12-7, 9-2), too, was awesome, managing to live up to its lofty confines with a dominating second-half performance that dispatched Rifle, 52-40, and set up a big home showdown at 5:30 p.m. Saturday against Glenwood Springs.
On Thursday, it came down to rebounding.
Steamboat was best on the boards in the second half, and that enabled the Sailors to break open what had been a close game in the first half.
"At halftime, that's what we talked about, rebounding. That was the main thing that was killing us," said Steamboat's Randall Nelson, who finished with a game-high 15 points. "We figured if we could get on the boards better, we'd win the game."
With the team up, 23-20, at the break, Isiah Forsyth scored to push the lead to 6 early in the third quarter and then hit a 3-point shot later in the period to make it 7 points. A late trey from Rifle kept the contest within reach, but Steamboat stormed away with the game early in the fourth quarter.
"That was fun," Steamboat coach Luke DeWolfe said. "We managed to not allow them to get offensive boards. We made adjustments, and once we did that, they weren't getting the opportunities to shoot it over and over and over, and things got a lot better for us."
Wood scored 14 points and with a strong showing on offense and defense earned the most valuable player tab from the arena staff. That meant he received a Chauncey Billups-autographed basketball at center court during halftime of the Nuggets-Spurs game.
"I didn't expect that," Wood said. "I never thought I'd ever play here, so this is kind of like a dream come true."
4th quarter flushes Sailors girls basketball Thursday
It took all of two minutes for the Steamboat girls basketball team's plans of an upset to evaporate, 120 seconds of pain that the team didn't even have to cross half court to endure.
Actually, the crossing of half court was the main problem as the team fell, 47-30, to league-leading Rifle.
The Sailors hung with the Bears and handled a brutal full-court press through much of Thursday afternoon's Pepsi Center showdown. One short stretch of the fourth quarter seemed to render the rest of the game meaningless, however.
"They really picked up their intensity, and we let it get to us instead of reacting and picking up our own intensity," Steamboat's Colleen King said. "We shut down."
Steamboat's effectiveness in breaking the press earlier in the game caused Rifle to pull out of the defense in the first half, and although the Sailors never managed to tie the game after it was knotted at 13 in the second quarter, they stayed close, often within 2 or 3, all the way through the second and third quarters.
They were within 4, 33-29, after Hannah Moore hit a 3-point shot with six minutes remaining in the fourth quarter.
That was as close at Steamboat could come to its own basket for the next two minutes, however. For the Sailors, those two minutes seemed like the longest of the season as the Bears slowly, painfully ground any hope out of the ballgame.
A pair of turnovers on inbounds passes turned the 4-point lead into 8 in less than five seconds. Rifle didn't even shoot the ball well during that span, but it often grabbed offensive rebounds, slapped the ball away from Sailor hands when it missed those and forced jump-ball situations when all else failed.
All things considered, none of it really failed for Rifle, and by the time Steamboat finally was able to limp across the half-court line with possession of the basketball, what had been a comfortable six minutes to battle became four, and what had been a workable deficit of 4 had become 15.
"For three quarters we had our shaky stretches, but we were still right there, then those two minutes killed us," Steamboat coach John Ameen said. "Against a good team, you have to put together four quarters, and we did not do that."
For most of the rest of the game, Steamboat proved itself capable of trading blows with the tough Bears. Tara Spitellie buried a 3-pointer for Steamboat at the end of the first quarter to pull her team within 1, and then Colleen King grabbed an offensive rebound and scored midway through the second to give Steamboat its final lead of the game, 13-11.
King led the team with 9 points, and Matthia Duryea dropped in 8.
Those positive moments weren't nearly enough to overcome Rifle's late break, but they were enough to keep the Sailors from walking away from the glitz and glam of the Pepsi Center downtrodden.
"Last game against Rifle, it was a 20-point game at halftime, but this time it was much closer," Ameen said. "That's a top-tier team, and we were right there with them. If we handle those two minutes differently, who knows what happens? The girls should take confidence from this."
They play Glenwood Springs at 4 p.m. Saturday in Steamboat.