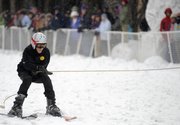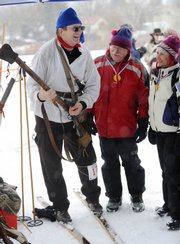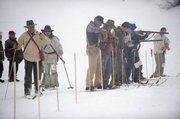 97th annual Winter Carnival schedule
Today
9 a.m. Ring and spear race for ages 6 to 9
9:30 a.m. Obstacle course race for ages 5 to 14
10 a.m. Street slalom for ages 6 to 9
10:20 a.m. 25-yard dog dash
10:30 a.m. Donkey jump for ages 10 to 14
11 a.m. Shovel race for ages 18 and older
11:30 a.m. Diamond Hitch Parade
The diamond hitch consists of at least four skiers. The skiers hold on to points of a rope tied in the shape of one or more diamonds. Animals, people or vehicles may pull the skiers down the snow-filled streets.
1 p.m. Pro Alpine Ski Flying Finals
This is a must-see ski jumping event with participants launching off of the K114 "Big Hill" on Alpine skis and boots, rather than the usual ski jumping equipment.
1 to 2 p.m. Parent Child Downhill
Everyone is a winner in this noncompetitive, fun event. An adult and child ski together through Howelsen Hill's terrain.
All events leading up to the Diamond Hitch Parade are part of the street events on Lincoln Avenue. The Pro Alpine Ski Flying Finals and Parent Child Downhill are at Howelsen Hill. A Winter Carnival button is required for carnival events; buttons are available for $7 at any event or at many local businesses. Call the Steamboat Springs Winter Sports Club at 879-0695 for more information.
Steamboat Springs — Each entrant is responsible for his or her actions. Do not shoot your neighbor's targets. Off-hand shooting only.
Among the rules event organizer Paul Yonekawa announced to participants before starting the 36th annual International Muzzle Loading Biathlon on Saturday afternoon at Howelsen Hill, the most important are the ones that keep tradition alive and the ones that keep things safe.
Fighting wet conditions that made loading black powder firearms difficult and navigating on cross-country skis sticky, competitors started with a cannon blast and made their way through four laps around a cross-country course and four rounds of target shooting.
The event fits the original purpose of Winter Carnival, giving participants a chance to "go out and do something in the middle of winter so you don't go stir-crazy," said Bob Brassell, who checked off his 28th consecutive Winter Carnival muzzle loading race Saturday. Brassell and Yonekawa have been organizers for the event for the past 17 years, Brassell said.
Racers competed in one of several categories: Traditional racers used pre-1940s skis and 1800s clothing; transitional racers used more modern skis and similarly historic clothing; and open category skiers were allowed any kind of ski and any kind of clothing. There was one entry in the team category.
Yonekawa got interested in the event when an old roommate and former biathlon participant persuaded him to try it. A fan of working with his hands, Yonekawa put together all the beadwork on his biathlon outfit and crafts his own biathlon tools and accessories. Brassell said the event's historic bent appeals to him and that the community spirit gives it a special quality.
"When I was younger, I would get excited about winning. But not anymore; it's just for the experience," Brassell said.
Events continue today
Earlier in the day, spectators and skiers of all ages lined Lincoln Avenue to watch the horse-drawn street events.
Nine-year-old Anders Brockway was one of the first junior skiers to clock a podium-worthy time in skijoring, finishing the course in 7.35 seconds. A veteran of the Winter Carnival event that allows children ages 6 to 14 a chance to ride down Lincoln Avenue being towed by a horse, Anders said his strategy was to wrap his hand around the rope and go as fast as he could.
Bryan Gilbertson, 10, who won the 10 to 14 skijoring age division with a time of 6.89 seconds, said he tried to use some lessons from wakeboarding in his run — drift out from the horse as far as you can without hitting a wall, and you go faster, he said.
The street events continue today on Lincoln Avenue with children participating in events including the ring and spear race, obstacle course and street slalom.