For more
■ Learn more about Steamboat Moxie Home Consignments and Design, including latest store hours, online at www.steamboatmoxie.com. The store is at 1855 Shield Drive on Steamboat's west side. Call the store at 970-879-9866 for design seminar information.
■ Learn more about Sew Steamboat, including lesson and class times, by calling 970-879-3222, e-mailing info@sewsteamboat... or visiting the store at 929 Lincoln Ave. The store is open from 10 a.m. to 6 p.m. Mondays through Saturdays. A developing website is at www.sewsteamboat.com.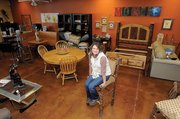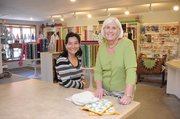 Steamboat Springs — Eight-year-old Maggi Cong­don stared intently Tuesday at the blue-patterned, flannel material she was running under a sewing needle to make pajama pants.
Gayle Dudley, of Sew Steam­boat, nodded in approval.
"That's a nice five-eighth-inch seam," Dudley told Maggi. "That was very nice."
Maggi's sister Julia, 10, worked at machine a few feet away.
"This is a non-school-day sewing camp," Dudley said.
The event was one of many hands-on activities offered by Sew Steamboat, a downtown Steamboat Springs yarn and fabric store and sewing center.
On the city's west side, Steamboat Moxie Home Con­signments and Design also is using instructional events to get potential customers in the door. Co-owner Michelle Caragol said Moxie, which sells home furnishings in the space formerly occupied by Sears, has hosted design seminars with topics including holiday table settings and creative gift-wrapping ideas.
Dudley and Caragol each expressed hope that building a community of like-minded hobbyists will build their businesses.
"It exposes people to the store; it gives them a reason to come into the store," Caragol said about the seminars. "But it's also just a fun thing to do."
Sew Steamboat opened Nov. 25 at 929 Lincoln Ave. Moxie opened Nov. 10 on Shield Drive. Caragol said Moxie is planning a grand opening celebration for Jan. 20.
Dudley and Mariana Ishida are partnering in Sew Steam­­boat, which was bustling with several customers — in addition to the young "campers" — Tuesday afternoon. Sew Steamboat's classes range from open knitting and beginner quilting sessions to longer efforts such as an ongoing apron-making series and a four-week class called Perfect-fitting Pants.
"There's a lot of folks in town who quilt, lots and lots who knit and some who make their own clothes," Dudley said.
A sewing class, in fact, spurred creation of the store itself — Ishida said she was taking sewing lessons from Dudley during summer when the idea for the store struck. The two agreed to form a partnership, and so far, they say business has been strong.
"It's been very good, with locals and with tourists," Dudley said. "We are the only yarn and fabric store in the area."
Ishida said the store offers quilting and garment fabrics along with a variety of yarn and sewing "notions," or accessories. Some of the yarn is produced locally, she said.
"We have about four different ranches that provide wool," Ishida said.
Caragol said Moxie also is using local products to fill much of its retail space.
She said Moxie has more than 150 consigners, some local and some from out of the area, who have furniture of all kinds — along with accessories and artwork — for sale on Moxie's 7,000-square-foot main floor.
Michelle Caragol and her husband, Stephen Caragol, own the building through their company, Outback Investments. Mich­­elle Caragol said after Sears moved to Riverside Plaza and they were unable to lease the space "for a very long time," the Caragols decided to remodel the store's interior themselves and open Moxie. She said two new, smaller retail spaces soon could be available next door, after the current neighbor, Interiors with Altitude, reduces its space.
Those interested in learning more about the potential new retail spaces can call Stephen Caragol at 970-871-7934.