To help
A fund for the Dunklin family has been set up at Vectra Bank in Steamboat Springs. Donations are accepted at both of its Steamboat locations. Branch service manager Teresa Luber said Vectra Bank also has created a journal for people to write well-wishes and notes that are read to Michele Dunklin at Denver Health Medical Center.
Luber said customers and other members of the public are welcome to ask about Dunklin at Vectra Bank.
"We're more than happy to talk about her condition and give everybody the latest updates," Luber said. Luber said she also can answer questions at her direct line at 970-870-4220.
Family friend Michelle Diehl has set up a blog at www.micheledunkli... to let people know how Dunklin is doing.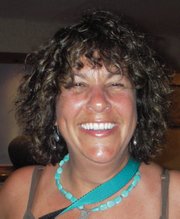 Steamboat Springs — Michele Dunklin remains in intensive care at a Denver hospital, but friends say she is very responsive and doing much better following a Dec. 8 car accident on U.S. Highway 40 near Hayden.
"She's doing very well," Teresa Luber said Mon­day. "She's definitely on the road to recovery."
Luber visited Dunklin during the weekend and plans to return Wednesday to see her friend of 25 years. Luber said she and Dunklin moved to Steamboat Springs from California together years ago, before both met their future husbands. The two are co-workers at Vectra Bank, where Luber is branch service manager and Dunklin is a longtime teller.
Luber said Dunklin has no head trauma, brain damage or loss of memory. Luber said Dunklin now has much less need for a ventilator that she was using for breathing assistance at Denver Health Medical Center.
"It's going to be definitely a long, slow road, but compared to what she was dealing with at the very beginning of this, we feel that she's made better progress than what was expected in the beginning," Luber said.
"They're really hoping for a complete recovery," she said.
Dunklin, 47, was driving back to Steamboat after shopping in Craig when she tried to pass a semitrailer on U.S. 40 outside Hayden and hit a pickup head-on.
Many of her organs were damaged, and she broke 22 ribs. The two people in other vehicles in the accident were not seriously injured.
Dunklin underwent several surgeries and is stable, but doctors initially told friends and family to be prepared for things to get worse before they got better.
"She's very responsive, but mostly with her eyes and moving her arms and such," Luber said. "She can't really speak yet, but she does mouth words. If you can read lips, we can understand what she's saying."
Luber said Dunklin writes notes and generally is in good spirits.
"She's quite a go-getter when she's 100 percent, so I think she's getting a little frustrated that she can't do things," Luber said.
Luber said Dunklin could be released from ICU and transferred to Yampa Valley Medical Center for the rest of her recovery "maybe in the next two weeks or so."
Dunklin is married to Steve Dunklin, general sales manager at Cook Chevrolet, Jeep & Subaru. Steve Dunklin and their 14-year-old son, Zach, have been mainstays at Michele's bedside, along with other family members and friends.
Luber said Dunklin's absence is felt in Steamboat.
"She's really, really missed at the bank, by customers and employees alike. The concern from the community has been remarkable," Luber said. "I think the community will really be able to get more involved when she comes home. We'll continue to keep people updated on that."
West Routt Fire Protection District Chief Bryan Rickman was one of the first on the accident scene. He pulled Dunklin from her Chevrolet Trailblazer so he, Dal Leck and Bryan Birch could get her to YVMC.
Rickman visited Dunklin at Denver Health on Friday. Rickman said he's been friends with Steve Dunklin for about 15 years but didn't know Michele before the accident. When Steve Dunklin explained to his wife who Rickman was, Michele Dunklin was able to recognize and acknowledge the man who helped save her life.
"It was a pretty touching moment, to say the least," Rickman said.