Late lapses sink Steamboat boys hoops at Shoot-Out
Team falls to Windsor at home tournament
Updated December 11, 2010 at 11:09 p.m.
Boys Shoot-Out results
1st and 2nd place
Palmer Ridge beat Castle View
3rd and 4th place
Montrose beat Green River
5th and 6th place
Windsor beat Steamboat
7th and 8th place
D'Evelyn beat Moffat County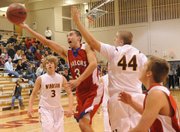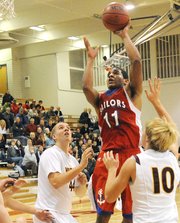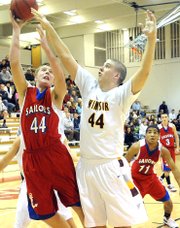 Steamboat Springs — On the surface, the Steamboat Springs High School boys basketball team emerged from its weekend home tournament, the 12th annual Steamboat Springs Shoot-Out, with a 1-2 record, a sixth-place finish marked by two double-digit losses, the lone win coming via miraculous comeback.
The Sailors are taking more than one good memory — and two bad — away from the weekend, however. They again lost Saturday, falling, 49-35, to Windsor, but that game as much as any helped show the team what it needed to do to win.
"We have to control the tempo. If we can control the tempo, we can make teams uncomfortable, and we can win games," Steamboat coach Luke DeWolfe said. "This is the process it takes in the preseason. You find out who you are and what you have to do to be successful. That's what we got out of this."
Steamboat lived by that control-the-tempo philosophy for much of Saturday's game, and in those periods, the Sailors thrived.
Windsor proved a tough, talented team with a strong low-post presence and guards quick enough to stretch the floor. The Wizards pieced together several runs through the bulk of the game, but, playing at a measured pace, Steamboat kept the deficit from growing.
Windsor led 8-2 early, but 4 points from Randall Nelson helped close the gap.
The Wizards led, 19-14, in the second quarter, but a pair of buckets from Isiah Mendoza-Forsyth — coming on strong drives into the lane — helped pull Steamboat back in it.
"We were controlling the tempo, slowing it down and playing our game," Mendoza-Forsyth said.
Steamboat even managed to claw out a lead in the third quarter. Justin Anderson hit a 3-point shot early in the period and Charles Wood hit one later, giving Steamboat a 26-25 lead with 4 minutes, 55 seconds remaining in the fourth.
"We gave ourselves a shot," DeWolfe said. "We hung with them, and we had a chance. That's all you can do with those good teams is give yourself a chance."
If Steamboat learned the advantages of patience Satur­day, it also learned how quickly abandoning that style can lead the team astray.
Windsor retook the lead with 2:30 remaining in the third, the first points of a 9-0 run that closed the quarter. Six of those points came in the final minute, a run spurred by Steamboat turnovers.
The ball-control issues carried into the fourth quarter, and after two more Windsor scores, the game was getting away, 38-29.
"We played really well, a solid game, but you lose to a good team if you let up for even 30 seconds," DeWolfe said.
Wood led the way for Steam­boat, scoring 9 of his team-high 15 points in the second half. Nelson and Mendoza-Forsyth each had eight.
The team returns to action Monday in Aspen. The team then travels Thursday for the Green River Tournament in Wyoming. De­­spite dropping two of three at home, the Sailors will travel to that one with high spirits.
"There are usually tough teams there, but we are in a really good spot," Mendoza-Forsyth said. "We've come a long way. We're ready for that tournament."
— To reach Joel Reichenberger, call 871-4253or e-mail jreichenberger@steamboatpilot.com