Photo Gallery
Steamboat Shoot-Out basketball tournament at SSHS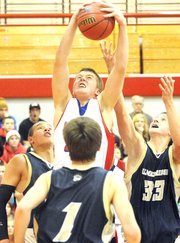 2010-11 Sailors boys basketball schedule
Dec. 1: Niwot 68, Steamboat 41
Dec. 3 and 4 Brenda Patch Tournament:
Dec. 3: Steamboat 49, Roaring Fork 43
Dec. 4: Steamboat 47, Basalt 33
Dec. 9 to 11 Steamboat Springs Shoot-Out:
Dec. 9: Palmer Ridge 44, Steamboat 30
Dec. 10: Steamboat 53, D'Evelyn 51
Dec. 11: Windsor 49, Steamboat 35
Dec. 13: Steamboat 52, Aspen 47
Dec. 16 to 18 Flaming Gorge Classic:
Dec. 16: Rock Springs 68, Steamboat 35
Dec. 17: Steamboat 47, Star Valley 45
Dec. 18: Evanston 58, Steamboat 34
Jan. 14: Steamboat 53, Battle Mountain 32
Jan. 15: Steamboat 66, Eagle Valley 51
Jan. 21: Palisade 47, Steamboat 44
Jan. 22: Steamboat 60, Delta 44
Jan. 28: Steamboat 51, Moffat County 50
Jan. 29: Steamboat 56, Glenwood 54
Feb. 4: Steamboat 48, Battle Mountain 38
Feb. 8: Steamboat 43, Eagle Valley 25
Feb. 11: Steamboat 42, Palisade 27
Feb. 12: Steamboat 74, Delta 46
Feb. 18: at Moffat County, 3:30 p.m.
Steamboat Springs — At one point in Thursday's opening-round game of the Steamboat Shoot-Out, Steamboat Springs High School coach Luke DeWolfe put his hands down to his sides, looked down and just shook his head.
For the better part of four quarters against Palmer Ridge, Steamboat simply couldn't find anything that worked offensively, and when the team did, it couldn't make it.
The result was another lackluster offensive performance and a 44-30 loss.
"That was the way the game went," DeWolfe said. "We got good look after good look and just couldn't finish. There aren't many times you're going to score 30 points and win a ball game."
The first quarter spoke to the entire contest.
Steamboat (2-2) missed four early layups, shot 1 of 11 from the field and ended the first eight minutes down 11-2.
Thanks in large part to the Bears' matchup zone defense, when the Sailors weren't missing layups, they found little success in hitting an offensive rhythm.
"That's pretty much how all of our games are," Palmer Ridge coach Nick Mayer said. "We don't have enough talent or athleticism to win 90-20. That's our philosophy. We like to grind things out. We always anticipate a grind-it-out type of game. We hang our hat on defense, and we're happy with (Thursday's) game."
Steamboat still kept it close, closing to 19-13 at halftime.
But the Sailors missed two more layups out of the break, and Palmer Ridge scored the first five points of the third quarter to take a 24-13 lead.
The two teams went back and forth until Justin Anderson's 3-pointer with 6 minutes, 56 seconds left in the game cut the lead to 29-23. But Steamboat never would get any closer.
"When we get into desperation times and get down, we lose all our teamism," said Anderson, who led Steamboat with eight points. "We lost all our concentration of what we should be doing on offense."
The Sailors shot 24 percent from the field and shot eight free throws all game. In addition to Anderson, Isiah Mendoza-Forsyth added seven points, and Charles Wood had six.
Collin Babcock led Palmer Ridge with 10 points and seven rebounds.
Steamboat plays at 4:45 p.m. today against D'Evelyn.