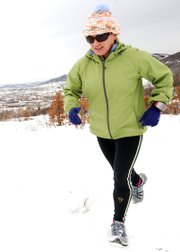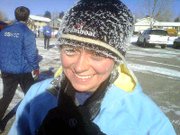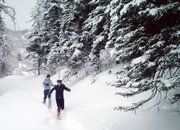 Winter running tips
■ South-facing slopes will get the most sunshine and can offer some of the best winter running.
■ Emerald is a favorite during summer and great during winter. There are plenty of running-trail options off Blackmer Drive. Don't run on cross-country skiing trails, however.
■ Lightly traveled dirt roads can be packed down by cars, but not so much as to ice over. They are great places to run.
■ Pack appropriately. Layer clothing, and if headed to the backcountry, bring extra, as well as basic survival gear such as fire-starting equipment.
Steamboat Springs — It's not that they don't like taking advantage of Steamboat Springs' winter outdoors activity offerings. They've eaten up this year's early season powder, and they'll skate ski as the winter wears on.
It's just that for many Routt County athletes, the dawn of winter doesn't mean the end of running. Instead, there's a healthy community within the community that, even when the winds are cold and the snow is deep, breaks out the running shoes for a nice cruise.
"It's just a great, quiet, peaceful, serene experience," Steamboater Kristin Hager said. "It's a great way to exercise."
Whether they're prowling lonely county roads or surprisingly popular trails on downtown's Emerald Mountain, there's no shortage of people eager for a run.
'Tis the season
Greg Long long has been a proponent of round-the-calendar running, but convincing someone new is always a bit difficult.
It's a battle of convincing that the distance coach for the Steamboat Springs High School cross-country and track teams wages seemingly every year when the snow starts to fly.
"With the kids who haven't ever run in the winter with us before, it's always hard," he said. "If they can run through the winter months, they will be tougher than everyone else when it comes to spring. That's how I'm encouraging the kids now."
It's about more than just slipping down the Yampa River Core Trail, however. That town biking and walking artery is actually a bad place to run, Long said.
Instead, throughout the years, he's learned the right and wrong places to get that winter workout. Top on the list is a south-facing slope, one that will catch what limited amount of sun there is on short December days.
"We do a lot of hill interval workouts during the winter," Long said. "The south-facing slopes will drain and get good sunshine."
One place he likes to revisit is the hill on Yahmonite Road in Old Town.
The second main thing Long looks for, especially when he gets out of the city, is dirt roads that receive some, but not overwhelming, traffic.
Heavy traffic packs down snow and causes roads to ice over, making for a tenuous run. Less consistent traffic, however, packs it down, but not to the same degree, allowing feet the much-needed traction.
"If it's been snowing hard, ice pack everywhere, I get off regular paved roads. Monday, when we had fresh snow and the roads weren't in good condition, we parked at the base of Buffalo Pass," he said. "That road gets just enough traffic, so it was packed down, but not icy.
"We ran up to the parking lot. Coming down, we had two inches of fresh snow, but it was fun."
Terrific trails
Just because skiers and snowboarders take over many of the region's summer trail areas doesn't mean trail running is over, either.
Instead, it's prime time, Lisa Barbour said.
Barbour long has been a fan of a winter run and is trying to introduce the idea to more Steamboat residents this winter, expanding summer's Steamboat Springs Running Series into the winter with a four-race Winter Running Series for the first time.
The results have been positive so far, even if the weather has been mixed. October's Soda Creek Sneak drew a huge crowd, but that was before the snow came.
The Thanksgiving Day Tur­key Trot, however, was as cold as they come, with temperatures fixed below zero for a road run into Strawberry Park.
The series will return Feb. 13 with Love The Run You're With 10-kilometer trail run on Emerald Mountain. The series includes the Steamboat Pentathlon on March 5 and concludes with the Moonlight 10K on March 13.
The Emerald Mountain trails, used in particular for the February 10K, are perfect, Barbour said.
"I mostly run on Emerald. Probably 80 percent of the trails that are there during the summer get packed down during the winter," she said.
The trails, used by runners, hikers and mountain bikers in winter, usually are too tight and twisty for cross-country skiing. A steady stream of fellow runners or snowshoers and hikers helps keep the way stamped down. The snow usually still is soft enough to help a runner keep balanced.
"Sometimes you're breaking trail and it's a little tougher and you can't go as fast, but I like to go on Emerald," Hager said. "I've gotten spoiled living here. We're fortunate to live in an awesome place where we can do this."
Pack right
Runners aren't restricted to roads or town, either. Long said he loves to get out into the backcountry, outfitting his crew with snowshoes when necessary.
No matter where the run is, it's important to pack the right supplies.
Many winter runners and hikers employ traction devices that fit over shoes like the YakTrax, available from outdoor retailers in Steamboat for about $30. Others shy away from them if at all possible.
Runners usually wear regular trail or distance running shoes on their feet, but layering is the way to dress the rest of the body.
"I don't care what the trail looks like when you leave the car. Always bring an extra layer," Long said. "A lot of days you can just get away with a long-sleeve shirt, vest, hat and gloves, but don't ever under dress. You can take a jacket off and roll it around the waist if you need to."
Long said he always takes along a pack with a dry set of clothes, fire-starting material, extra gloves and an extra hat.
"It's so different in wintertime," he said. "The weather can change at any time.
"I just love going into the backcountry. If I'm going by myself, I'll take snowshoes. You can go anywhere. It's different than during the summer. Once we get a couple feet of snow, everything's buried, and away you go."
— To reach Joel Reichenberger, call 871-4253 or e-mail jreichenberger@steamboatpilot.com