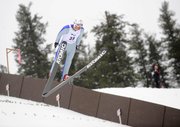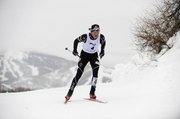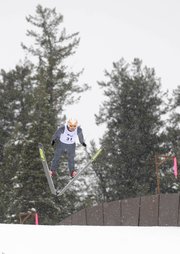 Past Event
Sunday, December 5, 2010, 9:30 a.m. to 2:30 p.m.
Howelsen Hill, 845 Howelsen Parkway, Steamboat Springs
All ages / Free
U.S. Nordic combined team struggles in Norway
The U.S. Nordic Combined Ski Team's early season struggles continued Saturday during the second World Cup stop of the year in Lillehammer, Norway.
The Americans failed to register a top-30 finish, with Brett Camerota leading the way in 40th. Taylor Fletcher was 41st, Bryan Fletcher was 44th and Billy Demong was 45th.
Norway's Mikko Kokslien was first, followed by France's Jason Lamy-Chappuis and Austria's Felix Gottwald.
The team competes again today in Lillehammer.
Steamboat Springs — Austria's Dominik Dier and Germany's Wolfgang Boesl knew it was inevitable.
The 21-year-olds with dreams of competing on the World Cup A circuit later this season used strong jumping efforts to begin the cross-country portion of Saturday's Nordic Excavating FIS Nordic Combined Continental Cup event with small leads against Steamboat's Todd Lodwick.
Dier, on the heels of the longest jump of the morning, led by 10 seconds against Boesl and 30 seconds against Lod­­wick, who began the 10-kilometer cross-country race fourth after a jump of 96 meters.
"But everybody knows that Todd comes," Boesl said. "We knew he'd win this race. The only way was for us to work together and save second and third place for us."
And so it was.
Lodwick, at 34 years old, did what he's done so many times on the jumps at Howelsen Hill and the cross-country course at Brent Romick Rodeo Arena. The two-time world champion and Olympic silver medalist finished first in 23 minutes, 43.9 seconds. Dier was second in 24:36.3, and Boesl was third in 24:40.
In the sport of Nordic combined, athletes first participate in a ski jumping round that determines their starting position for the cross-country ski race. The winner of the cross-country ski race is the winner of the overall event.
By the first lap of the afternoon cross-country race, Lod­wick already had moved into second place and was right on Dier's heels.
By about the 3-kilometer mark, Lodwick had overtaken Dier and made it his race to lose.
"It never gets old," Lodwick said about winning in Steam­boat. "This is my town. Talk to anybody and I know how to jump this hill and make the most of it. It's nice to have international guys here, the up-and-coming guys from Germany and Austria."
Dier first was after the morning jumping portion. The Aust­­rian's jump of 98 meters gave him a 10-second lead against Boesl and 28-second lead against Russia's Ivan Panin heading into the afternoon cross-country race.
Dier, who hopes to make the World Cup in his hometown of Ramsau, Austria, on Dec. 18 and 19, said he was pleased with his jump but knew the advantage wouldn't hold up.
Lodwick should have started just 15 seconds behind, but two of his jumping scores were incorrectly entered.
"I knew that Todd would come," Dier said. "I knew that Todd would come. I expected him to come."
Other Americans who competed Saturday included Eric Camerota in 13th, Brett Denney in 16th, Nick Hendrickson in 19th, Erik Lynch in 25th, Cliff Field in 27th, Michael Ward in 38th, Adam Loomis in 40th, Aleck Gantick in 46th and Tyler Smith in 47th.
The event continues today with a trial jump at 9:30 a.m., a competition jump at 10:30 a.m. and the cross-country event at 2:30 p.m.
---
FIS Continental Cup Nordic Combined Results
Steamboat Springs
Nov. 4
Todd Lodwick 23:43.9
Dominik Dier 24:36.3
Wolfgang Boesl 24:40.0
Fabian Riessle 24:48.2
Joergen Graabak 24:48.3
Manuel Faisst 24:51.8
Marco Pichlmayer 24:55.5
Aldo Leetoja 24:57.9
Shun Yamamoto 24:59.8
Tobias Kammerlander 25:06.6
Sebastian Reuschel 25:09.8
Mark Schlott 25:16.4
Eric Camerota 25:17.0
Steffen Tepel 25:25.0
Truls Soenstehagen Johansen 25:25.6
Brett Denney 25:26.0
Samuel Guy 25:28.5
Harald Lemmerer 25:30.7
Nick Hendrickson 25:31.6
Florian Pinel 25:31.7
Ivan Panin 25:32.8
Robert Hauser 25:32.9
Dimitry Matveev 25:45.4
Geoffrey Lafarge 25:48.4
Erik Lynch 25:48.8
Wesley Savill 25:49.1
Clifford Field 25:50.4
Johannes Firn 25:50.9
Sergej Maslennikov 25:55.7
Johannes Weiss 26:06.0
Kail Piho 26:13.8
Ales Vodsedalek 26:24.1
Markus Foerster 26:26.9
Benjamin Kreiner 26:36.0
Nicolas Martin 26:42.3
Niyaz Nabeev 26:42.7
Reruhi Shimizu 27:07.5
Michael Ward 27:17.4
Jussi Salo 27:47.1
Adam Loomis 27:49.0
Lukas Havranek 27:57.8
Sebastien Dandurand 28:04.4
Chanon Pretorius 28:38.0
Jesse Jaeaeskelaeinen 28:38.3
Carlos Kammerlander 28:41.8
Aleck Gantick 28:44.5
Tyler Smith 29:07.9
Robert Kartik 30:24.2
Viktor Pasichnyk 30:40.7