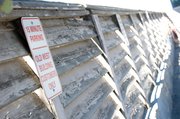 Steamboat Springs — This fall's construction on U.S. Highway 40 through downtown Steamboat Springs starts in about two weeks, but last spring's work is still fueling debate.
City and Colorado Depart­ment of Transportation officials are meeting this week to talk about the new bus stops along Lincoln Avenue. The stops were installed last spring as part of CDOT's downtown repaving and improvement project, conducted by Scott Contracting. That project resumes Sept. 7.
Business owners on the north side of Lincoln, particularly between Ninth and 11th streets, say the bus stops are poorly placed, too long and take away too much parking in front of stores and restaurants. City Pub­lic Works Director Philo Shelton said the lengths and locations of the bus stops were part of a significant public review process that accounted for federal regulations and sought to provide the best, safest access for buses.
"From the design point of view, the taper of the bus lane and stop is driven by what's called AASHTO, which is kind of the federal highway administration's Bible for how you design things," Shelton said last week.
The acronym refers to the Am­erican Association of State High­way and Transportation Offi­­cials, which provides guidelines the downtown Steamboat project had to follow because of its use of federal dollars, Shelton said.
That explanation doesn't satisfy Fritz Aurin, owner of the Steamboat Smokehouse restaurant, 912 Lincoln Ave. Aurin asked Steamboat Springs City Council last month why the new bus stops on Lincoln's north side between Ninth and 11th streets were placed in front of retail businesses and restaurants rather than, for example, in front of the public parking lot at 10th Street or Western Lodge near 12th.
"By going one block farther down, they could have placed the bus stops where they would make more sense," Aurin said Thursday. "They're going to impact me in a huge way by the way they've set up this bus stop.
"I understand that some of the money that was used for this was federal money, and they have standards," he continued. "But I've never seen any kind of situation where they haven't been able to take into account local businesses … and accommodate those in some way in terms of their plan."
Aurin said he has concerns not only with the loss of public parking and likely placement of a bus shelter in front of his restaurant, but also with the appearance the bus stop creates.
"When you have a bus stop this long, which is basically 44 yards long, it makes the street look vacant," he said. "It doesn't look like there's anything going on."
Up the street at Pioneer Spirits, at 1104 Lincoln Ave., owner Jeff Worst said his customers often ask about the loss of parking. The yellow-curbed bus stop extends along the Lincoln Avenue frontage of the whole building, which also includes Riggio's Ristorante and One Fine Day Floral & Weddings.
"It's had a large effect on my business," Worst said. "I probably have five people a day say, 'What happened to the parking?'"
Worst said the building's manager, Amy Garris, attended city meetings during the streetscape planning process and told her tenants about the upcoming changes. Three parking spaces in the building's lot on its west side now have 15-minute signs, which Worst said is intended to encourage their use by Pioneer Spirits customers.
Aurin said he was very aware of the spring construction schedule but that including the bus stop plans in the overall downtown streetscape changes did not create adequate notice.
"I never had any notice at all that they were going to put this structure in front of my door or put this 44-yard bus stop in front of my business," Aurin said, referring to the upcoming bus shelter. "I didn't even know (about) this until they took away the orange fences. That was literally July 1 … and I couldn't believe it."
Aurin noted that when businesses or homeowners make large-scale changes to a building, notification is sent to all neighboring or affected locations through the city planning process.
"That is the recognized manner of alerting and notifying us that something is going on that may affect us," he said. "We had no notice before this happened … for all the notoriety of the construction."
Shelton and city public works engineer Ben Beall said the streetscape process was very public and included multiple hearings.
Beall said it's too early to determine whether changes can be made. That will be a topic of discussion at meetings this week.
Aurin said City Manager Jon Roberts and Steamboat Springs City Councilman Kenny Reis­man were "very receptive" when he showed them his concerns in a recent walk down Lincoln Avenue.
Shelton said the new bus stop locations — after traffic signals rather than immediately before them — allows buses to more safely enter and exit traffic.
"You're not trying to merge and weave against cars and that kind of thing," he said.
Shelton also said that the bulb-outs constructed on street corners ultimately could add parking spaces on side streets after construction is finalized.
"There's pros and cons to everything, and we go through this every time we move a transit stop," Shelton said. "It depends on what kind of business you have and where you think your customers are coming from."
New bus stops following the same pattern and design are planned for installation in the spring after signals for eastbound traffic at Ninth, Seventh, Fifth and Third streets, he said.