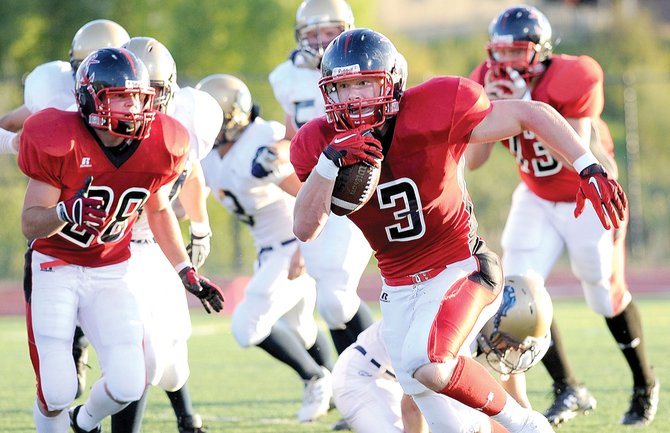 Steamboat football loses opener to Olathe, 36-0
Updated August 28, 2010 at 1:32 p.m.
Photo Gallery
Sailors football home opener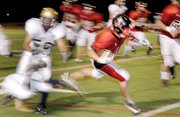 The Sailors lost the season-opening football game, 36-0, Friday night at Gardner Field.
2010 Sailors football schedule
Steamboat Springs — Editor's note: This story has been updated from its original version to correct the time of the Sailors' Sept. 4 game. It is at 3 p.m.
The Steamboat Springs High School football team knew there would be a learning curve and growing pains going into the 2010 season.
Just how steep and intense those are was revealed Friday night in the opening game against Olathe. The Pirates, a traditional powerhouse in Class 2A, beat the Sailors in nearly every aspect of the game, running away with a 36-0 win.
"They beat us soundly," Steamboat first-year coach Lonn Clementson said. "There are no excuses on that. Even if it is difficult to simulate that, we needed to have the game. Obviously, it was not even close to the outcome we were hoping for. It was very telling. We're going to go right to work. We're not going to hit the panic button. There were some things out there we can build on."
When Steam­boat looks at the film Monday, the team will have to start with the offensive side of the ball.
The Sailors switched from a spread attack to an option look this season, and although there were signs of promise, Steamboat struggled offensively most of the night.
The team gained only 151 yards of offense — just 14 passing — and got into Olathe territory twice all night. In five first-half possessions, not including the one to end the half, Steamboat had three three-and-outs and two turnovers.
Part of the problem with the option offense Steamboat ran was its inability on first and second downs.
Steamboat was 1 for 11 on third downs, and its shortest distance on any of those tries was a third-and-5 early in the game.
"That was miscommunication," Steamboat running back Connor Landusky said. "Everyone was inexperienced was a big key. It was everyone's first game. We need to take that film and learn from it and move on and get better."
Olathe scored midway through the first quarter with a Sergio Salazar 29-yard field goal to make it 3-0. On the ensuing possession, Steamboat looked like it would get something together. The Sailors put together a good drive, their best of the game, picking up two first downs before a holding call negated a long run.
Two plays later, Michael Savory was hit while pitching the ball an option and Olathe recovered.
Four plays later, the Pirates' Kyle Piatt scored from 4 yards out to make it 9-0.
From there, things spiraled. Pirates qua­­rter­­back Kiefer Wol­lert threw a touchdown pass and ran for another to make it 23-0 at halftime.
"They needed that time to get going," said Olathe coach Ryan Corn, whose team fumbled eight times but lost just one. "Once they built up that momentum, you saw a big difference in the first, second and third quarter."
Steamboat still had an opportunity in the third quarter. But on Olathe's first drive of the half, the Pirates put together a spine-breaking drive.
Olathe used 11 plays and went 72 yards before Zach Cosper caught a 28-yard touchdown pass from Wollert to make it 30-0.
On the drive, Steamboat had Olathe in a third-and-16, but a holding penalty kept the drive alive.
Salazar would tack on a touchdown in the fourth quarter for the eventual outcome.
"That was definitely a lot faster than we've practiced," said Landusky, who was one of three returning starters for Steamboat. "It was a wake-up call for us. Now they realize what it's like to play in a varsity game. We've got to take it and move on."
Despite the loss, Clementson remained upbeat Friday, not dwelling but embracing the task at hand.
Clementson said teams see the most improvement from Week 1 to Week 2. With a 3 p.m. game Sept. 4 at another traditional 2A powerhouse in Holy Family, Clementson said the team immediately would go to work Monday.
"I'm excited about this coming week because it's about how we respond," he said. "The game happened. They beat us; they're disciplined and well-coached. It's how we respond."
Results
Olathe 36, Steamboat 0
First Downs: 17 (Olathe),11 (Steamboat)
Rushes-Yards: 42-275 (Olathe), 45-137 (Steamboat)
Comp-Att-In: 6-9-0 (Olathe), 2-7-1 (Steamboat)
Yards Passing: 95 (Olathe), 14 (Steamboat)
Total Yards: 370 (Olathe), 151 (Steamboat)
Punts-Avg.: 2-34 (Olathe), 4-32 (Steamboat)
Fumbles-lost: 8-1 (Olathe), 2-1 (Steamboat)
Penalties-Yards: 11-90 (Olathe), 6-65 (Steamboat)
■ Score by quarters
Olathe: 09-14-07-06—36
Steamboat: 00-00-00-00—0
■ Scoring summary
First quarter
O — 3:17, Sergio Salazar 29 field goal.
O — 0:37, Kyle Piatt 4 run. (Kick fail.)
Second quarter
O — 7:25, Carston Byers 11 pass from Kiefer Wollert. (Salazar kick.)
O — 3:00, Kiefer Wollert 2 run. (Salazar kick.)
Third quarter
O — 4:36, Zach Cosper 28 pass from Wollert. (Salazar kick.)
Fourth quarter
O — 8:49, Salazar 10 run. (Kick fail.)
■ Individual statistics
Rushing
O: Salazar 26-137, 1 TD; Piatt 9-110, 1 TD; Wollert 3-4, 1 TD; Cosper 1-12; Troy Rose 1-3; Ronnie Mumm 2-9.
S: Connor Landusky, 10-44; Evan Hornstein, 2-0; Michael Savory, 6-9; John Burrow, 1-(-5); Maury Mirante, 12-49; Christian Ramirez, 6-22; Dylan Preston, 8-18.
Passing
O: Wollert 6-9-0, 95 yards, 2 TD.
S: Savory 1-6-1, 1 yard; Ramirez 1-1-0, 13 yards.
Receiving
O: Dominic Barrientos, 1-10: Carston Byers, 1-11, 1 TD; Piatt, 1-10; Cosper, 3-64, 1 TD.