Freedom Conference in Steamboat nears ticket sellout
Karl Rove's visit bolsters registration for Freedom Conference
Updated August 24, 2010 at 3:12 p.m.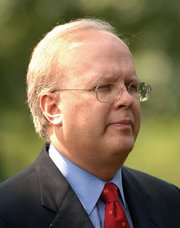 If you go
What: Freedom Conference, put on by The Steamboat Institute
When: Thursday, Friday and Saturday
Where: The Steamboat Grand and Hazie's restaurant
Tickets: There are some tickets still available for Karl Rove's keynote address and the general conference.
Cost: The price for the full conference is $250, or $175 for attendees younger than 30. To register, visit www.steamboatinstitute.org. The deadline to register is noon Wednesday.
Freedom Conference agenda highlights
■ Thursday
5:30 to 7 p.m. VIP kick-off reception at Awapa Lodge, Storm Mountain Ranch
■ Friday
Moderator for all panels is Tony Blankley, Fox News contributor and executive vice president of Edelman worldwide public relations
11:45 a.m. Welcome and acknowledgments — Jennifer Schubert-Akin, chairwoman of The Steamboat Institute
1:15 to 2 p.m. Sharron Angle (U.S. Senate candidate from Nevada)
2:10 to 3:10 p.m. "Obama and National Security: Are We Safer Yet?" — Peter Brookes (Senior Fellow, The Heritage Foundation); Cliff May (President, Foundation for Defense of Democracies) and Claudia Rosett (Journalist, Foundation for Defense of Democracies and former editorial board member for The Wall Street Journal)
7:30 p.m. Dinner, featuring keynote speaker Karl Rove, followed by book signing
■ Saturday
8 to 8:50 a.m. Yaron Brook, President of the Ayn Rand Institute: "Capitalism Without Guilt: The Moral Case for Freedom"
9 to 9:50 a.m. "U-Turn on the Road to Serfdom," featuring Dan Mitchell (Senior Fellow, The Cato Institute); J. French Hill (Chairman and CEO of Delta Trust & Banking Corp.; Former Special Assistant to President George W. Bush for Economic Policy) and Grover Norquist of Americans for Tax Reform
10 to 10:50 a.m. "2010 — The Year of the Conservative Woman" — Kellyanne Conway (President and CEO of the polling company/Woman Trend); Amy Oliver (Host of the Amy Oliver Show, 1310 KFKA) and Pam Pryor (Associate Manager — White House Writer's Group and Spokeperson for SarahPAC)
11 to 11:50 a.m. "Can America Survive Healthcare Reform?" — Robert Goldberg (Center for Medicine in the Public Interest); Michael Tanner (The Cato Institute) and Kelly Victory, M.D. (Victory Health)
12:30 to 2 p.m. Luncheon, featuring Jason Mattera, editor of Human Events and author of "Obama Zombies: How the Liberal Machine Brainwashed My Generation" (CNN will be covering Mr. Mattera's speech)
Steamboat Springs — Editor's note: Tickets for only the dinner and speech by Karl Rove at the Freedom Conference are sold out, organizers report. A few tickets for the whole conference, which also includes Rove's portion, are still available at www.steamboatinstitute.org. Tickets are $250, or $175 for attendees under 30.
There are only a couple dozen tickets left for the keynote address by Republican strategist Karl Rove during this weekend's Freedom Conference in Steamboat Springs.
Event organizer and Steam­boat resident Rick Akin said Monday that there were 33 tickets left for the keynote address to be held at Hazie's restaurant at the top of the gondola, and registrations still were flowing in Monday afternoon.
The event capacity has doubled to 300 people for the keynote address this year, and 216 for the rest of the conference. Akin said the registration numbers already are impressive, especially since this is only the second year for the event. Tickets are $250 for the full conference, or $175 for attendees younger than 30.
"It actually exceeds my expectations. I didn't foresee there was going to be this kind of interest," he said. "The entire event has grown way faster than I would have guessed."
Registration for Friday's Rove event and Saturday morning's lineup is $95, or $25 for those younger than 30.
Akin is vice chairman of the Steamboat Institute, the organization that hosts the event. His wife, Jennifer Schubert-Akin, is chairwoman of the organization.
She said entrants are coming from all across the country — from Craig and the Front Range to Florida, Iowa, California, Virginia and Texas. She said there also have been about 20 people who have taken advantage of the "student/young professional."
"We always want to keep this affordable so your average working-class person can attend, so it's not exclusive in any way," she said.
Akin said the Freedom Con­ference won't be a typical lecture-style event. There will be live music between the presenters, and he expects a lot of "whooping and hollering" for the speakers.
"These are very lively," he said.
Other key speakers include Sharron Angle, Republican U.S. Senate candidate from Nevada who is in the middle of a tight race with incumbent Democrat Harry Reid, and Yaron Brook, president of the Ayn Rand Institute.
For more information or to register, visit www.steamboatinstitute.org.