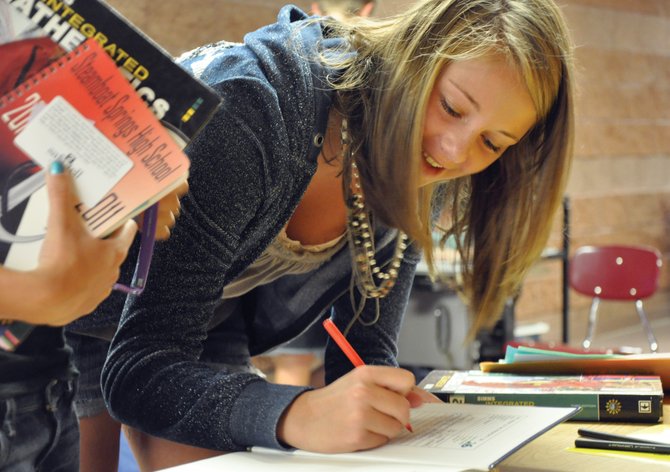 Steamboat Springs High School welcomes freshmen to orientation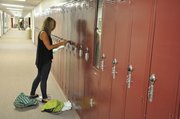 Steamboat Springs — There was no gratifying click after Danielle Haxton tried to open her locker for the third time Thursday at Steamboat Springs High School's student orientation. But after she realized that she had the wrong combination, Haxton still had a smile on her face.
"It's going to be a lot more fun than middle school," Haxton said about her upcoming high school career.
Haxton and 171 other freshmen students will begin classes at the high school next week as they trade long summer days for algebra, geometry and French classes. Freshmen and sophomore students were busy Thursday morning finalizing their class schedules, having their vision and hearing checked and sitting down for a school photo during the orientation. They arrived with smiles and left with textbooks.
"It's fun to see the kids come back, but I think only one or two of them really want to come back to school," joked parent volunteer Scott McGill, who was issuing textbooks.
While some students thought their break had ended too quickly, others embraced the next chapter of their school years. Some freshmen students were excited that their new high school schedule had them leaving school an hour and a half earlier than they did in middle school on some days during the week.
"I'll probably spend the extra time doing homework," said incoming freshman Megan Garcia, who still was getting acquainted with the labyrinth of hallways at the high school. Carrying an integrated mathematics textbook, Garcia said she was looking forward to meeting her new teachers and old friends in school next week.
"We didn't have a nice orientation day like this before I started school," said Garcia's mother, Trudi Jespersen. "When I went to school, you just went to school."
There were many wrong turns, second attempts at unlocking lockers and sighs during the orientation as some students realized they had only one class that wouldn't assign homework. But Danica Moss, the high school's college counselor, said the orientation and check-in process went smoothly this year despite an increase in the number of enrolled freshmen students. Moss is predicting that it will be a good year for the students.
"It's exciting to see the students walk in so young and watch them grow as the years go on," she said. "They're our fresh start."