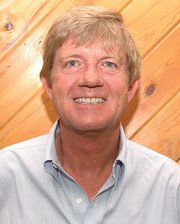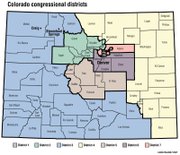 How Routt County voted
U.S. Congress, Republican primary
Bob McConnell: 71 percent
Scott Tipton: 29 percent
For more
■ Learn about Republican congressional candidate Scott Tipton, a state representative from Cortez, at http://votetipton.com. Contact him at scott@votetipton.com or 970-985-8699.
■ Learn about the Democratic incumbent, U.S. Rep. John Salazar, of the San Luis Valley, at www.salazarforcongress.com. Call his Grand Junction office at 970-245-7107 or his Washington office at 202-225-4761.
Steamboat Springs — Scott Tipton defeated Steam­boat Springs' Bob McConnell in the GOP congressional primary Tuesday, setting up a rematch of the district's 2006 congressional race and putting a disappointing end to McConnell's grass-roots, tea-party-fueled campaign that included an endorsement from Sarah Palin.
With 70 percent of precincts reporting results Tuesday night, Tipton, a state representative from Cortez, had received 56 percent of votes across the 3rd Congressional District, compared with about 44 percent for McConnell.
Tipton will face incumbent U.S. Rep. John Salazar, a Democrat from the San Luis Valley, in the Nov. 2 general election. Salazar has held the 3rd Congressional District seat since 2004. He defeated Tipton in 2006 by winning 67 percent of the vote across the 29-county district that includes the Western Slope, Pueblo and nearly all of southern Colorado.
McConnell won several counties across the district, including a landslide in his home Routt County, where he received 1,495 votes to Tipton's 611.
"I was sure impressed by what happened up in Routt County," McConnell said Tuesday night in Pueblo, where he watched the primary results.
In initial tallies Tuesday night, McConnell received 52 percent of the vote in Pitkin County, 50.1 percent in Garfield County and nearly 67 percent in southern Colorado's Huerfano County. Tipton edged McConnell in Moffat County, 52 percent to 48 percent.
Tipton also took Mesa County, a population center that includes Grand Junction, with more than 56 percent of the vote. He edged McConnell in another population center, Pueblo County, with 50.3 percent of the vote. Victories in the district's most populated areas and across southwestern Colorado gave Tipton the edge.
The district's cumulative primary vote nearly mirrored the delegate vote at the GOP's 3rd Congressional District Assem­bly on May 21 in Love­land. Mc­­Connell received about 45 percent of votes there, compared with about 54 percent for Tipton.
McConnell, a military veteran, former lawyer and self-proclaimed "Cowboy Colonel," said Tuesday that he had no regrets about the campaign that partly was inspired by The Steamboat Institute's Freedom Conference about a year ago.
"I just have had such an incredible personal experience, getting around to meet people and see the beauty of Colorado," he said.
McConnell's message included calls for a "massive reduction in federal spending" by abolishing the Department of Education, cutting federal poverty programs, ending the Federal Reserve and reorganizing the Department of Defense. His focus on reducing the scope of federal government inspired tea party support and an endorsement from Palin, a former vice presidential candidate and governor of Alaska.
But the ground-level enthusiasm wasn't enough to overcome Tipton's political experience and backing.
Tipton held a significant home-stretch fundraising lead against McConnell, with more than $167,000 on hand as of July 21 compared with the more than $24,000 on hand McConnell reported the same date.
Tipton raised more than $380,000 during the campaign, through July 21, compared with the about $157,000 that McConnell raised before that date.
Of his total amount through July 21, $79,358 was money McConnell contributed to his own campaign, according to the campaign finance website www.opensecrets.org. In May, McConnell called the self-contributions his "personal commitment to the people of Colorado."
McConnell said that if results continued their trend Tuesday night, he planned to head to Alaska for a couple of weeks of fishing. He gave no definite plans for his political future.
"I'll continue to be involved in the political system intellectually, for sure," he said. "It's been great fun."
He expressed ap­­preciation for his supporters in Routt County and across the district.
"I want to say thanks for everything — they've been great," he said. "I can't say, 'Thank you' enough."
Local thoughts
Tuesday evening at the Old Town Pub in downtown Steamboat Springs, McConnell supporters sat around a table and awaited election results.
Campaign volunteer Susie Makens said she backed McConnell's efforts because "the Republican Party is a huge disappointment" for her. She praised the effort McConnell, a political newcomer, put into his nearly yearlong campaign.
"I don't know how many miles he put on that car, but it's huge," Makens said. "He's been pounding the pavement ever since he announced."
Laura Case, Hank Schaffer and Bob Collins said they supported McConnell because they think the federal government is growing too large and spending too much.
"The natural thing for any government is to grow, and it becomes a monster," Schaffer said.
Before results came in, Makens said that if Mc­­Connell were to lose, she could only hope "that Scott Tipton would incorporate what Bob has been standing for into his platform."
Tipton gave indications last week of doing so. During comments to Routt County Republican Party members at the Routt County Court­house, Tip­ton said he would defeat Salazar by standing on his decades of consistently advocating for reduced taxes and a smaller government.
Tuesday at the Old Town Pub, Case held a flyer for The Steamboat Institute's next Free­dom Conference, scheduled for Aug. 27 and 28 at The Steam­boat Grand and featuring Karl Rove, former deputy chief of staff to former President George W. Bush.
"Hopefully, people that are interested will come to this," Case said about the conference. "That's what started Bob off."