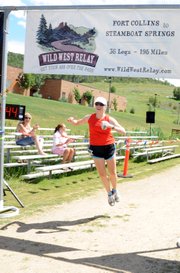 Steamboat Springs — The best and worst of the Wild West Relay is the nights.
Runners streamed down the Butcherknife Trail one by one, but they poured onto the dirt track at Steamboat Springs Middle School by the hundreds Saturday afternoon.
All told, 117 teams took part in the seventh annual Wild West Relay, which pitted athletes against some of Colorado's most daunting terrain as they raced, stage after stage, 200 miles from Fort Collins to Steamboat Springs.
It took even the top finishers nearly a full day, forcing the entire field to race through the night and the Colorado mountains.
The hardest part, most were quick to exclaim, was that night.
6th time's a charm
The Dog Tired and Cata­tonic squad from Fort Collins made the run for the sixth consecutive year and now might register as the race's biggest fans.
It was the race's second year when the members all applied individually to be a part of some team and then were randomly lumped together. They've stayed six strong ever since, bonding to spend time not just on dusty roads between the Front Range and Rabbit Ears Pass, but also in their day-to-day lives.
They've had their ups and downs in the race and learned its quirks. They decided this year to take things in a lighthearted manner, and they leapt across the finish line, all together, dressed in costumes inspired by "Monty Python and the Holy Grail."
"It's just a lot of fun. It's a great race," team member Catharine Speights said. "We brought out props for our quest for the grail. That really helped keep things fun."
Racers from each team took turns knocking off the stages, which ranged from three to 10 miles.
The stretches rising up from Fort Collins are difficult, runners said, as are those that push up and over Rabbit Ears Pass.
The hardest, though, are those that come in the dead of night when the entire team is exhausted after a full day of running.
"It takes a team," Speights said. "It takes everyone to keep things going, everyone working together. That, and maybe it takes a little caffeine — soda or coffee.
"People are jumping out of the van and cheering for you. There's a lot of music. We were silly with it."
There may have been a lot of music, but there wasn't a lot of sleep.
"On a six-person team, we get what we can, but mostly there's no sleeping," she said.
Fun in numbers
The Dog Tired and Cata­tonic squad rotated shifts evenly, leaving each team member six of the race's 36 stages. The relay's many 12-person teams would have seemed to have had it easier, but those racers too were pushed to their limits.
The Boston Stragglers were led across the finish line by John O'Malley, who donned a toga for his final stage.
"The altitude," he said, searching for his breath after the race, "makes it hard."
He and his team of 12 have Boston roots, though not all of them still live there.
They came together through running groups and started competing in ultra relay races like the Wild West Relay, one every summer. After competing in another put on by the same organizer, Paul Vanderheiden's Green Mountain Relay in Vermont, they decided to try out his Colorado offering and made the trip this year to Fort Collins.
"It's one of the toughest races we've done," O'Malley said, slowly recovering.
For the Stragglers and other teams, the night defined the race.
Brian Wolfrumg, part of the Magnificent 6 team from Denver, said it left him nearly beaten.
"I'm sleep-deprived," he said, moments after his team finished. "It's hard because there is constant movement in the van. As soon as you get set, someone is reaching for something so you can't actually get any rest."
It's not all bad, of course.
The course cut north from Fort Collins on lightly traveled back roads, eventually veering into Wyoming before dropping back down into Colorado, through Walden and toward Steamboat on the often eerily quiet Colorado State Highways 127, 125 and 14.
That makes for a lot of time all alone, far from the bright lights of any city.
"I liked the night legs," O'Malley said. "The backdrop without the light pollution, you could just see sky everywhere. It was phenomenal.
"For me, those are the easiest stages. You just follow the blinking light."
Sweet relief
Runners poured into Steamboat all day Saturday, from the late morning into the evening.
They were exhausted, to say the least, but each team gathered at the end of the field where the trail dumps into the track and awaited its final runner. Then, with wild applause, they cruised the final 100 yards together before drinking and eating away their aches with beer and barbecue.
That was nearly enough time to forget the pain of the night.
"When you get rested and look back, that's always your favorite part," Vanderheiden said.