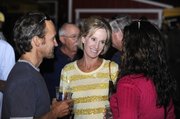 If you go
What: Ride 4 Yellow fundraiser for cancer-related causes.
When: Events start tonight and kick off in earnest Sunday morning with the 7:30 a.m. Ride the Divide 26-mile mountain bike trip.
Ride 4 Yellow schedule
Today
3 to 8 p.m. Packet pickup at Ski Haus
5 p.m. Two cycling movies will be shown at Bud Werner Memorial Library, "Race Across the Sky" featuring the Leadville 100, and "Ride the Divide" about the Tour Divide race that stretches from Canada to the United States-Mexico border. Admission is $7 for one or both.
Sunday
6 a.m. Shuttle service for riders begins from Meadows Parking Lot to the Ride the Divide start area on Rabbit Ears Pass
6:30 a.m. Buses depart for Ride the Divide start
7:30 a.m. Opening ceremonies at Dumont Lake on Rabbit Ears Pass
8:15 a.m. First riders start down Continental Divide trail
9:30 a.m. Ski area gondola opens
10:30 a.m. Mount Werner Challenge ride kicks off from the top of the gondola
11 a.m. Expo on Thunderhead lawn starts at the top of the gondola
11:30 a.m. Celebration lunch starts
1 p.m. Mount Werner Challenge Ride cut-off time
1:30 p.m. Thunderhead celebration featuring Linda Armstrong Kelly, Lance Armstrong's mother
2:30 p.m. Fundraising awards announced
3:30 p.m. Auction ends
Steamboat Springs — Greg Long said it's an experience that can't be missed. That's why he and his wife and several high school track and cross-country athletes he coaches are hiking up into the wilderness at about noon today.
They'll get in a good late-summer workout, racking up running miles to stack on the massive collection they've accumulated on Routt County's trails this season. They'll eat a good dinner and retire to their tents and sleeping bags, alone under the backcountry stars and on the shore of a lake that can't be driven to.
"Then in the morning, we'll have a cup of coffee and watch Lance Armstrong ride right by," Long said.

Long said he's felt cancer's terrifying touch. That's why it's so important for him to support Sunday's Ride 4 Yellow, an event that will send 200 riders down the Continental Divide Trail in the mountains above Steamboat Springs, from Rabbit Ears Pass to the top of the gondola.
He decided not to ride, but he still wanted to cheer.
Cancer won a prolonged battle with his mother, Sherry Long, in 2004. She fought the disease for 10 years, and he's been fighting it ever since.
He ran back-to-back marathons as a part of the American Cancer Society's Relay For Life in 2007 in an effort to raise funds for research and still does what he can to further the cause and help find a cure, joined in the mission by his wife, Jill Long.
"We are huge Lance fans," Greg Long said.
They traveled to Europe to cheer Armstrong to one of his record seven victories in the Tour de France. Jill Long traveled to Texas to participate in Armstrong's annual Ride for the Roses fundraiser weekend.
Now, they're excited that a hero, flanked by 200 others for one day committed to the fight against cancer, will zip right past their temporary front door.
The Longs are among many in Steamboat buzzing as the world's most famous cyclist is set to enter town.
The main ride, which will go 26 miles along the Continental Divide and then the Mountain View trails to the top of the ski area, is filled to capacity with 200 riders. Tickets to a charity lunch at the top of the gondola are sold out.
In fact, Ride 4 Yellow organizer Dave Nagel said there's only one way left to take part: riders still can sign up and pay $40 to participate in the Mount Werner Challenge ride.
That ride will send bikers down Mount Werner and then back up the gondola for the lunch ceremonies. It will start as soon as Armstrong and fellow super-cyclist Dave Wiens arrive from the Divide ride.
"That's the best way to still get involved," Nagel said. "That's the best way to see Lance."
Armstrong isn't scheduled to speak during any of the day's activities, and riders better bring their A-game if they plan to stick with him and the other leaders during Sunday's ride.
"He and Dave (Wiens) are friends, but they're competitors," Nagel said. "From what I hear, they plan to hammer it."
They should arrive at the top-of-Thunderhead finish line between 10:30 and 11 a.m.
There will be no shortage of star power in the day's activities. Wiens is a close friend of Armstrong's and a six-time winner of the Leadville Trail 100, considered one of the ultimate races in North American mountain biking.
He will speak before and after Sunday's long ride. Local Olympic hero Travis Mayer, a freestyle moguls silver medalist in 2002, will speak at the Dumont Lake trailhead, as will Gov. Bill Ritter.
Linda Armstrong Kelly, Lance's mother, also will speak, headlining the lunch.
Nagel said logs obstructing the Divide trail were cleared last weekend.
The week's precipitation has made for perfect, tacky riding conditions, and as the hours wind down toward the event he's been planning for more than a year, things are going well.
"The trail is pristine. Everything is going awesome," he said. "It will be clear sailing."