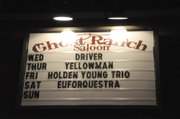 What the code says
Steamboat Springs' municipal code includes, under "Article II, general offenses," this ordinance about noise disturbances:
Sec. 10-55. Disturbing quiet enjoyment of home.
(a) No person shall recklessly engage in, or be responsible for, conduct which is so loud that it materially interferes with or disrupts another individual in the conduct of lawful activities at such individual's home. Whether or not noise is "so loud that it materially interferes with or disrupts" shall be measured against the objective standard or a reasonable person of normal sensitivity.
(b) This section shall not apply to special events as authorized by this Code including, but not limited to, the Winter Carnival, summer rodeo, 4th of July fireworks, outdoor concerts, vintage auto and motorcycle races, softball and other sports tournaments, football games and other school athletic events or activities.
Source: City of Steamboat Springs
Steamboat Springs — On July 23, a Friday, Ghost Ranch Saloon owner Amy Garris was glad to see crowds thronging downtown Steamboat Springs after a free concert that drew thousands to Howelsen Hill.
"It was just a ridiculously busy night," she said last week. "It was one of the first busy nights we've had all summer — we were feeling good about it."
Ghost Ranch hosted a concert of its own that Friday. As the evening turned into night, the Seventh Street bar and music venue quickly became packed.
The phone call came at 10:53 p.m. A resident at Howelsen Place, directly across the street, had called in a noise complaint. It wasn't the first such complaint — Steamboat Springs Police Department officers had issued a warning to Ghost Ranch the night before.
This time, officers issued a citation.
"The Ghost Ranch was cited under the disturbing the quiet enjoyment of the home ordinance," Steamboat Springs Police Capt. Joel Rae said.
The citation means a mandatory court appearance for Ghost Ranch. Rae said the date is Sept. 1 in Steamboat Springs municipal court. Fines for municipal code violations can reach $999, he said.
But Rae said the court hearing could focus less on the fine than the larger picture.
"I would suspect that they would be looking at something more along the lines of what we can do to mediate and fix the problem," he said.
Because there's no doubt, according to Rae, Police Chief JD Hays and Tracy Barnett, of Mainstreet Steamboat Springs, that problems are intensifying between downtown's nighttime businesses and downtown residents who live blocks, or yards, away from revelry that can extend later than 1 a.m. It's not the first time homeowners' concerns about nighttime noise have contrasted with business owners' efforts in Steamboat Springs — recent years saw disputes between Torian Plum homeowners and bars at the base of Steamboat Ski Area. But some of those bars, such as Lupo's and Levelz, were demolished along with much of Ski Time Square in sum­mer 2008.
That demolition shifted some of the city's nightlife downtown, where a revitalization of a different sort was occurring with the construction of developments including Howelsen Place and Alpen Glow, offering upscale residential units in the heart of Lincoln Avenue.
But as the addition of venues, in­­cluding Ghost Ranch, The Boat­house Pub and Sweet­­wa­­ter Grill, escalates downtown's nightlife, some homebuyers attracted to the vibrancy of downtown appear to be realizing their limits for tolerating that vibrancy, especially in the late hours.
"We definitely need to do something in our downtown," Hays told the Steamboat Springs City Council last month. "We're constantly getting complaints about 'the noise is too loud in the bar.'"
The City Council reaffirmed its allocation of $2,000 to bring the Responsibility Hospitality Institute, which mediates and mitigates such issues, to Steam­boat for a seminar, likely on Sept. 16. Mark Scully, of Green Courte Partners, the developers of Howelsen Place and Alpen Glow, is contributing $1,500. Rae, Hays and Barnett attended a Denver forum hosted by the institute in June and came away with positive reviews of a community-oriented approach that brings all stakeholders to the table.
"Law enforcement is not going to solve the problem. … The community has to come together and come up with solutions," Hays said. "We're at a point now where everybody is upset with each other, and we're not making any progress."
More than noise
A Howelsen Place homeowner who has called in noise complaints related to downtown bars could not be reached for this story. Rae said that although "the majority of the complaints have been in the vicinity of Seventh Street," noise problems occur all across the city.
"We get noise complaints nightly, whether that's from a barking dog or a bar having their music too loud. Literally, there's hundreds of complaints a year," he said. "More of those complaints come from the barking dogs and parties … but we have been getting some pretty consistent complaints downtown about nightlife issues.
"I think it's picked up downtown due to the fact that our downtown has changed in the past couple years. Noise complaints downtown have definitely increased in the past year and a half."
Scully said Howelsen Place has sold 10 of its 42 units and Alpen Glow has sold three of its 14. He's been involved in conversations about nighttime noise, as well, and said solutions can include staggering when bars close, so crowds from multiple places aren't all outside at the same time late at night.
"Ghost Ranch did a great job of moving their smoking area to a rooftop deck … that helped abate the noise," Scully added. "That's the kind of creative partnership that can work in downtown Steamboat."
Rae added that soundproof windows, noise deflection and absorption materials, and "double-entrance doors" — meaning a vestibule set-up like the one at The Tugboat Grill & Pub at the ski base — also help reduce noise.
Garris said Ghost Ranch did a great deal of that work on the front end.
"During construction, we spent a lot of money insulating and soundproofing the building to avoid this sort of thing," she said about noise complaints.
Ghost Ranch also provides a free 13-person shuttle from Wednesday to Sunday nights, she said, to take customers home and help reduce noise in front of the bar as quickly as possible.
Garris noted that Ghost Ranch hasn't been found to be in violation of the city's decibel limits, which Rae said are difficult to measure given the swirl of noises, bar-related and not, downtown at any given time.
Rae said that under the city's disturbance of quiet enjoyment ordinance, which is part of the city's municipal code, "anybody's peace can be disturbed at any time." Doesn't matter if it's 9 a.m. or 10:53 p.m., Rae said. According to the ordinance, whether a person's enjoyment of their home is being disturbed or interfered with "shall be measured against the objective standard or a reasonable person of normal sensitivity."
Garris called that ordinance "subjective" and added that other noise-reduction steps Ghost Ranch has taken, such as trying to keep windows and doors closed and asking bands to let Ghost Ranch use its house sound engineer, have reached the point where they're "hurting the way that we have to do business."
Scully expressed hope that the conversation fueled by the Responsible Hospitality Insti­­tute seminar would be constructive and take into account the entire picture of downtown.
"It really isn't just about noise," Scully said. "It really is kind of general behavior and general approach to creating a vibrant downtown that's hospitable to both.
"This can be done, with not a lot of money, just a lot of communication and forethought."
Rae acknowledged that concessions have to come from downtown homeowners, too.
"If you buy a condo or rent a house within two blocks of five bars that are trying to sustain themselves … it's just a different level of privacy and noise level expectations that a reasonable person would have in that environment," Rae said.