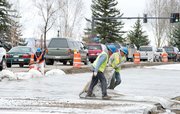 For more
Jody Patten, project information manager for Scott Contracting, is providing several sources of information about the U.S. Highway 40 construction project. She will give updates on the project information hot line, 819-7008. To sign up for e-mail updates on the project, visit www.coloradodot.info and click on the "Sign up for E-mail and Wireless Alerts" link in the upper right corner. Enter an e-mail address, select the appropriate updates and click "Submit." If you already receive Patten's e-mail updates, you do not need to sign up online.
For more information, visit the project website at www.coloradodot.info/projectsus40steamboat.
Steamboat Springs — Paving started Wednesday evening on the U.S. Highway 40 construction project, and officials said crews didn't finish as much as they planned to and would need to remove one 20-foot section of concrete.
Scott Contracting said "paving went reasonably well," according to Jody Patten, the company's project information manager. Scott is doing the work in downtown Steamboat Springs for the Colorado Department of Transportation. Crews got two-thirds of the way through what they had hoped to pave in the first phase and then had to stop because of wet weather, she said.
Paving started at 13th Street. Scott had hoped to reach 11th Street but wasn't able to do so. Patten said the company hoped to continue paving and open 12th Street by Wednesday.
Ben Beall, public works engineer with the city of Steamboat Springs, said he was on site for much of the work, which started Wednesday evening and went into Thursday. He said the crews had to make adjustments with the concrete to get the correct mix.
"Last night, we were kind of juggling back and forth between trying to find that balance point to get the proper amount of water in there," Beall said Thursday.
He said Scott would have to remove a section of concrete about 20 feet long that was damaged because it got too dry. Passers-by also might have seen workers Thursday with equipment that looked like saws, Beall said. Those people were cutting joints to prevent excess cracking, he said.
"After you lay down the concrete, you follow behind the machine after a certain amount of cure time and you cut joints in the concrete because the concrete naturally cracks," Beall said.
Those joints provide a place for the concrete to crack so it doesn't break in a spider-web pattern.
Beall said in addition to city representatives, outside consultants hired by CDOT and three CDOT representatives monitor and inspect the construction work throughout the project.
"CDOT has a pretty defined processes for quality control and quality assurance," he said.
The work will continue to be examined and inspected.
"We've tried to think of as many things as we can in order to have the project go smoothly and to be a long-lasting pro­duct," Beall said.
Patten said Scott Contracting was happy with the first round of paving and shouldn't be delayed by the necessary fixes.
"The paving process is very highly technical, and there are some cosmetic things they have to go back through and fine-tune, so it wasn't perfect, but these projects on this scale never are," she said. "There was some good and not so good; the good was that the substructure held beautifully … and the concrete is hardening up nice."
She said the pace of paving largely would depend on the weather. Rain and snow are expected to continue through Saturday and possibly into Sunday, according to the National Weather Service.
Beall asked motorists to be careful when driving past the large paver in the work zone. He also asked for understanding from the community.
"We ask people to be patient, and we thank them for their ongoing patience, and we'll see, weather depending and with the subgrade conditions that we're finding, we hope to stay on schedule and get out as soon as we can so we're not impacting people's lives more than necessary."