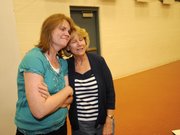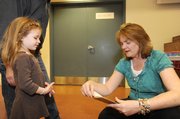 New leadership
Heritage Park Preschool teacher Erin Schroeder will take over for Audrey Zwak on April 26.
Schroeder, 28, said she "found her passion for kids" working at Heritage Park, after moving to Steamboat six years ago to be near the mountains. An Austin, Texas, native, Schroeder has a bachelor's degree in psychology with a minor in Spanish from Angelo State University in San Angelo, Texas.
She said she's excited for the challenges that await her as director, and Schroeder said she has Zwak to thank for preparing her.
"She has really been such an awesome mentor to me and an awesome friend," Schroeder said. "That's the saddest part about her leaving, but I'm excited about her change."
She said her new role would provide her the opportunity to serve families and children in the community. Her immediate task, Schroeder said, would be carrying on what Zwak started, especially continuing grant-writing efforts to secure financial aid for students.
Zwak said more than 70 percent of Heritage Park students receive some type of tuition assistance.
Steamboat Springs — Audrey Zwak's preschool students are jealous.
The longtime director of Heritage Park Preschool took a job as manager of Fuzziwig's Candy Factory in downtown Steamboat Springs. Her last day at the preschool was Friday.
"They couldn't have cared less when I was the director, but now they think I'm a rock star because I'm going to Fuzziwig's," she said. "One of the kids said, 'I understand why you're going to live at the candy store.'"
Zwak, 45, explained that her 3- to 5-year-old students assumed she lived at the preschool and think her moving to a new "home" at Fuzziwig's was an obvious choice.
But to characterize it that way wouldn't be accurate, she said.
"I have been profoundly blessed serving at this school," she said.
Zwak moved to Steamboat in 1987 when she was 22 and started working at F.M. Light & Sons. It was there she met Betty Lockhart, whose husband's family started the iconic business more than a century ago in downtown Steamboat.
Little did Zwak know that the relationship would lead to her starting a preschool with Lockhart 15 years later.
Lockhart's husband, Ty, donated the land where Christian Heritage School is located west of Steamboat on U.S. Highway 40. When the school opened in 2000, it was built with preschool rooms, but not until Zwak came on board did the plans for the preschool take shape.
"She always said she and I did it," Lockhart said about Zwak. "Let's be serious. She did it. She's amazing — energy, foresight, vision, spiritual strength. She's got it all, and she loves the kids."
Lockhart said Zwak has continued to guide the preschool forward after its doors opened in 2002 with two classrooms. The preschool added a third in 2004 and a fourth in 2008. It is now licensed for as many as 60 children a day.
About 30 current and former Heritage Park families gathered in the Christian Heritage cafeteria Thursday for a potluck dinner to honor Zwak. A slide show with 600 pictures from the school's first year to this year was projected on the back wall of the stage as the parents, their children and the preschool teachers ate.
Parent Luke Valora said he's known Zwak for years. He said part of the reason he chose to enroll his 4-year-old son, Conley, at Heritage Park, was because of Zwak's reputation for operating the preschool.
"We've heard a lot of good things about this place, and they've all turned out to be true," Valora said.
Preschool teachers Tawnya Boatwright and Kim Clark said it would be weird coming back to work April 26 after spring break and not seeing Zwak.
"She started it. It's been her baby. She loves it," Boatwright said. "I still can't believe she's leaving."
Like so many at the dinner, Boatwright and Clark said they're going to miss Zwak.
"She's been our friend, not just our boss," Clark said. "It's been nice having both, not drawing that line."
Some of Zwak's former students said she was a cool teacher. They said she could be fun, but strict. They said she was loving. Some of her younger students said they would visit her at Fuzziwig's.
Zwak and her husband, Shawn, have three children, Hannah, 17, Sam, 15, and Ellie, 11. Zwak said her decision to leave was based on several factors. She previously worked for Fuzziwig's owners Don and Patricia Grueser, at Rocky Mountain Chocolate Factory. The store later became Fuzziwig's.
If it hadn't been for the opportunity to again work for the Gruesers, to stay in Steamboat and the timing, Zwak said she never would have quit teaching.
Before becoming the director of Heritage Park, Zwak worked during various times at Christian Heritage, teaching art and afternoon kindergarten classes. She said a former preschool student who struggled, but is now doing well in second grade, thanked her Thursday for being such a great teacher.
"That's worth the whole 20 years I've been in early childhood (education), right there," she said.