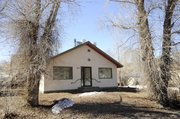 If you go
Rachel's Smokin' Café will be open from 8 a.m. to 6 p.m. Wednesdays through Sundays, at 201 Bell St. in Oak Creek. The restaurant plans to open Wednesday.
Take out
Anybody who wants take-out dinner should call by 4 p.m. and pick up around 6; the restaurant phone number is 736-1196.
No credit cards accepted — cash or check only.
Steamboat Springs — After years of serving her barbecue in the park and at catered events, Rachel Green decided to invite people to come have dinner with her for a change.
After 20 years of selling her now-famous barbecue sauces, Green plans to open Rachel's Smokin' Cafe on Wednesday at her shop on Bell Street in Oak Creek.
"I figure I'll let them come to me; I'm always traveling all over," she said.
Green rents the space to make her sauces, and from there she sends the sauce to 30 distributors. Green also has served smoked meats with her sauce at the Taste of South Routt and other community events for years.
Now, for the first time and with business partner Candy Johnson, Green will serve as many as 15 people at a time for breakfast, lunch and take-out dinner.
The meat is all slow-cooked in an outdoor smoker behind the restaurant. The brisket is smoked for 10 to 15 hours and then cooked for another eight hours in the oven.
Green said that for all the fans she's garnered throughout the years, she hopes people from Steamboat Springs will make the effort to go to her restaurant.
"Steamboat has said they'll follow me if they know where I am, so I hope they will take the drive over," she said.
Even with the new venture, Green said she would continue the catering business and making the barbecue sauce, though she's cutting back on the number of varieties of sauces as they are approved through the state. She said she's going to make about 10 to 12 varieties, scaled back from past years.
Green and the Oak Creek Town Board were told there is a sewer issue behind the restaurant on Bell Street, but Green said there was no leakage, and she was going to have the pipe repaired in time for Wednesday's grand opening.
She said after years working in local kitchens, including eight years at the Sheraton Steamboat Resort, it will be nice to have a place of her own and be able to set her own schedule. She said she will undoubtedly be working 12-hour days, but by having dinner take-out, and closing by 6 p.m., she will be able to enjoy the summer. If the restaurant is a success, however, she hasn't ruled out the possibility of expanding, possibly to Steamboat.
No matter who comes to the restaurant, Green said it's going to be good fun and good company.
"I feel blessed when people take the time to come in and eat with me," she said. "I feel blessed they spend their hard-earned money."
Menu selection
■ Barbecue chopped chicken, $6.95
■ Barbecue pulled pork, $7.95
■ Smokin' wings: (6) $4.95, (10) $8.95, (15) $10.95
■ Baby back ribs: 1/2-rack, $15; whole rack, $28
■ Pork ribs: 1/2-rack, $14; whole rack, $26
■ Beef ribs: (2) $5.95; (3) $6.95
■ Half chicken, $5.95
■ Whole chicken, $9.95
■ Sides of barbecue baked beans, mashed potatoes, potato salad and coleslaw for $1.95
■ Breakfast foods including pancakes, waffles and breakfast burritos also will be available.