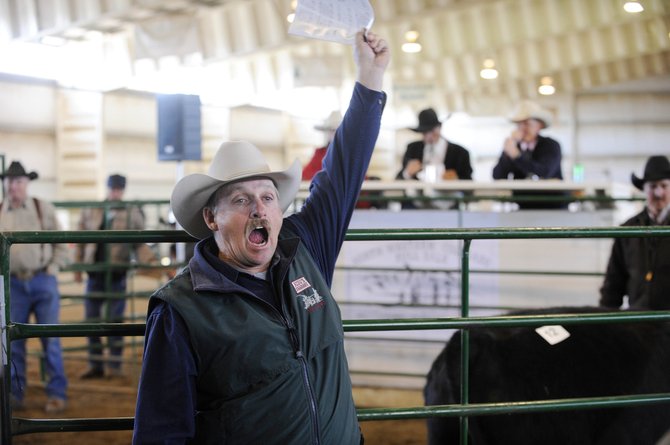 Full stock of 26 bulls, 6 heifers sold at Saturday bull sale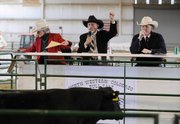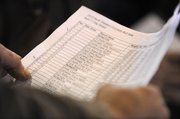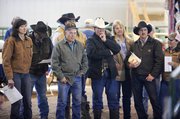 Steamboat Springs — Consignors at the North Western Colorado Bull Sale unloaded every animal they put into the ring for the first time in the sale's eight-year history Saturday.
Buyers spent $63,950 on 26 bulls and six heifers, bringing sales to about $1,500 less than what they were in 2009, despite a sales field less than half of last year's size.
Beverly and Lynn Powell, a mother-and-son ranching team that works a cow-calf operation at Morgan Bottom Ranch in Hayden, said prices were up from past bull sales at the Routt County Fairgrounds. To secure a much-needed bull, the family had to aim higher than the $1,500 or so they spent at their most recent North Western Colorado Bull Sale, Lynn Powell said.
The average price of sale for a bull Saturday was $2,234, and the six heifers sold averaged $937 each. Those numbers are $364 more than the 2009 average for bulls and $937 more than the 2009 average for heifers.
"I'm very pleased," said Mar­sha Daughenbaugh, director of the Community Agriculture Alliance and sales clerk for the event. "The bulls did well; the buyers did awesome."
The bull attracting the highest bid, at $3,400, came from Carnahan Angus Ranch, based in Rifle. James Carnahan said the sale — presented annually by the Agriculture Alliance, Routt County Cattle­Women and the Routt County Extension Office — is the last he travels to each year. Starting with 18 bulls, he went to Olathe and Delta before bringing four bulls to Saturday's event.
The goal is to bring bulls to those sales that have the kinds of qualities producers are looking for to pass along to their crop of calves, Carnahan said. Beverly and Lynn Powell said they were pleased with the quality of bulls at the sale.
The bidding process got going at about 1 p.m., with buyers flicking programs, fanning fingers or shooting up a hand to signal their bid. Com­mentator Bill Gay shared observations he'd gathered researching each consignor operation and its stock, and auctioneer Troy Allen raced through bids while urging buyers to keep going up. Introducing the first bull, Gay cautioned buyers that the cattle market was on its way up, and that "you can't stand to let those cows at home go without a boyfriend this summer."
New to the sale this year, heifer sales were done through silent auction during the bull bidding process.
In 2009, consignors sold 35 bulls and zero heifers for a total of $65,450. In 2008, consignors sold 47 bulls and 14 heifers for a total of $98,070. Daughenbaugh said she thinks more bulls could have sold Saturday had there been more.