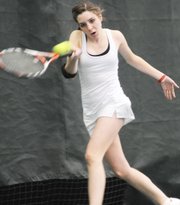 Poudre 4, Steamboat 3
No. 1 singles: Poudre's Natalie Dunn def. Christi Valicenti 6-0, 6-0
No. 2 singles: Steamboat's Kylee Swiggart def. Taylor Dolak 6-1, 6-3
No. 3 singles: Steamboat's Mandy Thielemann def. Kwynn Ecton 6-4, 6-2
No. 1 doubles: Steamboat's Sara Bearss and Lauren Siegel win by default
No. 2 doubles: Poudre's Tess Santangelo and Felicia Powers def. Alli Lowrie and Rachel
Grubbs 7-5, 7-6
No. 3 doubles: Poudre's Julia Beckley and Lauren Petersen def. Katie Ross and Kayleigh
Esswein 6-0, 6-0
No. 4 doubles: Poudre's Abby McKenna and Jessica Addington def. Summer Smalley and Sara Hoing 6-4, 6-0
Steamboat 6, Vail Mountain 1
No. 1 singles: Vail's Shannen McNamara def. Christi Valicenti 6-4, 6-2
No. 2 singles: Steamboat's Kylee Swiggart wins by default
No. 3 singles: Steamboat's Mandy Thielemann def. Beri Dwyer 6-4, 6-2
No. 1 doubles: Steamboat's Sara Bearss and Lauren Siegel def. Jessica Gilbert and Sheena Feiler, 6-4, 6-2
No. 2 doubles: Steamboat's Alli Lowrie and Rachel Grubbs def. Emily Domke and Nicole Byrne, 7-6 (1), 6-3
No. 3 doubles: Steamboat's Katie Ross and Kayleigh Esswein 6-0, 6-0 def. Sarah Cochran and Caroline Carlson, 6-3, 6-3
No. 4 doubles: Steamboat's Summer Smalley and Sara Hoing def. Thea Knobel and Meredith White, 6-1, 6-0
Steamboat Springs — It wasn't the perfect day for the Steamboat Springs High School girls tennis team. The squad split a doubleheader, playing Saturday at home, losing to Poudre High School in the morning and beating Vail Mountain in the afternoon.
But the Sailors found plenty of highlights to celebrate in both matches and are confident as they prepare for the home stretch of their season.
Steamboat won three matches and lost four against Poudre. Kylee Swiggart at No. 2 singles, Mandy Thielemann at No. 3 singles and Sara Bearss and Lauren Siegel at No. 1 doubles all came away with victories.
All three won again in an afternoon dual against Vail Mountain, and Alli Lowrie and Rachel Grubbs at No. 2 doubles, Katie Ross and Kayleigh Esswein at No. 3 doubles, and Summer Smalley and Sara Hoing at No. 4 doubles also picked up wins.
Even in matches they lost, the Sailors found something to talk about.
Steamboat's No. 1 singles player, Christi Valicenti, lost twice, first to the defending Class 5A No. 1 singles state champ, Poudre's Natalie Dunn, then to a former regional champion, Vail Mountain's Shannen McNamara.
The first match was short, 6-0, 6-0, but the second was tight at 6-4, 6-2.
"I wasn't disappointed with the outcome," Valicenti said. "Of course I wanted the match to go the other way, but if I play her again, I'm confident I'll do better."
Elsewhere, Bearss and Sie­­gel won via default in the morning against Poudre but locked down a solid victory against Vail's Jessica Gilbert and Sheena Feiler in the afternoon. Much of Steamboat's roster has been unsettled to this point in the season, and players have fallen in and out of doubles teams. For Bearss, that marks a stark contrast to the past two years, when she was paired with Kylee Swiggart.
Together they won a state championship at No. 1 doubles. Now, Swiggart is playing singles, and the top doubles team has had to adjust.
"I'm feeling good. I love No. 1 doubles," Bearss said. "It's different. Lauren and Kylee are completely different players, but I love playing with both of them.
"I feel more comfortable at doubles. At first it was a big issue that I got moved back to doubles, but I'm happy now."
It all seemed to come together Saturday, and the pair won its afternoon match, 6-4, 6-2.
"We came out and really got after it in the second set," Siegel said. "It's nice playing with someone that's a leader on the court, and that's what Sara does."
Steamboat also got a strong showing from Thielemann, new to high school singles tennis this year. She beat Poudre's Kwynn Ecton, 6-4, 6-2, and then Vail's Beri Dwyer, 6-4, 6-0.
"She was a lot tougher than anyone I've played yet," Thiel­emann said about Ecton. "I won the first two games and caught her by surprise. In the end, it came down to I just ran down more balls than she did."
Swiggart, meanwhile, beat Poudre's Taylor Dolak, 6-1, 6-3, and won against Vail by default.
"I was nervous because I just got moved up to No. 2 singles," Swiggart said. "I just had the mind-set to go in there and play every ball as hard as I could."
The squad will return to action April 29 at Columbine.