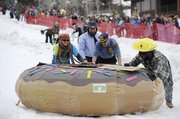 Springalicious events at Steamboat Ski Area
■ Second annual STARS Snowshoe Stampede and inaugural Snowshoe Round Up
When: Snowshoe Round Up at 8:30 a.m. Saturday; Snowshoe Stampede at 11 a.m. Saturday
Where: Meet at base of Steamboat Ski Area
Cost: Registration is $25; proceeds benefit Steamboat Adaptive Recreational Sports
To register: Call Tarsha Ebbern at 819-1996 or visit www.runningseries.com
■ 30th annual Cardboard Classic
When: Check-in is from 9 to 10:30 a.m. Saturday; racing starts at 11 a.m. Saturday
Where: Stampede run at the base of Steamboat Ski Area
Cost: $10 per team to register; free to watch
Rules: Cardboard, glue, string, water-based paint, duct tape and masking tape are the only allowable construction materials. No more than six people are allowed per craft. No alcoholic beverages are allowed in the race area.
Registration: Registration closes Friday. To register, stop by the Information Center between 8 a.m. and 5 p.m. any day, call 871-5472, or visit www.steamboat.com/spring.
■ Third annual Splashdown Pond Skim
When: 1 p.m. Sunday
Where: Base of Steamboat Ski Area
Cost: $10 to participate; free to watch
Rules: Participants must bring their own skis or board; full-figured powder skis and ski poles are not allowed. Competitors will be judged on costume, distance, creativity and outfit style, and crowd response. Participants must be at least 9 years old. All participants are required to sign a waiver.
Registration: Registration closes Saturday. To register, stop by the Information Center between 8 a.m. and 5 p.m. any day, call 871-5472, or go to www.steamboat.com/spring.
■ Donavon Frankenreiter, part of the 11th annual Bud Light Rocks the Boat free concert series
When: 3 p.m. Sunday
Where: Gondola Square, base of Steamboat Ski Area
Cost: Free
Steamboat Springs — Since the early-1970s, Steam­boat Springs residents and guests have devoted the late spring to construction projects that almost always end in disaster.
Crafting race-worthy vehicles from cardboard, glue, string, tape and water-based paint, creative competitors with a daring streak have entered the Cardboard Classic, a battle of original ideas and snow-proof building skills.
On Saturday, the annual Cardboard Classic celebrates 30 races by inviting as many as 50 teams to put together a cardboard vessel and ride it down Headwall at the base of Steamboat Ski Area. Started in the '70s, the event endured a hiatus in the 1980s before making a triumphant return in 1990.
The 30th race down Headwall is part of Steamboat Ski Area's third annual Springalicious celebration. Check-in for registered teams is from 9 to 10:30 a.m. Saturday in Gondola Square. Teams registered in the 17-and-under division start their race at 11 a.m. Saturday, with the adult race immediately after. Registration for the event closes Friday and will cap at 50 teams.
"It is the 30th anniversary, so it's always fun to be able to celebrate an event that's been happening on the slopes for that long," said Loryn Kasten, public relations manager for Steamboat Ski and Resort Corp.
"We are hoping and expecting that people will come out in force and create some great Cardboard Classic vehicles, and we're really hoping the crowd will come out and support and celebrate this great, big anniversary," Kasten said.
Before moving to its current location on the Stampede run on the lower mountain at Steamboat Ski Area, the Cardboard Classic course was on the north side of the lower hill, near where Thunderhead Lodge once stood, said David Crisler, director of slope and vehicle maintenance for the ski area. Crafts raced down the hill to hit a snowy parking lot, Crisler said. In his 41 years at the ski area, Crisler has seen a few races and "some great cardboard features," he said.
At Saturday's race, teams will be vying for awards presented in four categories: most creative, best individual craft, potpourri and best reproduction. Through the years, honors have been awarded in categories including best crash, ugliest craft and best reproduction of a famous car.
Becky Berge, assistant manager at Gondola General, said she and her team of co-workers wouldn't mind winning one of this year's prizes, but mostly they're hoping to have fun and end the season on a good note.
The Gondola General team plans to play on the store's name for its craft theme, Berge said. Construction is still in its beginning stages, but the team hopes to build a Gondola car and wear military-themed costumes, Berge said.
John Peters and his wife, Maureen, plan to be in Steamboat Springs visiting their daughter, Steamboat Springs resident Sarah Seguin, during the event. After watching Cardboard Classic for the past four or five years, the family plans to build a craft for this year's race, John Peters said. The most likely theme as of Friday afternoon was a large teacup with an "Alice in Wonderland" motif, he said.
"Over the years we've seen a lot of clever ideas; a lot of people have a good sense of humor. … That's the big thing that I like about it, everybody is an individual, you can kind of do your own thing with it," Peters said.
Other Springalicious events include a free concert by Dona­von Frankenreiter and a pond skim on closing day Sunday. The third annual Splashdown Pond Skim is at 1 p.m. Sunday. Contestants will ride down a short slope and attempt to ski or board across an icy pond.
Costumes are encouraged, and registration for the pond skim closes Saturday.