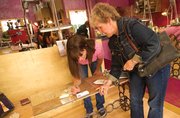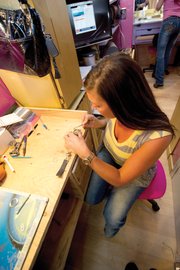 If you go
The Jeweler's Mine, which owner Angela Mecca named after Colorado's expansive, multifaceted mining industry, is open from 9 a.m. to 5 p.m. Mondays through Fridays at 117 Ninth St. in downtown Steamboat Springs. Call 970-871-1413.
Delhautes staying in business
Del's Jewelry has become Jerome's Jewelry.
Del Delhaute, the owner of Del's Jewelry, 837 Lincoln Ave. and a downtown businessman for six decades, said last week that his son, Jerome Delhaute, has taken over the business under the name of Jerome's Jewelry.
Del said the store is open in the same location and has been pretty much since Del's "final" sale ended in January.
"I never have actually closed it because people are still calling me all the time," he said Wednesday about the family business. "I've been down there practically every day."
Del said Jerome's store would offer the same services and merchandise as Del's Jewelry. Del, 92, said he plans to lighten his own workload soon.
"I'm trying to — as soon as I get everything lined up, I'm going to be getting out of town for a little while," he said.
Angela Mecca has traveled a long and scenic road to reach, finally, the door of her own jewelry shop on Ninth Street.
Mecca, a master jeweler, opened The Jeweler's Mine on Jan. 15 at 117 Ninth St. in downtown Steamboat Springs. Along with watch specialist Amy Guear and apprentice Jasmine Phillips, Mecca makes original and custom jewelry and repairs items ranging from watches, rings and necklaces to ski boots, prescription glasses, stained-glass lampshades and antique safes.
"We repair anything — I repaired a huge bronze chandelier two weeks ago," she said Tuesday, sitting in the 200-square-foot store that contains cases of her jewelry and a work area, and has mirrored walls to enhance the space.
Mecca has been a jeweler for 25 years, she said, since winning a scholarship for her work in high school in Michigan. She attended the Center for Creative Studies in Michigan and earned a bachelor's degree in fine arts from Eastern Michigan University. She then lived in Sedona, Ariz., before moving to Santa Monica, Calif., where she attended the Gemological Institute of America. She's also lived in Florida, where she studied at Stewart's International School for Jewelers, and in Jackson, Wyo., where she practiced the trade and met Guear.
"While I was working, I always took extended classes to keep up on my skills because it's an ever-changing thing," Mecca said about the jewelry industry.
In all the beautiful locations and at all the varied schools, Mecca said, the most valuable experiences came from actually doing the work with others.

"The most I ever learned was sitting down next to other master jewelers," she said.
She's worked since 2005 in Steamboat Springs, which she had visited repeatedly throughout the years and always enjoyed.
"I really like the mountains and the people," she said. "I just love Steamboat."
Her time here has included jobs at Hofmeister Personal Jewelers and the former Del's Jewelry, where she was a jeweler for three years.
"I've always worked for other jewelers," Mecca said. "Everyone used to suggest working for yourself."
So she did. The economic recession opened up an opportunity, Mecca said, enabling her to lease the space on Ninth Street, down the block from Steamboat Jewelers. There is no connection between the businesses.
Mecca expressed confidence that The Jeweler's Mine would find success among the other jewelers in Steamboat.
"I think that there's room for everyone," Mecca said.
She said her style sets her apart. Mecca, Guear and Phillips made everything in the store, which is filled with items including a coat rack made of horseshoes. On Tuesday, Mecca said she was working on a link bracelet made of elk ivory and recently had completed a wedding ring with a band shaped like a mountain range — a request she completed in a week for a couple getting married in Alaska.

Steamboat resident Valerie Lish walked into the store Tuesday to look at sapphires. She had lost one out of an estate ring that she said has been in her family for about 40 years. Mecca also is repairing a ring Lish received on her 16th birthday.
Mecca and Lish walked over to the front window to look at several sapphires in natural light. Mecca named some prices. Lish pondered her options and chose.
"You know, after all these years, I deserve the best," Lish said.