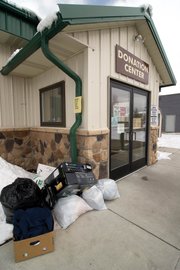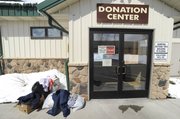 If you go
■ The LIFT-UP donation center, 2125 Curve Court, is open from 10 a.m. to 3 p.m. Tuesdays through Fridays.
■ To arrange for a drop-off outside of normal operating hours, call LIFT-UP during operating hours at 871-9327 or 879-3374.
■ LIFT-UP cannot accept: Skis, snowboards, bindings, car seats, humidifiers, computers or accessories, diaper bins, potty seats, custom window fixtures, electric blankets, mattresses, box springs, bed pillows, helmets or torn or stained clothing.
Steamboat Springs — LIFT-UP of Routt County relies on the revenue of its thrift store to generate money for the food bank, for hotel and utility vouchers and for basic expenses. But Director David Freseman said after-hours donations are bogging down the process as donors are repeatedly dumping items outside the center while it is closed. To counter the problem, Frese­man said LIFT-UP is ready to turn to the police to turn in anybody seen unloading after hours.
Outside the LIFT-UP donation center are at least three signs telling donors not to leave items outside the door and telling them they can be prosecuted for doing so. Despite the warnings, several large bags and boxes sat there Friday morning, a day the center was closed for the Good Friday holiday.
"We know that most people are very generous, and we appreciate the generosity," Freseman said. "We need the donations, there's no questions about that, and we're very grateful for the generosity in the community. We don't want the wrong impression out there; we just want the respect of the community for the times and guidelines."
Freseman said that before the center put up the signs threatening prosecution, workers would find donations dumped outside the door nearly every weekend.
"It's out in the weather, so it ruins it most of the time," including donations such as books and clothing, he said. "Even furniture. Sometimes they'd leave a sofa, and it would get soaked in the rain."
Freseman said the guidelines sometimes upset community members who are trying to help the center, but the guidelines are in place to make sure the center isn't overrun and doesn't get stuck with items it can't accept. Those often turn into trash.
"There seems to be a correlation, too," Freseman said. "When people just leave stuff … a lot of it is trash that we can't use anyway."
LIFT-UP accepts only two large bags or boxes per donation so the staff is not overwhelmed with truckloads of donations at a time.
To stop the illegal, unwanted dumping, Freseman turned for advice to Tom Whiddon, community service supervisor with the Steamboat Springs Police Department.
"I just told him that if he could get a license plate and a description of the car and person, we could talk to them and let them know they could be cited for littering," Whiddon said.
He said community service officers do the same thing with Waste Manage­ment, where people often dump trash after hours without paying for it.
Freseman said LIFT-UP workers had taken down license plates before the signs were up but never turned them over to police. Now, they will turn them over immediately.
Whiddon said people often are unaware they are breaking the law but that the signs Freseman put up should clarify the situation. Whiddon said that in every case with Waste Management, the person has re­­turned to either pay to drop off the trash or to pick it back up — officers haven't issued a ticket.
To keep the donations coming and to make it more convenient for people who need to drop off items after business hours, Freseman said workers are willing to arrange drop-off times outside of normal hours if people call ahead. He said he often hears that people would like the center to accept donations on Saturdays, and that's a time he's willing to arrange to meet the donors.
To arrange for an after-hours donation, call LIFT-UP at 871-9327 or 879-3374 during normal hours. The donation center is open from 10 a.m. to 3 p.m. Tuesdays through Fridays at 2125 Curve Court.