Family ties add fun to NCAA tourney
Duke star a cousin of local athlete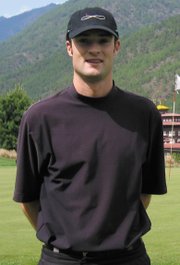 Steamboat Springs — It didn't take Steamboat Springs resident Luke Broster­hous long to be reminded that Duke University is one of the NCAA's most polarizing love 'em or hate 'em teams.
"I'd wear a hat this winter when coaching up on the mountain for the (Steamboat Springs) Winter Sports Club, and people, they get in your face pretty quick," he said. "There are a lot of haters out there."
Brosterhous said he never hated the Blue Devils but didn't truly appreciate the school or its uber-successful men's basketball team, which plays Saturday in the NCAA tournament's Final Four, until he got a family connection.
Blue Devils star Kyle Singler is Brosterhous' first cousin.
"We have a fairly large family, and it's not like we're super tight best friends, but we try to stay in touch," Brosterhous said.
Singler and Brosterhous graduated from South Medford High School in Medford, Ore., though Brosterhous is nine years older.
Singler is a 6-foot-8 junior forward who has been one of Duke's top players since arriving as a freshman. He's averaged 17.6 points per game this season and nearly 7 rebounds, both good for second on the team. He was also the team's second-leading scorer as a sophomore and a freshman.
He was limited to just 5 points in his team's Elite Eight win against Baylor University, but he scored 24 in a Sweet 16 victory against Purdue University and 22 in an opening-round win against the University of Arkansas-Pine Bluff.
Singler's younger brother, E.J. Singler, averaged 6.1 points per game this year as a freshman playing for Oregon.
None of that has come as any surprise to Brosterhous.
Brosterhous' father and Singler's mother were siblings in an athletic family. She then married Ed Singler, who played quarterback at Oregon State University.
"It wasn't much of a surprise that (E.J. and Kyle) were endowed with these great genes," Brosterhous said. "From the get-go you could look at those kids and say, 'Wow. They're going to be good at something.'"
Brosterhous hasn't exactly wasted his portion of the family's athletic genes.
He ski raced and golfed competitively and moved to Steamboat Springs to coach Alpine skiing with the Winter Sports Club. He will start his first full season as the head pro at Haymaker Golf Course this spring.
But he said for now at least, his focus is planted firmly on Indianapolis, where Singler and his Duke teammates will play Saturday against West Virginia University in the Final Four.
"I was never a Duke fan until he went there, but it's really easy liking them now," Brosterhous said. "I'm already nervous about the game. It's just been so much fun to watch them."
— To reach Joel Reichenberger, call 871-4253 or e-mail jreichenberger@steamboatpilot.com