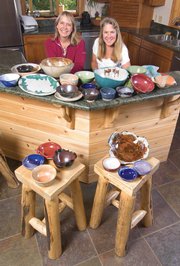 If you go
What: Eighth annual Soup Bowl Supper, presented by the Steamboat Clay Artisans. All proceeds benefit Reaching Everyone Preventing Suicide
When: Seatings at 5:30 and 7 p.m. Wednesday
Where: Steamboat Springs Community Center, 1605 Lincoln Ave.
Cost: $20 in advance at All That Jazz, Artists' Gallery of Steamboat and Blue Sky Pottery, or $25 at the door.
Call: Julie Anderson at 846-5156 for more information
Other: Admission to the Soup Bowl Supper includes a handmade ceramic bowl, soup donated by local restaurants, bread, beverages and desserts. For more information about REPS, go to www.justasknow.or...
Watch live: Soup Bowl Supper event organizers Julie Anderson, of Steamboat Clay Artisans, and Ronna Autrey, of REPS, appear on Steamboat TV18's live morning show, "Steamboat Today," at 8:35 a.m. today.
Steamboat Springs — Potters and members of the Steamboat Clay Artisans put months of preparation each year into the group's annual community fundraiser, the Soup Bowl Supper.
To wit: About 15 local ceramic artists commit an average of 20 work hours to throw, trim, fire, glaze, re-fire, clean and pack 300 handmade soup bowls and about 25 bread bowls to be used at the supper, which has two seatings at 5:30 and 7 p.m. Wednesday at the Steamboat Springs Community Center.
Tickets for the eighth annual supper are $20 in advance and $25 at the door, and include a handmade soup bowl, soup from local restaurants, bread, dessert and beverages. Advance tickets are available at All That Jazz, Artists' Gallery of Steamboat and Blue Sky Pottery.
The potters of Steamboat Clay Artisans share responsibility for the different stages of crafting 300 soup bowls, making it difficult to attribute a finished soup bowl to any one potter, said Gail Holthausen, who has participated in the event since its inception.
Holthausen and participating artist Kathy Thayer helped clean all 300 bowls recently, making them ready for soup donated by several local restaurants. Clay artisans members Julie Anderson, Sue Binsfeld and Barb Gregoire used their home and studio kilns to fire the bowls at 2,200 degrees Fahrenheit, classifying them as stoneware.
"I might throw a pot, and then Kathy (Thayer) might trim it, and then Sue (Binsfeld) might glaze it," Holthausen said.
Kande Iken is new to the Soup Bowl Supper and the Steamboat Clay Artisans, and she hand-made about 20 bowls for the event. Iken recently took up pottery as a hobby, learning the craft in classes at Steamboat Arts & Crafts Gym.
"I found I had this need to have my hands in clay," Iken said.
She volunteered her time waxing the bottoms of bowls and lending a hand to other artists' work and was impressed by the number of hours that go into the supper, she said.
"It was overwhelming how much work goes into this," Iken said. The clay artisans also host a pottery sale each year at the Depot Art Center, usually on Thanksgiving weekend, Holthausen said.
Proceeds from Wednesday's suppers benefit Reaching Everyone Preventing Suicide, a Steamboat Springs group committed to preventing suicide in the Yampa Valley through education and awareness. In addition to ticket sales, all the bread bowls and some additional ceramic pieces will be included in a silent auction benefiting REPS, Holthausen said.
REPS offers training sessions to recognize the signs of a suicide risk; support groups for bi-polar depression and people who have lost a loved one to suicide; a monthly speaker series at Yampa Valley Medical Center; and an on-call crisis prevention worker, among other projects, said Ronna Autrey, suicide prevention coordinator for Steamboat Mental Health Center and REPS.
Ticket sales and silent auction proceeds will help offset costs of regular REPS programming and help cover special events, such as a recent series of Routt County presentations by suicide prevention speakers Bryce and Tom Mackie.
Autrey and REPS applied to be the Soup Bowl Supper beneficiary, and they organized food donations. The event brings in from $5,000 to $7,000 for a different local organization each year. Past beneficiaries include Partners in Routt County, Steamboat Mental Health Center and Historic Routt County.
- To reach Margaret Hair, call 871-4204 or e-mail mhair@steamboatpilot.com