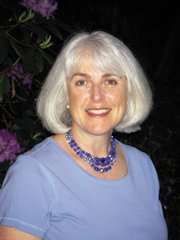 Steamboat Springs — In a move that surprised her board of directors, Betsey Jay stepped down Friday as executive director of the Yampa Valley Community Foundation.
Ed Hill, chairman emeritus of the Community Foundation's board, said the parting was amicable, and he raved about Jay's two-plus years at the helm of the organization that works with 67 nonprofits and other groups in Routt and Moffat counties.
"She has done yeoman's duty, and we are certainly sorry to see her leave," Hill said Monday. "She's done a great job for us."
Jay joined the Community Foundation in August 2007 after serving as the director of advancement communications and donor relations at Tufts University in Medford, Mass. Before that, she was vice president of communications for the Colorado Foundation from 1988 to 2003.
Hill said Jay addressed some members of the board Friday afternoon and told them it would be her last day. He said Jay told them she experienced some changes in her life and would be returning to Boulder, where she lived for 30 years.
Beyond that, Hill said Jay didn't provide much more information. Hill said he wasn't sure whether she had accepted another position. Jay did not return messages left on her cell phone Monday.
"Wherever she goes, I'm sure she'll be as successful as she's been here," Hill said. "We wish her the best."
Hill said Jay was instrumental in successfully leading a number of Community Foundation fundraising efforts, including the ongoing Community Cares Fund. The fund was created to provide immediate funding to organizations that directly assist residents struggling under the weight of the economic recession. Those fund are being used for needs such as food, housing and health care.
The Community Foundation partnered with Routt County United Way on the Community Cares Fund and thus far has raised about $70,000, Community Foundation marketing manager Heidi Barbee said. She added that funds from the Steamboat Springs Rotary Club's Community Barbecue and Barn Dance on Saturday also were contributed to the fund.
Jay also assisted local groups in fundraising for the Trillium House at Yampa River Botanic Park, the Rollingstone Respite House, the new Soda Creek and Strawberry Park elementary school playgrounds, and the launch of the Steamboat Springs Boys and Girls Club this summer.
The Community Foundation board will meet Wednesday morning to decide what direction to take regarding Jay's replacement, Hill said. He said that could include appointing an interim executive director or having a board member fill that role temporarily.
Hill doesn't expect the Community Foundation's efforts to generate endowments and long-term funds to take a significant hit in the absence of an executive director.
- To reach Jack Weinstein, call 871-4203 or e-mail jweinstein@steamboatpilot.com