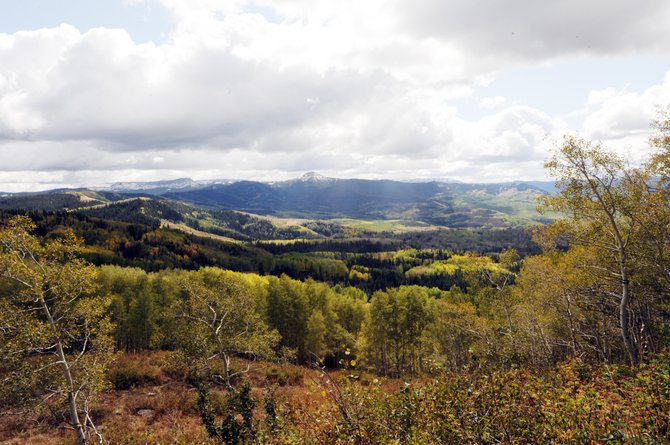 Flat Tops Trail byway makes for scenic drive
Sunday, September 27, 2009
Getting there
What: Flat Tops Trail, an 82-mile road connecting Yampa and Meeker
Where: Drive 30.5 miles south from Steamboat Springs to Yampa on Colorado Highway 131. Turn right off Colo. 131 at the north end of the town. A fork is immediately available with a sign pointing left to the Yampa Ranger's Station and right for forest access. Hang hard to the right. There's a small blue sign on a tall pole about half a mile down the road on the right, to reassure travelers they are headed down Routt County Road 17.
The road cuts hard right, then left, but stay on it, even when other signs point to forest access or indicate you're headed to Phippsburg. After 5.4 miles, turn right on Routt County Road 132. There's a bright blue sign with a white Columbine flower. From that point on, follow the flower all the way to Meeker.
What to bring: A camera would be great, especially this time of year. There are plenty of fantastic places to picnic and even camp. There are few if any service options between Yampa and Meeker, so be sure to gas up before leaving and bring along any water or snacks necessary. There's a large gas station on the south end of Yampa on Colo. 131, and plenty of options in Meeker.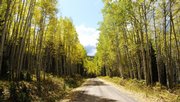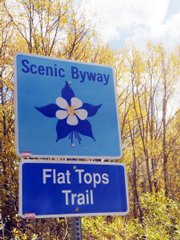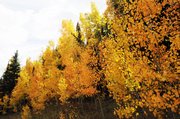 Steamboat Springs — The phrase "scenic mountain drive" might easily conjure up images of the worst roads Colorado has to offer - perhaps a dirt trail unfit for anything short of a 4-wheel-drive Jeep.
Google Maps, for instance, seems to only half-believe the Flat Tops Trail - an 82-mile Yampa-Meeker connector - exists. Ask for directions from Yampa to Meeker and it tries to send you through Steamboat Springs and Craig. Try to find it for yourself on Google's map and only a thin narrow line indicates there's any passable terrain at all.
But the long, often winding and always wide road is worth the drive for anyone in search of a non-straining adventure.
Thanks to the changing fall colors, there's no better time than the present to tackle the drive.
The hardest part about driving the Flat Tops Trail is finding it. A large and obvious set of signs stand vigil in Meeker, marking the start of the east-bound trail and the end of the west-bound route. There's no such welcome or goodbye in Yampa, however, and only a handful of boring, easily overlooked signs offer any hint that drivers are headed the right way.
Once on the right trail, though, it doesn't disappoint. The Flat Top Trail is renowned as one of the top fall-foliage-viewing drives in the West, and you don't have to go far for it to be obvious why.
There are layers of beauty to the drive.
The first 10 miles pulling away from Yampa are the standard scenic mountain drive - twisting but not-slow roads and plenty of lower-elevation delights. The next 15 miles, meanwhile, make the whole trip worthwhile.
So long as the snow holds off, the road is wide and well-maintained throughout. Slender, tall aspens tower above and lean in from both sides. There was a wide assortment of changing leaves as of Thursday. Some of the aspens had already come and gone. Some still stood as green as they did in the middle of July. Most, though, were somewhere in between, their cascade of colors often filtering out the sun, making the view appear like a stained glass window in a cathedral.
There are several great overlooks, the first and most grand coming 20 miles west of Yampa atop Dunckley Pass.
An expansive valley spreads out below. The road eventually cuts all the way down, losing more than 1,500 feet in elevation in five miles.
The highest point of the trip is Ripple Creek Pass, where the road edges above 10,000 feet. The 10 miles before that point mark an entirely different terrain, too. Gone are the colorful aspens, replaced by tall and, shockingly, not deathly red pine trees.
Many don't go for the whole Flat Tops Trail experience, opting to turn around at Ripple Creek Pass, which is 36 miles in, nearly halfway between the two towns.
That first 36 miles from Yampa is the slowest of the trip, however. The road actually picks back up into a paved two-lane highway not long after Ripple Creek and it's mostly smooth driving all the way to Meeker.
That, of course, means there's nothing to compare to the dramatic vistas that enthrall drivers and hikers in the road's first 36 miles. The drop from Ripple Creek's high point is not nearly as fast or dramatic as that from Dunckley Pass. Still, it's a pretty drive all the way to Meeker, and there are a lot worse ways to spend an afternoon than cruising on a safe road through some of Colorado's most accessible wilderness.
Google, though, would surely disagree.