Steamboat Homefinder
Visit SteamboatHomefinder.com for more real estate news.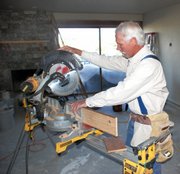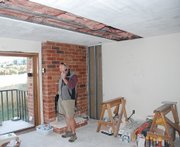 If you go
What: Home Design and Remodel Show
When: Noon to 6 p.m. Thursday
Where: 2673 Jacob Circle in Steamboat Springs
Hosts: Hosted by Architectural Doors & Windows, The Brush Paint & Finish Supply and Opus Integrations
Steamboat Springs — Highly skilled workers in Steamboat's building trades are intently focusing on remodels and additions to existing homes, as the slump in single-family building drags on toward 2010.
And in terms of the number of subcontractors they provide work for, small construction jobs can deliver paychecks to a significant number of locally based construction workers.
"Absolutely, this type of work is hopefully going to get us through for a while," said general contractor Jim Hinton, of Stillwater.
He is overseeing the addition of a bedroom suite and deck over a garage at an existing home on Sixth Street in Old Town Steamboat this fall.
"You really have the same number of trades go through this project as you would on a larger project," Hinton said.
Elmer Balvanz, of Architectural Doors & Windows, agreed.
"Even a small kitchen remodel involves a half-dozen subcontractors," he said.
Balvanz's company, which also supplies kitchen cabinetry, is hosting a home design and remodel show with The Brush Paint & Finish Supply and Opus Integrations on Thursday at its shop on Jacob Circle, on the city's west side. Together, they'll host representatives from 13 suppliers.
"Our target audience includes homeowners, architects, designers, contractors, Realtors, painters and handymen," Balvanz said. "We want to support successful home designs and remodels while promoting the use of energy efficient and green materials."
Companies supplying the building trades can tell customers how to access available tax credits - on energy efficient windows and doors, for example, Balvanz said. And they are definitely willing to compete on price.
"Just last Friday, five different window companies in town were going after the same job," Balvanz said. "Suppliers are working with all of us to make us more competitive."
A quick study of the summer's building permit activity underscores why building professionals have turned to remodels. The Routt County Regional Building Department reports that the trend toward alterations and additions has increased throughout the summer. May produced five single-family permits and none for alterations. But June saw 10 permits for alterations and additions and two each for single-family homes and duplexes. In July, there was just one single-family permit and two more for duplexes, compared to 12 remodels. And in August, there were 20 remodeling permits and none for single-family homes.
Final score? Forty-two to 12 in favor of small construction jobs.
"We definitely aren't seeing the new house starts we experienced in 2007," Balvanz said. "Now those are far and few between."
Flexibility pays
The willingness of contractors and subs to compete on price, coupled with favorable interest rates, is helping spur the remodeling business. Architectural Doors & Windows is supplying solid alder interior doors for a pair of complete makeovers of 1970s-era ski-in, ski-out condominiums at Bear Claw. The general contractor is Eric Rabesa, of Rivertree Custom Builders.
Dusty Dike, serving as the construction superintendent for Rivertree, said Bear Claw owners could transform a three-bedroom condo for between $130,000 and $150,000, depending on the finishes they select. A big part of the benefit is keeping their individual units competitive with others in the building, in terms of nightly rentals.
The condos have been stripped to their metal studs to allow for new kitchen cabinets; drywall with hand-troweled finishes; wall mounts for large, flat-panel televisions; new doors; granite countertops; re-built fireplaces with efficient inserts and in some cases, even in-floor heat.
Architectural Doors and Windows got the contract for the interior doors at a little more than $200 apiece for two-panel alder, but Fedewa Custom Works landed the contract for the cabinetry.
Dike said decisions about awarding bids often are based on more than just price.
"It's better to keep relationships with everybody" in town, Dike said. He has his own company, Iron Pine Ideas. It was tempting to keep more of the work on the Bear Claw remodel for himself but realized that in doing so, he would slow down the process.
"It doesn't really help" to hoard the work, Dike said. "It's not efficient."
He said Rivertree crews would be on the job at Bear Claw until just after Christmas, clearing the condo for the heart of the ski vacation season.
Also working on one of the Bear Claw remodels was Jeff Smith, of JGS Builders. He subcontracted installation of the alder trim in the unit.
Hinton theorized that the real estate slowdown has changed the way homeowners look at their properties, leading to more remodeling jobs. As recently as two or three years ago, he said, longtime Steamboat residents were able to put their homes on the market and realize a substantial increase in equity without the need to sink money into upgrading countertops, floors and bathrooms. The market was hot enough that buyers overlooked some of the flaws in a property.
"The house didn't get fixed," Hinton said. "Now, they go ahead and get the work done."
He said 10 contractors worked on the addition to the Sixth Street home. But he also thinks versatile subcontractors are best positioned to get work in the remodel market.
"The guys with the flexibility to do different jobs are guys who will be a little healthier through this downturn," he said.
That description fits John Skovgaard, who has a company called ThermaLogic that installs bio-based soy oil insulation in homes.
At the Stillwater job site, Skovgaard was relying on his previous professional life as a stucco installer and prepping the walls of the addition for their new exterior.
Skovgaard is optimistic that a new wave of single-family home starts is poised to launch, perhaps early next year.
"I'm working on a new house in Clark right now, and I'm bidding a lot of new stuff," he said.