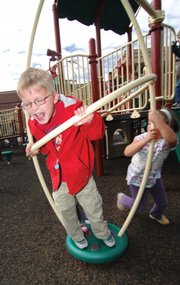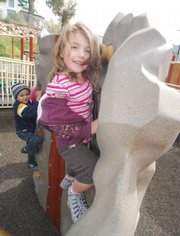 If you go
What: Dedication of the universal playgrounds at Strawberry Park and Soda Creek elementary schools
When: 5:30 p.m. today
Where: Strawberry Park Elementary School playground
Steamboat Springs — After about two years of work that included almost $1 million in fundraising and help from more than 500 volunteers, the universal playgrounds at Strawberry Park and Soda Creek elementary schools are complete.
Representatives from the Parent-Teacher Information Committees at both schools, Steamboat Springs Rotary Club and Let's All Play - the group that organized and fundraised for the projects - will dedicate the playgrounds at 5:30 p.m. today at Strawberry Park.
"We wanted to be able to thank all the volunteers who came out, dedicate the playgrounds and give them to the kids and say 'This is a gift for you,'" said Shelly St. Pierre, co-chairwoman of Let's All Play.
St. Pierre added that the groups will be thanking those who helped build "playgrounds of this caliber in a community this small."
The process began in late 2007, St. Pierre said. She and Julie Taulman, the other co-chairwoman for Let's All Play, identified a need for playgrounds that were accessible for all children, including those with disabilities. St. Pierre added that a plan didn't exist for a playground at the new Soda Creek school, and the more than 20-year-old wooden playground at Strawberry Park was deteriorating and being dismantled piece by piece.
After approval by the Steamboat Springs School District in early 2008, Let's All Play began fundraising for the playgrounds. The group raised about $950,000 through contributions from the Education Fund Board, grants, the school district and in-kind and cash donations.
Groups of community members volunteered to build and install the playgrounds during a weekend in July 2008. Weather prevented the rubberized surfacing, recycled from Colorado tires, from being installed until this past summer.
The playgrounds were opened before the start of the school year in August.
St. Pierre said the universal playgrounds were designed to allow all children to play on them, with 75 percent of the structures handicap accessible and a ramp that led from the ground to the rubberized surface.
Both playgrounds will eventually feature snowmelt systems that will allow them to be used year-round, St. Pierre said.
She said the system at Soda Creek has been completed, and infrastructure for the system at Strawberry Park is mostly in place, with completion anticipated for next summer.
Tonight's dedication ceremony also includes the unveiling of the playgrounds' signs, which welcome visitors and include photographs of some of the volunteers who helped build and install them.
"We just can't say thank you enough to the people in the community for helping us realize this dream we had," Taulman said.
"This truly was a grassroots effort. People said this couldn't be done again, after it was done in the '80s. This shows the community has heart and believes in doing things for each other."