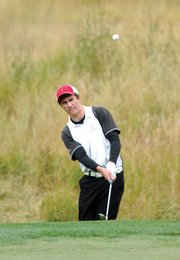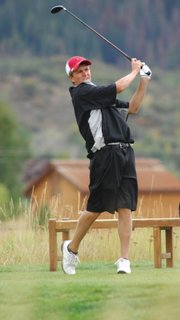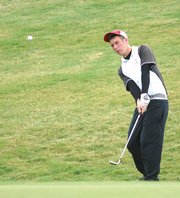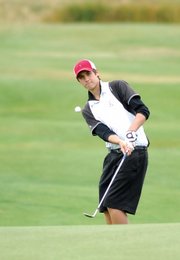 High school regional golf tournament
Tuesday
4A team scores
1. Montrose - 230
2. Steamboat Springs - 233
3. Battle Mountain - 235
4. Cortez - 243
5. Summit - 244
6. Delta - 251
7. Glenwood Springs - 254
8. Moffat County - 255
9. Rifle - 260
9. Eagle Valley - 260
11. Palisade - 275
4A Individual state qualifiers (*denotes qualified with team)
1. Cameron Brown, Battle Mountain, 74
2. Drew Trujillo, Montrose, 75*
3. Kaelen Gunderson, Steamboat, 76
4. Garrett Johnson, Montrose, 77*
5. Brady McDonald, Battle Mountain, 78
5. Chris Black, Montrose, 78*
5. Michael Braklow, Glenwood Springs, 78
5. Dak Dice, Summit, 78
5. Scott Ptach, Steamboat, 78
5. Niko Youngren, Montrose, 78*
11. Alan Capistron, Steamboat, 79
12. Austin Fahrenholtz, Eagle Valley, 80
3A Team scores
1. Aspen - 246
2. Gunnison - 260
3. Ridgway - 263
4. Grand Valley - 271
5. Basalt - 279
6. Cedaredge - 283
7. Coal Ridge - 284
8. Vail Mountain - 288
9. Roaring Fork - 298
10. Meeker - Not enough players to qualify as a team
10. Telluride - Not enough players to qualify as a team
3A Individual state qualifiers (*denotes qualified with team)
1. Nick Purvis, Ridgway, 76
2. Coulter Young, Aspen, 78*
3. Brandon Roedder, Gunnison, 80
3. Trey Morris, Meeker, 80
5. Kolton Kyne, Ridgway, 81
6. A.J. Yenke, Vail Mountain, 84
6. Conor Hansen, Aspen, 84*
6. Ryan Smith, Aspen, 84*
9. Jessie Beetham, Aspen, 85*
10. Dylan Walters, Grand Valley, 89
11. Josh Sawdo, Gunnison, 90 (won in a playoff hole)
12. Arick Zeigel, Roaring Fork, 90 (won in a playoff hole)
On a day when most Front Range schools postponed regional golf tournaments because of inclement weather, the Steamboat Springs High School golf team simply did what it has done all year Tuesday at Haymaker Golf Course.
Battling temperatures that dipped into the low 40s and winds that made it feel much colder, the Sailors qualified three players for the state golf tournament, Oct. 5 and 6 at Highlands Ranch Golf Club in Denver.
Steamboat finished with a team score of 233, three shots behind winner Montrose. Kaelen Gunderson's 76, Scott Ptach's 78 and Alan Capistron's 79 were good enough to qualify as individuals. Steamboat's fourth player, Skyler Martin, shot an 89.
The top team and next nine individuals not on that team qualified for state in Class 4A. In Class 3A, it was the top team and the next eight individuals not on that team who qualified.
Aspen won the Class 3A event with a team score of 246.
Battle Mountain's Cameron Brown was the low 4A medalist with a 74. Ridgway's Nick Purvis was tops in 3A with a 76.
"The cold wreaks havoc," Ptach said. "You might not think it, but if your hands are cold, you won't have feel. You have no touch. It's hard to focus when it's like that. The ball is just totally dead. There is no bounce off the clubface. You have to club up for that. I tried to club up on some shots, but that was a big problem for me."
But just as the team has done all year, it battled and battled and battled some more.
The players could have let a string of tough holes derail their rounds. But each time, the Sailors stepped up.
Gunderson was at even par through his first nine holes. But he missed a 3-foot putt on No. 10 for par, took an uncharacteristic double-bogey on No. 11 after a perfect drive and bogeyed No. 12 after hitting it in the water.
With the wheels looking like they might come off, Gunderson finished the rest of his round at even par.
"There were some strokes I left out there," Gunderson said. "But beside the double on 11, I feel pretty good."
Capistron and Ptach kept their rounds afloat on the back nine, by saving par just about any way they could.
Capistron had birdies on 2, 8 and 9 on his way to a front nine 37. But he started to struggle a little on the back, double-bogeying No. 11. But he made the putts when he needed to. He canned a 15-footer on No. 16 to save a bogey and made a 6-footer on No. 17 for par to keep his round in the 70s.
Ptach had bogeys on 11, 12, 13 and 14 before regaining his composure. He made an improbable bogey on 16 when he played his ball out of the hazard, before he birdied No. 17.
"I think I had more up-and-downs (Tuesday) than at any other tournament," Ptach said of his seven up-and-down saves. "I think the big thing was to remember that everybody out there is in the same conditions as you. You can't let it get to your head. That helped me focus" Tuesday.
Now the team turns its focus to the state tournament in Denver. The team will have a week and a half teeing up against the rest of the state.
But judging by the grinding the team did Tuesday, the Sailors enter the state tournament a confident bunch.
"They just had to let a bad shot go because bad shots were going to happen to everyone," said Steamboat coach Steve Dodson, who thanked Haymaker, Hank Franks and Bill Whelihan for putting on the tournament. "I had to constantly remind them throughout the day. It was going to be a tough day, there weren't going to be a lot of low scores. But we've got a really strong, mental and mature team. I look forward to state."