Watch live
Andrew George, owner and operator of Mambo Italiano, is scheduled to appear on Steamboat TV18's "Steamboat Today" morning show at 8:35 a.m. Thursday to talk about the opening party for Mari Mack's art.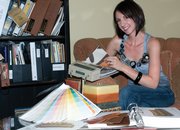 If you go
What: Opening reception for new paintings by Mari Mack
When: 5:30 to 8:30 p.m. Thursday
Where: Mambo Italiano, 521 Lincoln Ave.
Cost: Free, with specials on drinks and free appetizers
Call: 870-0500
Steamboat Springs — Plays on vintage Italian landscapes, country scenes and market posters were local artist Mari Mack's canvas for a new collection of art opening Thursday at Mambo Italiano.
"They're all very Italian-inspired," Mack said about the work, which now belongs to Mambo Italiano.
"I have an Italian landscape, and I have a couple : 1920s pinup girls with martinis for the bar area. Everything I do is a little bit whimsical, a little bit modern, so it's really been fun to kind of tie all those things together and try something new with the pieces," she said.
Mambo Italiano owner and operator Andrew George commissioned Mack to do about 20 new oil paintings for his restaurant's walls and said the few he had seen as of Tuesday morning fit well with Mambo's atmosphere. In addition to modern takes on vintage images, Mack included three differently colored Andy Warhol-inspired paintings of a girl on a Vespa.
"We're not super polished, we're not super high-end, so I'm kind of looking for something fun and unique that has an Italian theme," George said. Mack's work goes on display at Mambo Italiano with a party from 5:30 to 8:30 p.m. Thursday at the restaurant.
The Steamboat Jazz Quartet - with Andy Pratt on piano and vocals, Ron Wheeler on drums, John Fairlie on saxophone, Tim Cunningham on bass and Jody Feeley on guest vocals - is scheduled to provide live music during the reception. There will be specials at the bar including $2 pints of New Belgium beers and half-price wine, and plates of free appetizers will be circulating during the event. George said he doesn't put new art on the walls at Mambo often, and he wanted to throw a customer-appreciation-style party to mark the occasion.
"This is going to be truly a local night because it's local people, local staff, local restaurant, local owner, local artist, local musicians," George said.
Mack grew up in Steamboat Springs and started painting during high school with the encouragement of her English teacher. She spent three semesters at California's Westmont College, worked as a Hollywood set designer for four years and has spent four years as an assistant interior designer with Steamboat-based Finial Designs. Mack and her husband moved to Denver last month, she said.