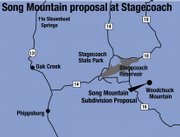 Steamboat Springs — The controversial Song Mountain development in Stagecoach - the largest proposed subdivision reviewed by the county in 35 years - received two preliminary approvals Tuesday, but county commissioners heaved a number of new requirements on the project.
The Routt County Board of Commissioners also made clear that Tuesday's approvals are no indication of the development's future success and said they are not willing to bargain on the new conditions. Commissioners Doug Monger and Nancy Stahoviak voted in favor of a sketch plan subdivision and conceptual planned unit development for the project.
Commissioner Diane Mitsch Bush voted against the plans because she does not think the development is consistent with the county's zoning regulations and master plans. Developer Ji-ang Song hopes to receive approval for a plan allowing 272 lots on 896 acres just east of Stagecoach Reservoir. Mitsch Bush called it "far too intense a use for the area." The next submission required of Song, should his development move forward, is a preliminary subdivision application.
"It increased the project cost a substantial amount," Song said of the conditions added by commissioners Tuesday, "so I need to go back to see what this all means."
The additional conditions included additional study of the development's visual impacts; a requirement that homes in the development only be allowed one wood-burning appliance, which must be low-emission and energy-efficient; and a requirement that the developer reconstruct Routt County Road 16 from C.R. 18A to the project's secondary entrance, and widen the road to 36 feet. The latter is a substantial improvement that would provide for 12-foot paved travel lanes, 3-foot paved shoulders and 3-foot gravel shoulders on a section of the county road.
The commissioners removed specific references to a contribution to the South Routt School District from their conditions but said such a contribution would be evaluated as part of the development's requirement to provide public benefits to help offset its impacts on a remote county road.
"I have confidence that it's going to be covered," South Routt School District Superintendent Scott Mader said.
Commissioners also said they prefer a cash payment to satisfy a requirement that 5 percent of the development be dedicated for public sites. Song had intended to give 46 acres to the Oak Creek Fire Protection District to satisfy the requirement.
The Commissioners Hearing Room was filled with several Stagecoach residents and others; most of those who spoke during public comment opposed the project for reasons ranging from its visual impacts on the flanks of Woodchuck Mountain to its implications for water supplies.
Longtime Stagecoach resident Al Saterdal said he didn't understand the need for the project because of the glut of undeveloped lots that have sat empty in Stagecoach for nearly four decades.
"My overwhelming feeling is that the cart is before the horse," Saterdal said. "And not just a little way - a long way before the horse."