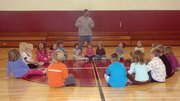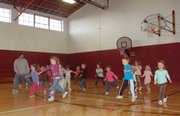 Yampa — With the temperature in the low 30s and a light snowstorm Monday, the South Routt Elementary School gymnasium couldn't have become available at a better time.
Physical Education teacher Artie Weber prepared a ribbon cutting ceremony to dedicate the recently renovated gymnasium. Weber strung yellow caution tape at the entrance to the gym and with a big pair of scissors made the ceremonial cut - symbolizing the beginning of the gym's first use after it caught fire after a lightning strike in June.
"The kids were getting all excited the gym was almost finished," Weber said. He added that he thought it would be entertaining to play that up with the ribbon cutting ceremony. "They flooded in. They were excited. It's their gym, their classroom."
Excitement might be an understatement, Principal Michael Young said.
"They ran in screaming," he said.
Superintendent Scott Mader said aside from an exterior light still to be fixed and a basketball goal that needed to be reattached to the wall, the gym renovations were complete.
He said the district's insurance covered the $150,000 in repairs. Mader said that included replacing about 20 percent of the roof where it caught fire, replacing electrical wiring damaged by heat, refinishing the wood floor damaged by water, and cleaning and repainting the gym's interior which was damaged by smoke.
"It was perfect timing," he said about the gym's availability Monday. "We anticipated it would get completely finished by this time, but you never know with construction projects. We're fortunate the weather held out for us. I think this is the first time we really needed it."
Weber said that in addition to the gym being repaired, much of his equipment, dirtied by the smoke from the fire after enduring years of coal-dust collection from the school's old boilers, was sent to Denver for cleaning.
Some students, mainly the younger ones, had not experienced the gym before Monday.
That was true for Peggy Barnes' kindergarten class, which had P.E. in the afternoon. They ran, skipped and shuffled across the shiny new gym floor. And they played a game called "Shark Attack," in which the students sat in a circle holding a parachute. One student beneath the parachute tried to pull classmates beneath it, while two others ran around the circle trying to prevent that.
Sadie Havel, 5, said it was her first time inside the gym.
"It looks really nice," she said. "I like it because it we get to play new games."