Videos
District 1 candidate Kevin Bennett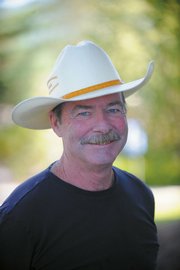 Kevin Bennett discusses city issues during a studio interview with the Steamboat Pilot & Today
Election 2009
Visit
www.steamboatpilot.com/election2009
for complete coverage of this year's races and issues.
Name: Kevin Bennett
Age: 61
Occupation: Businessman, semi-retired
Prior political experience: City Council, 1993-2001; Council President, 1995-2001; President of Colorado Association of Ski Towns, 1999-2001
Hometown: Edina, Minn.
Years in Steamboat: 39 years
Family: Jane Bennett (wife), Ed and Annie Ryberg (adult stepchildren)
Civic involvement: Steamboat Springs Centennial Commission, chairman (approximately 1998-2001); Steamboat Springs Centennial Hall Committee, chairman (approximately 1998-2001); Regional Airport Authority (approximately 1995-1998); Water Utilities Oversight Committee (approximately 1994-1999); Downtown Business Association, chairman (1978, twice in early '80s); Perry-Mansfield, board of directors (current); Plastic Ski Jump Project, Colorado Ski Heritage Project, founder and co-chairman (approximately 1999-2003)
Questions (candidates were asked to limit responses to 100 words)
The city has had to make drastic budget cuts recently. Does this speak to a need for changes to the city's tax structure? If so, what changes? If not, why is the current tax structure appropriate?
The current tax structure could remain adequate through this difficult time if the City Council changed direction. I would like to represent those who see the need to change priorities set by the current City Council. For example, the current City Council is:
1. Currently taking bids to spend $1.3 million on a new road to Steamboat 700 this fall. This is fiscally irresponsible and I would stop this process immediately.
2. Attempting to refund taxes owed by developers
3. Reducing the grant writing department to one part-time employee. Historically, grant writing has been our best source of extra income for community goals. We received $58 million in grants in the '90s.
I will bring back the policy of achieving community goals through the competitive process of grant writing and by listening to the community to determine those goals, and how best to achieve them. This would not be through tax structure changes.
Should the city delegate affordable housing efforts - and remit fees collected through the city's community housing ordinance - to the Yampa Valley Housing Authority? Why or why not?
No. The city needs to keep its own revenue and determine its own way, particularly with all of the budget concerns. This also ensures the community will have a direct voice through an elected city council as opposed to working with an appointed committee.
Is it OK for the city to require money instead of new water rights from projects seeking annexation into city limits? Why or why not?
No. Water is too important in the west. A development this large should be adding water to the system, not depleting it. When I served on the City Water Oversight Committee we had a completely different approach. The first order of our water system was "do no harm" and "build while you grow".
The policy of not bringing water is not only against current city ordinances, but is absolutely irresponsible. My opponent said we have been "planning this for decades" and we have "extra water" in the system. I strongly disagree. We do not have an extra 1,100 acre-feet of water in our reservoir for Council to sell for pennies on the dollar - there is no such thing as "extra" water in our system; it is called reserves. This type of thinking is why Old Town pays three times as much for water.
Is growth in west Steamboat - and the annexation of projects such as Steamboat 700 and 360 Village - necessary for the long-term health and vitality of the city? Why or why not?
It is one possible alternative. However, this suburban type/automobile based development could be replaced with increased density in the existing city. Time will tell if the market will drive development without City Council involvement.
The current City Council has continually told us that Steamboat 700 is what the community wants, and they have been focused on almost nothing else for the past 18 months, claiming that earlier plans gave authorization to move forward without community involvement. The west of Steamboat plan does not say this. The simple existence of a plan does not necessarily mean that the community endorsed it. If Council continually says no to a citizen vote on the Steamboat 700 project, they are saying no to true community involvement. Another top-down decision.
What in your mind should be the long-term future of Triple Crown in Steamboat Springs?
The positive parts of Triple Crown outweigh the negative. The Triple Crown participants carpool, fill rooms, help our economy and local businesses, and their once controversial behavior has diminished considerably over the years. However, like most community issues, long term solutions need to be created and concerns need to be addressed - such as Pamela Lane, lighting pollution and noise pollution. This is hard to address if the current Council continues to be focused solely on a development on the west side of town. Long term, the community needs to diversify its summer visitor portfolio.
How should the city mitigate ever-growing conflicts between users of the Yampa River, including tubers and fishermen, and the impact those users have on the health of the river?
In the '90s we added over 2 miles of river access inside and outside of the city. We are proud of that legacy and think it needs to be protected. The fact that this is being used is terrific, but with use comes problems. The Council needs to continue to ensure an ongoing mediation process between the user groups.
Given the current economic climate, should developers be allowed more than the standard three years before they must pull a building permit and begin construction on their projects? If yes, how long is appropriate? If no, why not?
No. I disagree with the current Council policy of increasing vesting. This is a continuation of this Council's promoting growth without demand. It puts future Councils at a disadvantage while empowering the developers. Why is Council so concerned about development years from now while ignoring today's community needs? The leveling of buildings at the base area without an immediate plan to replace these important local businesses and homes is outrageous. Giving them triple vesting only rewards the developer and hurts the community. Another top down decision.
Do you agree that the base of the Steamboat Ski Area needs to be more dense, with buildings as tall as 105 feet? Why or why not?
I agree with density at the base area, however this Council's carte blanche up-zoning was a gift to developers while removing future Council's ability to plan effectively and represent the community's interests. Rezoning the entire base area in just two meetings, once again, did not allow the community to participate. Why are we being told rezoning is important to the community, yet community concerns are ignored and developers prevail? Another decision from the top.
Open-ended (200-word limit)
I am the loyal opposition. I am running against current Council policies. My name is Kevin Bennett.
I am a 39-year resident of Steamboat Springs and fairly active in the community. I follow water and local political issues quite closely. I have been very concerned about a number of current issues such as selling the cities water at a give away price, currently building a new road to Steamboat 700 at a cost of $1.3 million, the failure to address Old Town traffic issues, and a 50 percent raise in water rates - just to name a few.
I would like to offer a new direction to the community based on partnership and involvement, where the community directs and leads the Council, not the other way around. I am very proud of the accomplishments that Council achieved during the '90s the plastic ski jump, Haymaker Golf Course and Centennial Hall. We developed or increased a majority of the major parks in Steamboat Springs, developed open space projects around town and created miles of core trail expansion and river access. This legacy of achievement in Council's 1990 tenure is based upon community participation, interaction and giving the citizens a vote on major issues with minimal costs to the local taxpayers.
The current Council has focused staff and community almost exclusively on Steamboat 700 for almost two years, all the while ignoring community issues and real community problems. As I have done in the past, I will protect tax dollars and work to improve our existing community.