Videos
At-large candidate Jim Engelken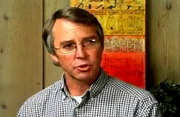 Jim Engelken discusses city issues during a studio interview with the Pilot & Today
Election 2009
Visit
www.steamboatpilot.com/election2009
for complete coverage of this year's races and issues.
Name: Jim Engelken
Age: 51
Occupation: Retail clerk at Safeway
Political Experience: City Council, 1995 to 2001
Hometown: Denver
Years in Steamboat: 30
Family: Wife, Nancy, and daughter Elisa, 4
Civic involvement: Golf course (Haymaker) construction oversight committee, 1995 to 1997; Area Plan Coordinating Committee, 1995 to 2000; Community Committee for the Arts, 1998 to 2000; Affordable Housing Advisory Committee, 1995 to 1998; Transit Development Plan Citizens Committee, 1998 to 1999; Regional Affordable Living Foundation Board of Directors, 1998 to 2004; Trails and River Committee, 2002 to 2003; Yampa River Management Plan Citizens Advisory Committee, 2003; Water Commission, 2006 to 2007
Questions (candidates were asked to limit answers to 100 words)
The city has had to make drastic budget cuts recently. Does this speak to a need for changes to the city's tax structure? If so, what changes? If not, why is the current tax structure appropriate?
Ideally, the city should have a diversified revenue stream that would be less vulnerable to economic downturns. This would include a moderate property tax in exchange for repealing sales tax on food and utilities (apologies to commercial property owners who understand the impact of the Gallagher Amendment). This would be very difficult to achieve due to TABOR, Gallagher and, perhaps most significantly, the single subject rule portions of our state Constitution. The good news is our current tax system has served us well for a long time and as long as tourists come to Steamboat Springs, it should continue to.
Should the city delegate affordable housing efforts - and remit fees collected through the city's community housing ordinance - to the Yampa Valley Housing Authority? Why or why not?
The question is less who spends the money as much as it is how should the money be spent. The city collects money per city ordinance and should disperse that money in a manner that is most beneficial to people who need affordable housing. This can and should include the Housing Authority, but there are other opportunities and organizations that can also help. The city should not constrain itself to any one approach or organization.
Is it OK for the city to require money instead of new water rights from projects seeking annexation into city limits? Why or why not?
No, the city may need all of its existing water rights at some point in the future. Annexations need to provide benefits that far outweigh any negative impacts. Taking existing water rights makes that very difficult. In the case of an annexation as large as Steamboat 700, there is also a cost associated with increasing filtration and sewer capacity. The city has agreed to a payment of $960,000 from Steamboat 700. This is not enough to compensate for the water rights and filtration and sewer improvements needed for Steamboat 700. I believe city residents will eventually pay for this.
Is growth in west Steamboat - and the annexation of projects such as Steamboat 700 and 360 Village - necessary for the long-term health and vitality of the city? Why or why not?
Absolutely, yes. When the city grows to the point that it needs to expand its boundaries, west Steamboat is where this growth should take place. Whether Steamboat 700 and 360 Village are the answer has yet to be seen. Any new growth should be encouraged to benefit the city. In the case of annexations, clear and substantial public benefit must be required. In my view, growth for the sake of growth is not a benefit.
What in your mind, should be the long-term future of Triple Crown in Steamboat Springs?
The City Council should work with the business community and the Chamber Resort Association to come up with a strategic plan for who we want to market to (i.e. tourists, special events, sporting events, outdoor and recreational events) and how to accommodate them. This would include a plan for retaining Triple Crown with a clear understanding that there are limits to how much Triple Crown activity the city can accommodate.
How should the city mitigate ever-growing conflicts between users of the Yampa River, including tubers and fishermen, and the impact those users have on the health of the river?
Discussion on this issue has taken place since at least 2003, when the Yampa River Management Plan was written. I worked on this plan and helped forge a deal that separates fishermen from commercial tubers on the river. The city should continue to facilitate communication and work towards compromise between user groups and interested parties. The city should also be willing to enact and enforce regulations when necessary.
Given the current economic climate, should developers be allowed more than the standard three years before they must pull a building permit and begin construction on their projects? If yes, how long is appropriate? If no, why not?
If, as a developer your vesting period of three years expires, you need to go back through the planning process. Under most circumstances, this should not be terribly arduous, depending on how long it has been and what, if any, regulations have changed. From the community's perspective, it allows us to improve outdated design and insure compliance with current public benefit requirements. Given the current economic climate, I agree with the idea that after three years, a two year extension could be allowed after administrative (staff) review.
Do you agree that the base of the Steamboat Ski Area needs to be more dense, with buildings as tall as 105 feet? Why or why not?
The question suggests that taller buildings mean more density. This is not necessarily true; it could simply mean larger rooms. Yes, we want high density at the base of the ski area, but unless we require this of developers, we may not get it. Compare the Steamboat Grand (a project I voted for) to One Steamboat Place. They are roughly the same square footage, but the Grand has three times the density (i.e. more rooms) as One Steamboat Place. The City Council's recent up-zone of Ski Time Square generated a windfall in property value for the owners but did nothing for the community.
Open-ended (200-word limit)
I lived here for 16 years before I ran for City Council in 1995, thinking it was high time I gave something back to this wonderful community. Serving on City Council was a great experience. I take pride in our accomplishments. I am running again out of concern that the city has taken a wrong turn away from the values of the people who live, work, operate businesses, and raise families here. The accomplishments of previous councils (mass transit expansion, affordable housing, trails, parks, some great open space projects, and the Urban Renewal Authority) have taken a backseat to the mindset that Steamboat Springs should be a profitable place to develop real estate. I'm not against growth and development, but much of what has happened over the last few years has come at the expense of the people who live here. Development should enhance the community, not hurt it. We need a moderate, even-handed council whose only agenda is the long-term health of the community.